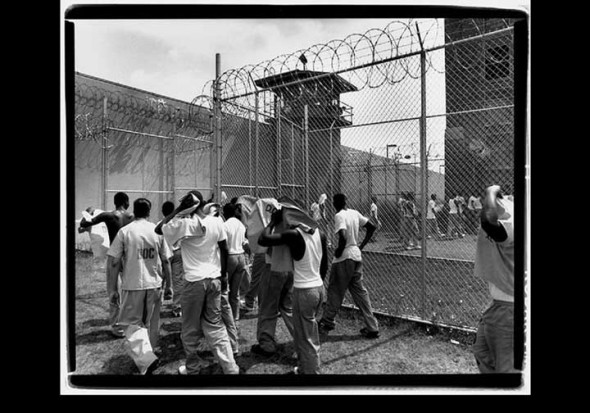 Bahá'ís to screen talk by author of 'The New Jim Crow'
Michelle Alexander, Ohio State University law professor and New York Times bestselling author of the 2010 groundbreaking book The New Jim Crow: Mass Incarceration in the Age of Colorblindness, spoke at the University of Dayton in February. Her talk will be screened at the Yellow Springs Baha'i Center, 502 Dayton Street on Friday, April 19 at 7:30 pm. In addition to her speech, there will be information about how to get involved with national efforts that address these issues. Discussion and refreshments will follow the presentation. The program is free and open to the public.
The following is an invitation to the event by Yellow Springs resident and Bahá'í, Roi Qualls:
Michelle Alexander, civil rights law professor at OSU, recently spoke at the University of Dayton to tell people about the web of social control that has been woven to replace the Jim Crow laws. Professor Alexander's analysis, as presented in her book The New Jim Crow, demonstrates the terrible gestalt in which a range of factors that disproportionately affect black and brown people create a system designed specifically to subjugate people of color as a permanent underclass in America.
Among the salient features of this new control system are:
• Criminalizing "black" drug behavior differently than "white" drug behavior
• Draconian prison penalties for even minor "black" drug crimes
• Unbridled power wielded by prosecutors to coax guilty pleas
• Intense policing of poor black and brown neighborhoods
• Steady erosion of fourth amendment protections from unreasonable search and seizure by the U.S. Supreme Court
• Creating a prison-industrial complex as a for-profit business enterprise to invest in so that our nation now has a profit motive for large volume of drug arrests
• Co-opting local and state law enforcement with grant money to enforce the new drug laws so that they have a profit motive to find as many drug offenders as possible
These elements now operate in an orchestrated system that never has to use the word race or racial language to achieve the goal of intimidation and subjugation of people of color. And it works on all people of color, because any black or brown person can be stopped for "driving while black." As Professor Alexander points out, Barack Obama is president of the United States instead of a convicted felon in large part because his drug use occurred at a white elite university, and not in an intensely policed poor urban neighborhood. There aren't many drug raids and SWAT team visits at the University of Chicago or Harvard Law school.
The New Jim Crow traces the development of the system from its beginnings in the Nixon administration through the concoction of the War on Drugs in the Reagan years and up to the "tough on crime" one-upmanship of the Clinton administration. It takes up its call where Dr. Martin Luther King left off. It is a call to all of us to work for racial justice as a matter of human rights, not just civil rights. And it calls for a new movement, for us to raise basic questions about our society.