BLOG-Sharing Smiles and Smoothies
It's spring break, and my daughter and I took advantage to take a road trip to Upstate New York to visit the extended family. We packed our swimsuits, our drawing pads, and of course our appetites. We met my mom at a favorite sandwich shop, the River Rose Cafe, in the seat of my home county, Owego, NY. My mom and my daughter bonded over sandwiches trading smiles made from the orange slices garnishing their plates and from their own happy discourse.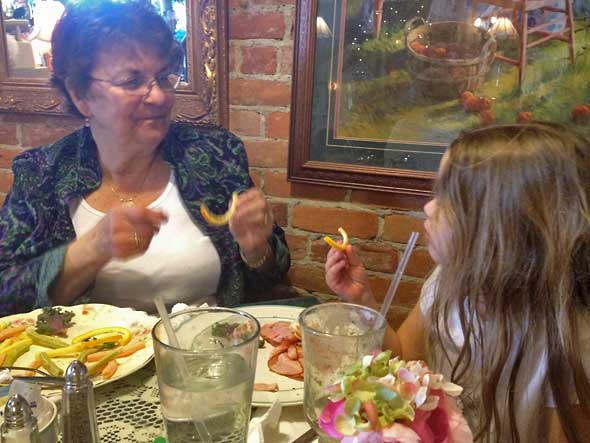 That meal was the first time in about three weeks that my mom had had a sandwich. She and my stepfather went vegan following guidelines from Dr. Joel Fuhrman, author of "The End of Diabetes". Dr. Fuhrman recommends maximizing our intake of micronutrients by upping the amount of fruit and vegetables in our diets and forgoing processed foods including dairy. The idea is that we will crave food less if we get the vitamins and minerals that our body needs to orchestrate its functions.
My stepfather came across Dr. Fuhrman's work first and championed the new diet for both himself and my mom. My mother was skeptical…even after reading his book…but she was persuaded by several weblogs by people who had succeeded in the diet. Particularly compelling were the stories of folks who did not like vegetables and found the change in eating habits very difficult but kept it up anyway.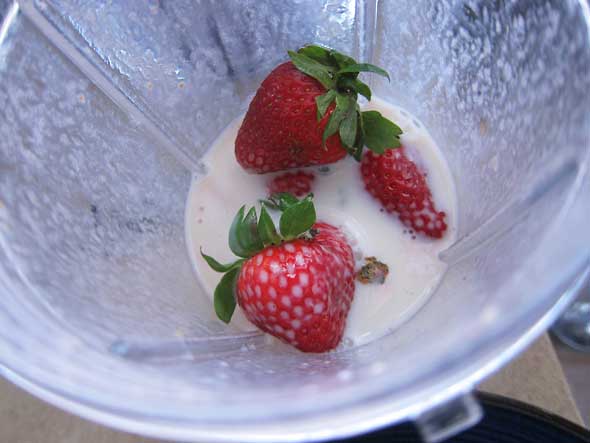 Honestly though for my mom and stepfather, the change didn't seem that hard. They both like vegetables and, if anything, the only thing they needed to do was forgo bread and dairy and up their fruit intake. For them, that exchange seemed like a more than fair trade.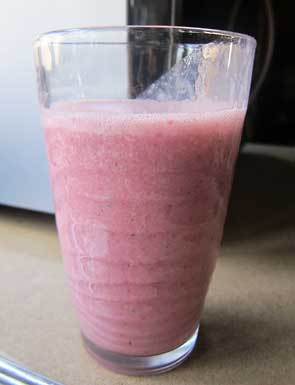 Our first morning in Upstate New York, my daughter helped Grandpa David make fruit smoothies from three ingredients: strawberries, bananas, and almond milk. Mom and David invested in a Nutribullet blender which her sister recommended for its power and ease in cleaning. They also like that Nutribullet makes one serving easily so they can each tailor the drink to their liking.
When I put together mine, one tweak I made was I didn't remove the strawberry greens but whirled them in with the other three ingredients. Suspended in the frothy pink drink, green flecks of the blended leaves decorated the smoothie. To add crunch, I topped off the drink with granola from Free Spirit Farms.
We are enjoying our time in Upstate New York. Today we are heading to the annual opening of the Ithaca Farmers Market. Their stands are sure to be full of early spring produce. Some will find their way into salads or casseroles, stir fries or roasts. Some will find their way through the Nutribullet and into our tummies.