When a new store opened on Dayton Street in March 2013, the red flower boxes drew me to its door. The boxes were striking indeed, and I could imagine them outside my own front door. As I drew near and read the name of the new business, I smiled to see long time Yellow Springs resident and artist Paul De La Vergne setting up his shop.
De La Vergne Woodworks, 120 Dayton Street, offers the splendid woodwork for which Paul has been long known. Most anyone who has been to Yellow Springs is familar with his work. Like a Pierre Nagley mural, downtown is decorated with Paul's creations. Paul De La Vergne crafted the bars at Peaches Grill, the display cabinets in Ohio Silver, the checkout counter at Kismet, the gorgeous wood trims throughout the Import House, and the tables at Ha Ha Pizza.
Our house is much like downtown Yellow Springs decorated with many De La Vergne pieces that we have collected over the past 20 years. When I first moved to town in 1994, I remember yearning for one of the pieces Paul had on display in a former store of Kings Yard. His juxtaposition of various woods appealed to my fickle affections for cherry and walnut, curly maple and ash.
Among the pieces at his present Dayton Street gallery, my favorites are the lazy susans, two revolving platforms in cherry and maple. Their quality and sheer beauty make either one a perfect centerpiece for the family dining room table. For our sit down meals at home, we load up our own lazy susan with serving plates and, instead of passing the plates, simply spin the tray to distribute the meal.
The history of the material that Paul works with is as deep and rich as his portfolio. He is presently making two dozen pieces from a 2-foot walnut log harvested 6 years ago from Cemetery Street on the north side of town. The seasoned wood is in expert hands as Paul refines it and brings out its intense inner beauty. Featured in the chessboards, the walnut's destiny will also take the form of coffee tables and side tables soon to grace the homes of our village and those of our Dayton, Cincinnati, and Columbus visitors.
Paul has offered his wares downtown before but the gallery is his first solo venture in Yellow Springs. He aims to charm both village residents and out of town visitors. His standout chessboards were inspired by the ongoing chess competitions among the young men and women at Dino's Cappuccinos. His cutting boards are a testament the many residents of our local forest: ash, poplar, cherry, walnut, oak, and maple. I particularly like the contrast of the green poplar against the blond and ruddy tones of the other woods.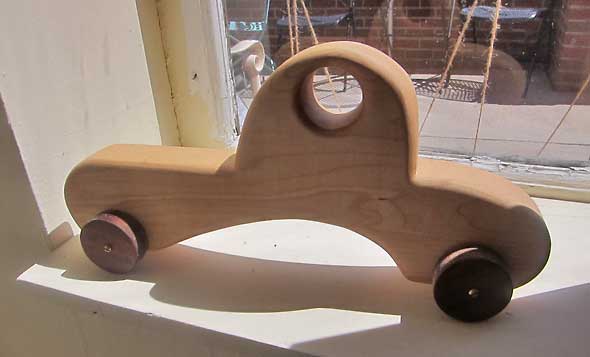 From among his current projects, Jeremy and I are hoping for a set of bedside tables to match the prized headboard that we bought from Paul in 2010. The center board was cut 4 times instead of six so that its outer edges were left untamed by blade. The wood seems to have so many stories to tell, and that is Paul's gift: to let the tree tell its most intriguing tales in it own natural tongue.