After a delightful jog through the booths at last Saturday's Art on the Lawn, the family had dinner at the chicken barbecue a block away on Winter. Even as we sat down to eat, the kids were itching to return to Mills Lawn and the new GameTime playground. They downed their apple sauce, ate their drumsticks and blueberry pie, then gathered friends to join them on the slides. I gathered the dark meat leftover from their meal and made plans for a curried chicken salad.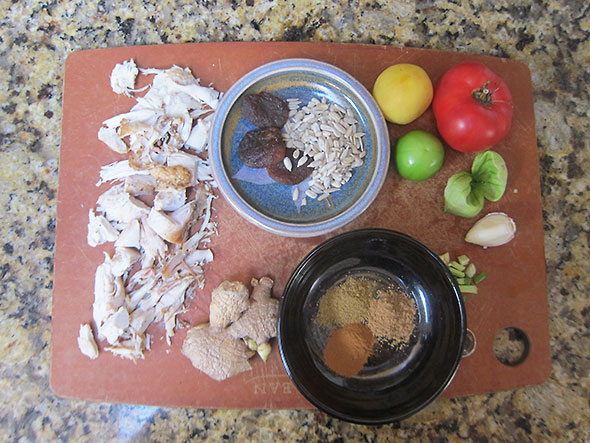 Though I love curried chicken, I had never made my own salad and was open to suggestion on how to set about it. In search of instructions for a cold salad, I got lured away by a recipe for a sautéd chicken curry in Mark Bittman's Food Matters Cookbook. It enticed me with its list of fragrant ingredients. The recipe called for tomatoes—chopped and standing in their own juices—and a blend of spices: ginger, cumin, cinnamon, and coriander. I looked to my stock of tomatoes freshly delivered by Rocket Acres, and my tummy rumbled. Rooted from here, my inspiration took form as the remaining ingredients gathered on my cutting board.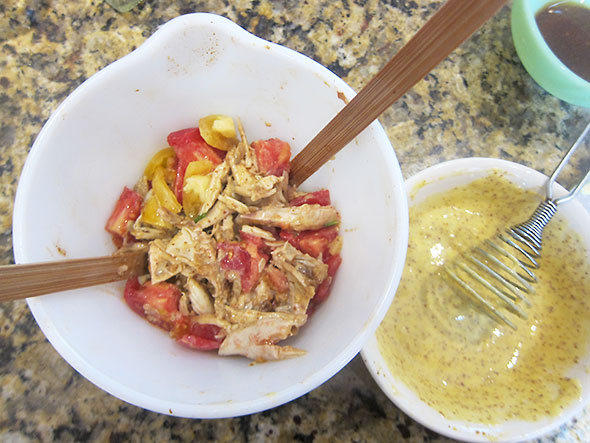 Spicy Chicken Salad Sandwich

For the salad:
1 cup cooked chicken, chopped
1-2 tomatoes, chopped and, yes, swimming in their juices
1 garlic clove, minced
1 teaspoon ginger, minced
1 tablespoon chives, chopped
3 dried apricots, chopped
1 dash cinnamon
1 dash coriander
1 pinch cumin
1-2 tablespoon mayo
1/2 teaspoon dijon mustard

For the sandwiches:
4 croissant rolls
4 leaves of kale
Salt and pepper to taste
8-12 basil leaves

In a small bowl, combine the tomato juices, cumin, coriander, cinnamon, ginger, chives and apricots and toss together. Mix the chicken, mayo, and mustard in next, and finally fold in the tomatoes gently. Place in the refrigerator to chill.

On one of four sandwiches, place a kale leaf on the bottom half of a croissant, a scoop of the chicken salad, salt and pepper to taste, and top with two to three basil leaves. Add a side of fruit and serve.

Serves 4.
Instead of using a store bought mayonnaise, I prepared Mr Bittman's recipe for homemade mayo, also featured in his Food Matters Cookbook. I have to admit though I never have the patience to add a whole cup of oil to the egg yolk. Mr Bittman recommends adding mustard to the yolk before dropping in the oil. I followed this advise, and it prevented a common failure: the egg and oil breaking apart instead of emulsifying. Because I typically use half the prescribed oil, I figure I need to use half the mustard he recommended, thus, one teaspoon instead of two. For my "half mayo" I use 1 egg yolk, 1 teaspoon dijon mustard, 1/2 cup walnut oil. I whisk the oil in drop by drop to the egg and mustard until the mixture thickens. Then I add the remaining oil in a steady stream. The half mayo recipe makes about 3/4 cup of a spicy mayonnaise of which I used less than 2 tablespoons replacing the mayo and mustard in the recipe above.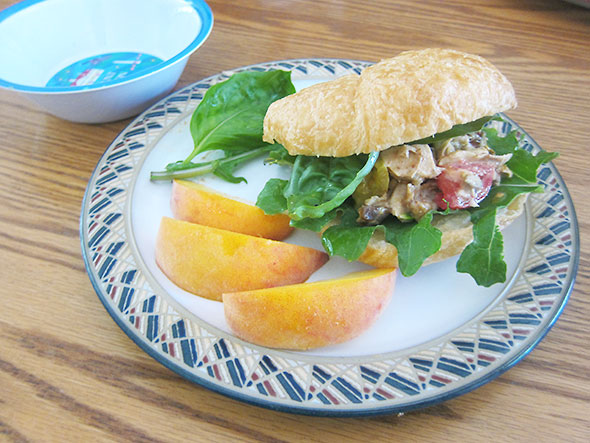 Mr Bittman's curried chicken recipe called for raisins and parsley which I replaced with dried apricots from Starflower Natural Foods and basil just in from Flying Mouse Farms—both readily at hand and scrumptious. Flying Mouse Farms also provided the leafy kale for the sandwich.
In all, we got two tasty lunches from the salad. It was a jog and a journey to get to my first curried chicken salad recipe. Thanks to the children and their passion for slides, I've discovered a new treat for myself.