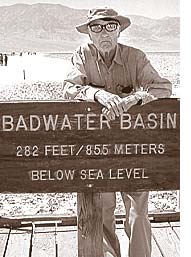 Hardy Zobel Trolander grew up on the south side of Chicago during prohibition. His father, Elmer, was a chemist and his mother, Freda, was a former office manager. He was born to them relatively late in their lives, as was his little sister, Fay. His earliest memories included Buster Keaton in "The General" and his dad's personal adventure stories starring real life trains. It seemed to him that he could have his own adventures, too. At a young age, Hardy started taking things apart. He tinkered with radio electronics he'd garnered from neighbor's basements and clandestinely experimented with public street lights and railroad crossings.
His parents each encouraged different parts of his inquisitive pursuits but at home his mother kept a tight household. Freda utilized conventional Polish-German child rearing practices of the day. She beat Hardy with half a lathe and washed his mouth out with soap. He would later remember that day when he'd had enough and threw her lathe in a dumpster.
His dad's first car was a 1922 Maxwell touring car. In summer they visited Hardy's grandparents near Duluth. When they got stuck on dirt roads during floods, the farmers with their horse teams would come to their rescue.
In 1933–34 Hardy went to the Chicago World's Fair during its "industrialization era." These world expositions were where state-of-the-art technology was brought together and unveiled to the world. It cost seven cents to catch the street car. Hardy was wowed by the Chrysler, GM and Ford exhibits as well as the Sally Rand fan dance. The Westinghouse exhibit had a ten dollar bill displayed openly within snatching distance. However, a door closed before you could grab it. Hardy realized that light tripped a photocell to shut the door so he came back with a flashlight to fool the sensor. But unfortunately he got caught by a guard and did not get the money.
Chicago schools were integrated at the time that Hardy entered high school, where he first interacted with African and Jewish Americans. This broadened his understanding of the world that he lived in. After school he worked in service companies repairing radios and electrical appliances just as events were moving towards WWII.
Hardy transferred from Purdue to Antioch Collage in 1940, benefiting from the outstanding faculty that Arthur Morgan had recruited in his effort to rebuild the college. During the war he served in the Army Air Corps and was commissioned as a communications officer. When he returned to Antioch he completed a Bachelor of Science degree, specializing in electrical engineering.
Hardy married Gene Davenport in 1946. After his graduation from Antioch, Hardy stayed on as a physics teacher. Because Gene loved her teaching job at Antioch School, he had agreed to remain in Yellow Springs. At that time he was tinkering around with instrumentation for Fels laboratory along with some friends. In 1948 their talk of starting an engineering company began to gel and they set up shop in the basement of Antioch College's science building. Later, he would call it an engineering commune that hoped to survive in the small marketplace for state-of-the-art instrumentation. Initial work came from Fels, Kettering and Wright Patterson, usually involving repair and redesign of measuring equipment. They also maintained the Antioch College common rooms phonographs.
It was a serendipitous time. Arthur Morgan, by encouraging the building of sustainable community, was creating an environment in Yellow Springs conducive to enterprise. The engineers group was helped to establish itself as a business, which became the Yellow Springs Instrument Company. YSI's beginnings coincided with Douglas MacGregor's ("The Human Side of Enterprise") tenure as Antioch College president. Interactions with Charles Kettering were boosting Hardy's confidence.
Hardy was part engineer, inventor, businessman and civic leader. A big believer in the social benefits of meaningful, economically viable work, he also advocated for corporate responsibility throughout his career. He was proud of YSI's early personnel policies based on trust. In 1983 he sold the bulk of his YSI shares to the Employee Stock Ownership Plan(ESOP). He was a founding member of the YS Community Foundation. In 1992, he was elected to the National Academy of Engineering.
Hardy believed that measurements were "ultimate truth". He was confirmed in this belief by having worked with engineering scientists all over the world. No matter the religions, governments, or cultures, a measurement could be agreed upon by very different people. He worked with Leland Clark on the process for measuring dissolved oxygen in liquids that enabled open-heart surgery and the first heart-lung machine, (which led to the YSI in-house development of biosensors). But he considered inventions to be incomplete until they were developed and manufactured as useful, affordable and high quality products. YSI products included various precise temperature measurement instruments. And yet, when looking back, Hardy reported greatest pride in helping determine the official melting point of gallium. In 1990 it was adopted as a primary point on the International Temperature scale.
Politically, Hardy was deeply influenced by his wife, Gene. Gene had been a red diaper baby and sometimes Hardy would call her reactionary. But they were bound by strong inclinations towards social justice. He sincerely admired her awareness of people and communities. Because of this, most of his philanthropic decisions were made in close partnership with her. Hardy and Gene teamed up most passionately in their support of the Civil Rights Movement. As a member of the Yellow Springs Committee for Fair Practices, Hardy acted as Paul Graham's witness in his lawsuit against the last segregated business in town, Gegner's barbershop.
Hardy Trolander was fortunate in love. He was supported by women his entire adult life. His marriage to Gene lasted 54 years. Later, he enjoyed close companionship with dear friends Marion Davis Wright and Joan Brucker. He is survived by his two daughters, Megan Trolander and Pati An, his grandson Noah Trolander An, his son-in-law Jim Spangler, and his final sweetheart, Bev Price.
At the end of his life, Hardy significantly donated to Antioch College, just as Kettering, a man who had once boosted his young confidence, had done during another difficult period in Antioch's history.
"Different states of matter are determined by constants of nature, such as the triple point of water where the cell includes vapor, liquid and solid at once," he said. "It's beautiful, that phenomenon, it defines that temperature."
More about Hardy's career: http://www.daytoninnovationlegacy.org/trolander.html.
A memorial celebration will take place Sunday, Nov. 3rd at 2 p.m. at the Vernet Building at Glen Helen. In lieu of flowers, donations can be made to Antioch College, the ACLU, the Yellow Springs Community Foundation or the Dayton Engineers Club. A wine and cheese reception will follow. Those attending are especially welcome to share homegrown, homemade or invented items.