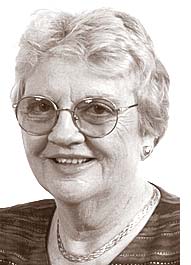 Irmgard Bletzinger of Fairborn passed away Monday, Oct. 21 at the Hospice of Dayton. She was 83.
Irmgard was born to the late Hans and Margarete Heckmann in Düsseldorf, Germany. She arrived in the United States on a scholarship. She moved to Mexico City, where she taught German and Spanish at a private school. She met her husband, Peter, during a trip to Acapulco, where Peter was among a trio of German bachelors living in Yellow Springs. They settled in Fairborn and raised four children on a small farm complete with fruit orchard, vegetable garden, chickens and Jersey cow. Irmgard became an associate professor in the Language Department at Central State University after her last child entered high school. She was the faculty advisor for the Central State football team, helping numerous players.
Irmgard is survived by her loving husband Peter and by four children and their spouses: Michael and Diane Bletzinger, Klaus-Peter Bletzinger and Pattie Matteis, Christine and Robert Cooper and Eric and Tami Bletzinger. She is also survived by 10 grandchildren.