BLOG-Giving a Bit of Art & Soul
The art fair Art & Soul opened its doors at Mills Lawn School today at 10 am. Christmas may be over a month away still but, in two short weeks, we'll exchange presents with family at Thanksgiving. Art & Soul—in its second year at Mills Lawn—comes at a perfect moment.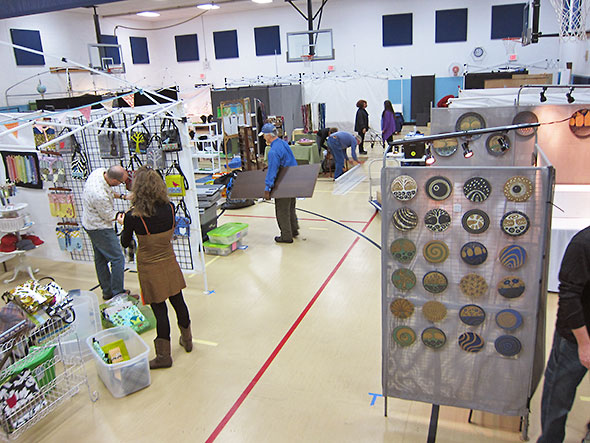 I got a sneak peak as area artists set up their booth in the early morning. I entered the gym at 8:30pm to a great bustle. Setup began at 7am, and I could see the handwork that the artists had already put into setting the stage for the day's shoppers. Surfaces of wood, velvet, wire mesh, and carpet provided a medley of textured foundations for the star attractions. Light played a surprising supporting role and added depth and clarity to many of the displays. My favorite was Geno Luketic's booth with its windowed displays highlighting the reliefs and colorations of his wood fired clay pieces
Amidst the orderly collection of construction projects, I found lead organizer Lisa Goldberg looking in on three young artists setting up their booth for the first time. Young men Tony Lewis and Samuel Smith-Heston arranged their artwork at a comfortable, thoughtful pace…original portraits framed in paintings or reproduced on tshirts.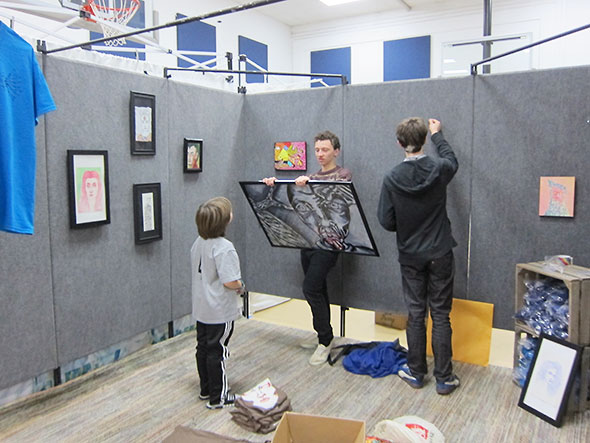 The works of other high school students are also available in prints produced by Bing Design. Many of this beautiful prints will bring back memories of the high school's art show last spring where the originals were shown to raves.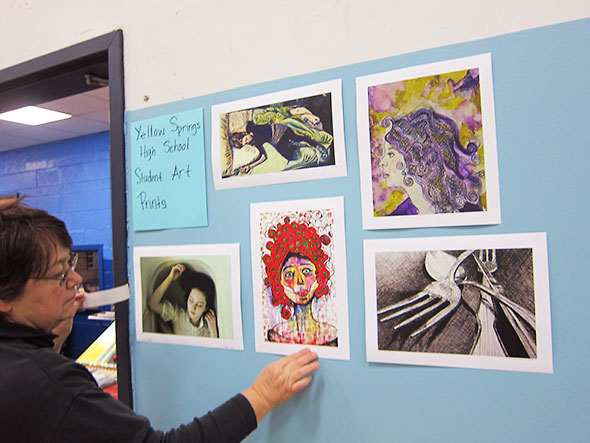 Always drawn in by fine and practical items for the kitchen, I linger at Theresa Mayer's booth to see her glass beaded spoons and serving utensils. These have made fine presents in the past, and on this occasion I may shop for a serving spoon for my own kitchen. The fish plates made by 4 Corners Gallery also entice. I particularly like the plate featuring an imprint of fish bones, and the artist laughs admitting to me his surprise over the popularity of the skeleton impressions.
In the hall outside the main gym, I'm charmed by the greeting card albums that will store away the correspondence that begins to fill our mailbox this time of year. Annual newsletters and pictures of growing children and families could be preserved in these festive albums and decorative boxes by Fairborn artist Barbara Zilz, the Book Whisperer.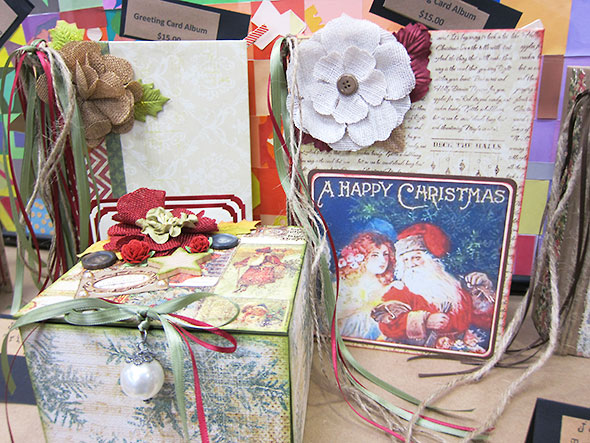 Across from Theresa Mayer's booth is the work of Sarah Gray. Her stain glass hanging vases will add a fine touch to a sunlit window…perhaps of a brother… or a niece… or a grandfather. The "vases" are actually the graceful turn of a bottle neck cut off where it flares. The spout left open at the bottom, they are intended to hold air plants, or Tillandsia, that require no soil and just a spritz of water to live and grow.
When I left before the 10am opening, many other surprises still waited to be unwrapped like Christmas presents. Wonderful discoveries await shoppers and art lovers today at the Mills Lawn gymnasium, 200 S Walnut St. I'll be back myself soon in hopes of securing a few for the giving season ahead.
I mustn't let time fly away. Together with Santa Claus, I look forward to exploring the precious treasures of this annual one-day event.
And I look forward in anticipation to sharing these treasures this holiday season.