The Thursday after New Years Day we were treated to a new fallen snow. Ok, it didn't feel like a treat driving but, after an early release from work, I had enough time to strap on my cross country skis and take a lap around the neighborhood.
I was out there with the snow plows. They had carved the snow on the roads before me to a packed surface, and the still falling snow added a light layer of powder on top. To my benefit, the plows had not thrown down salt so that, on most neighborhood streets, I had the luxury of a silvery glide. As I passed people working on their driveways, they called out, urging me on, occasionally remarking on my bravery. "It's in my blood," I returned. I'm one fourth Norwegian, and my Great Grandparents Magnus gifted me with short toes, elfin hands, and a small nose to better withstand the cold and resist frostbite. Cross country skiing is a family tradition, and I happily layered in wool to refresh my body on the long sweeping strokes of the Nordic way and the pumping swing of ski skating.
When the wind picked up and the light started to dim, I almost turned home. I was so close to the Little Miami Bike Trail, however, that I continued down the gentle slope of President Street. I crossed Corry Street—a mess of gray, salted slush—and picked up the snow-covered trail at The Riding Centre. I headed south toward Xenia but did not advance far. The snow on the Little Miami Scenic Trail was warm and wet, and it stuck to my skis clumping under my feet. After 100 yards, I felt like I was skiing on sponges and stopped to clean the skis. As I shaved the ice pack from the blades, I confess that I wished for lower temperatures.
I found out Friday that I was likely to get my wish and—dear heaven—then some. Already at Tom's Market that evening, townsfolk speculated on the prospect of no school Monday and Tuesday as the dangerously cold temperatures of a polar vortex were to descended over the country.
Forewarned, I forearmed myself at the Yellow Springs Winter Farmers Market, 202 S Winter St. The market opened for its first Saturday from 9 to 11:30am on 4 January. Among the greens, meats, spices, and baked goods, I found Brenda Hanes of Stewart Heritage Farm. Ms Hanes raises alpaca on the farm, and her table at market offers a variety of alpaca wool products: from raw yarn to hand knit clothing to warm socks.
I have bought socks from Ms Hanes before. My favorites are a knee-high pair of dark brown socks that are reinforced at the shins to wear well with ski boots. Knowing the cold weather before me, I stocked up on three new pairs: A long, think pair of pink socks and two pairs of thin wool socks that would layer easily. I was particularly charmed by the blue, pink, and gray banded socks with little alpaca silhouettes adorning the blue bands. I lived in these socks and their brethern over the next week…the alpaca wool comfortable, snug, and warm over my feet.
As the temperature dropped below zero, my daughter responded in her own way. She constructed a tent using a Christmas present from her cousins—a Crazy Fort kit with glow-in-the-dark widgets—and camped out in her brother's room. On Monday, when she woke up first in the family and uncommonly chipper, we realized her great foresight. She had settled into the warmest room in the house.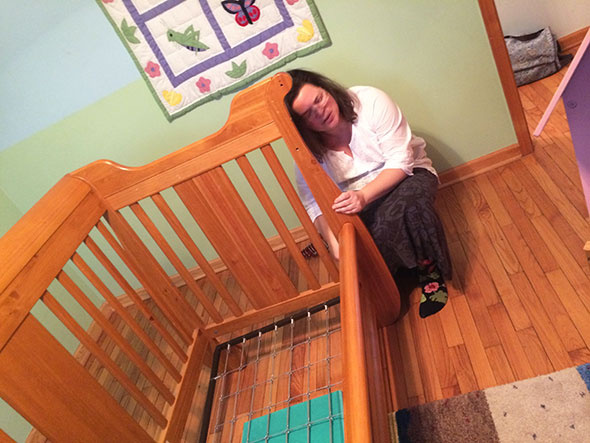 We went to school on her example but, to take further advantage of the space, we spent Monday's snow day dismantling our son's toddler bed. Once the toddler bed was removed, we replaced it with a full-sized futon that had been banished to the basement since our children were born. The whole family moved into the room: our daughter in her well provisioned tent and the rest of us on the repositioned futon. Our campout that night was compete with hootenanny: Jeremy on the guitar and our son on drums. "Look, Mommy, a drum kit," he told me as I slipped into the room. Our three year old improvised a set by resting a conga drum between the duo barrels of a bongo drum. As my husband launched into "Squeeze Box" by The Who, the boy pounded away, the girl and I danced, "and the music was all right".
We did get to sleep that night. We slept deeply in each others' close company and rose to a splendid breakfast of mountain muffins made with provisions from Current Cuisine—toasted croissants, nova lox, soft goat cheese, and spiced almonds—and Tom's Market—crisp sunflower sprouts and capers. We cut up peak oranges sent by my father Tom and his dear wife Sue and added them to our plates. We even added them to our glasses, a set of smoky tumblers made as if to hold citrus wedges. Into our glasses, I poured the family cure—a blend of zesty ginger beer and the fresh squeezed juice of an orange—a common beverage in the winters of my childhood.
The zingy juices from the orange, the woody almond, the tangy pickled caper, and the crispy sprouts rang in perfect medley with each other; and, after we finished the croissants and lox, I tossed the toppings together for a salad and a round of savory seconds.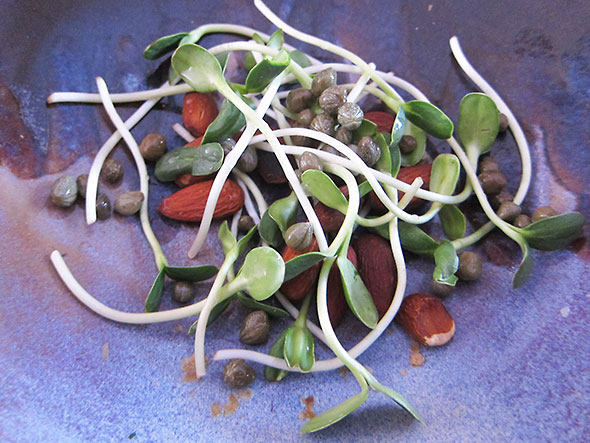 Stacking layer on lovely layer…this is how we survive these cold temperatures. Equipped with the right gear and a willingness to reinvent, I'm inordinately pleased with how the whole family—German and Norwegian blood alike—weathered the cold snap. Together, we took the bitterness out of winter and replaced it with a steady flowing inner glow.