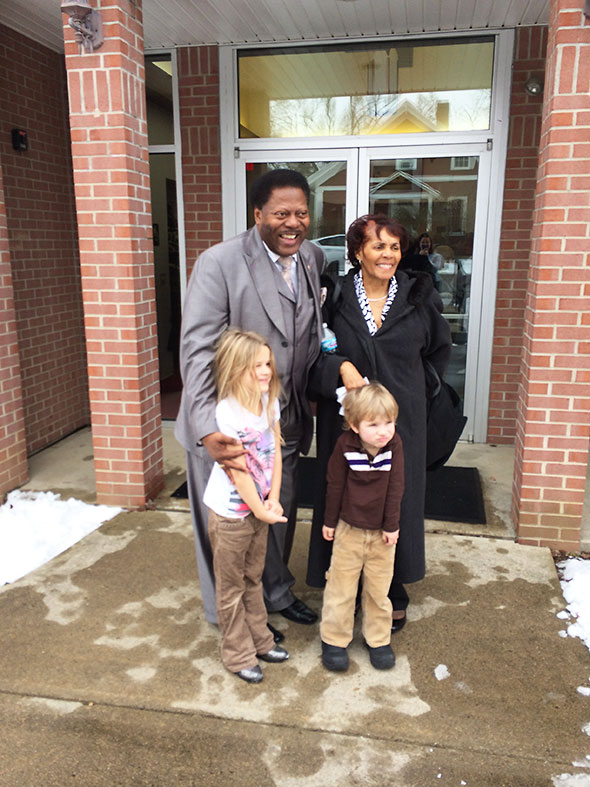 When my family joined in this year's Martin Luther King Day celebration, I was touched by the family oriented message that resonated throughout the program. Together we pledged to stand up and not just sit back.
We marched from Mills Lawn School on a cold day but warmer one than most days this month and made warmer still when we entered into the sanctuary of the Central Chapel A.M.E. Church, 411 South High Street. There, we were greeted by a large crowd already filling the choir pews. The World House Choir—over 45 voices strong and formed almost exactly one year ago—gave their first Martin Luther King Day performance. With a mission to perform music that motivates and inspires communities toward justice, diversity and equality, their voices gave the day's celebration an extra special resonance.
In one effective effort to reach deeply into the community, director Cathy Roma has been offering childcare at the choir's rehearsals. In the choir on Monday, I recognized many parents of young children and immediately understood the blessings of participating. Music and performance has such a pervasive influence in our children's lives.
Just a few days later, we were full witness to the blessings of such influence. The Mills Lawn School talent show went into swing Friday 7pm at the school gymnasium. While the audience enjoyed refreshments of freshly popped popcorn and soothing hot chocolate, the children stood up solo, in pairs, and in groups to perform powerful renditions of popular favorites, home-spun originals, and hilarious parodies.
The young men and women of Mills Lawn School—from Kindergarteners to sixth graders—displayed an impressive range of talent. There was a puppet show on the dangers of talking to strangers; a winning activist speech on animal rights; bluesy vocals and sharp, crisp raps; original dances with crazy cool moves and exciting bright costumes of green, orange, bright blue, and yellow; and violin and piano works performed with confidence. One young man debuted a song he wrote "It's not easy being king" as his father grooved on electric bass. Two comedy acts took the stage: a ventriloquist and his funny little buddy and the "Bomb brothers", a standup duo who definitely did not bomb!
As I watched the crowd take in the entertainment, I could see that the younger siblings of the elementary set were without a doubt having the most fun. They took the inspiration laid before them, and usually reserved children broke out in their own style—laughing, dancing—pulling in others to the playful fray. I see the laying down of a foundation, future leaders growing in confidence and nurturing the communal bonds.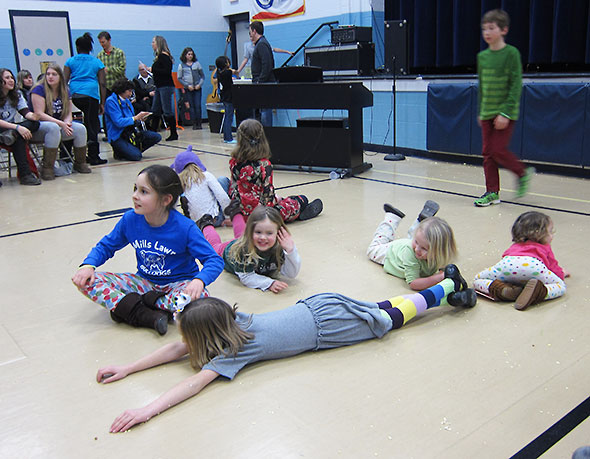 In all, the children paid winning tribute to their parents, their teachers, and the community. They embraced with a bear hug the music of their time and their most intimate influences.
We ended the night with the sixth grade chorus performing a recent hit "Cups". The song's lyrics warn the listener that you're going to miss an epic journey if you don't act and act quick.
I'm glad we heeded that warning ourselves. We braved the wild week's weather. We took "the long way round", and—what a view—we didn't miss a thing.