BLOG-A Walk to the Rock House
The invitation was issued on Saturday evening, "Meet us with the kids at the Mills Lawn School playground for an hour or so." Jeremy and I however were driving to Other Desert Cities, and our two children were playing at home with a vigilant babysitter.
We begged off for the evening but, riding the spontaneous impulse of our friends, asked after a Sunday plan. One quickly formed: Lunch at Current and then a long afternoon walk.
The exact route that our walk was to take remained open ended; the decision would depend on the conditions that Sunday brought us. Greeted by a clear day with a bright blue sky and a slight breeze, our friends choose the trail at lunch and, after clearing our tables, we follow them to the campground at John Bryan Park. Parking in the lots near the Shelter House, we take steps down to the banks of the Little Miami River and to a footbridge which we cross to gain the South Gorge Trail.
The South Gorge Trail is bound with root and narrow. As we pick along its uneven path, Bea and I compare provisions. We both have brought plenty of water. Their backpack have oranges and Z-bars. Mine have a large bag of kettle corn purchased at the Yellow Springs Farmers Market from Rue Farms. There is also juice for the kids and a cup of milk for the littlest one. We consider my youngest ability to make the three mile loop we hope to cover, and I feel confident for him knowing how well he has done on our forced march to and from the Pine Forest this past winter.
The three year old gamely follows us down a steep slope off the trail to where Allen steers us to a waterfall. He wants us take a look at one of the more astonishing features of the trail. The spring here runs along a ridge which Allen explains is most unusual. Water prefers to take the lowest point, but here it has no choice as the ridge is formed by the spring itself.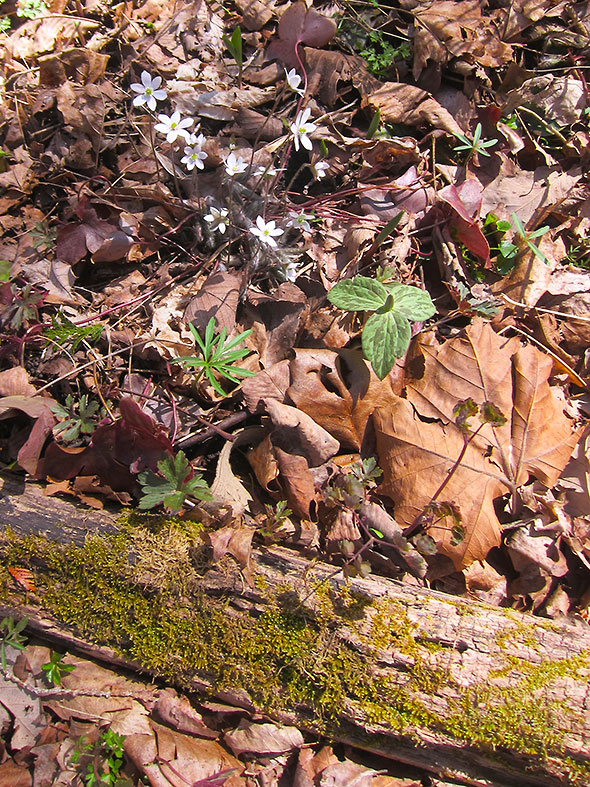 Allen explains that, underground spring water is super-saturated with minerals. Once it breaks above ground, the water releases its saturated load like champagne freed from its pressurized bottle. The water—agitated as it flows over the uneven sidebank—bubbles with effervescence and releases carbon dioxide into the air and calcium carbonate along its path. Thus, the spring deposits more on the steep bank than it erodes creating a complex ridge and a picturesque waterfall with multiple cascades.
We plunge further down the trail with me often falling behind so that I can pause over the wildflowers blooming: liverwort in snow white and purple, hints of wild geranium, and two varieties of trillium: a triple-leaf pattern in variegated dark and like green, the other with simple light green leaves and a tender white flower bloom. Ahead of me, I catch snippets of excited conversation among the older children referring to the stone house ahead, and I make an effort to keep up in case additional adult supervision was needed.
The stone house lies along the south side of the trail. It is a natural rock formation that stands about several stories high. The wall resembles a house due to a central flaw which scales to the size of a front door. Once you climb through the central door on the north facing the facade, you can climb into the "rooms" of the house which appear two, three, and even four stories off the ground. From high, higher, and higher the men and our children appear above Bea and me enjoying each perch and vantage point.
Spring is evident in the Gorge. You can see it and especially hear it. The Little Miami rushes with an overflow of water. We pass over more than thirty noisy gurgling springs. Though the Gorge's floor is still thick with last year's fallen leaves, spring flowers are breaking through the brown mulch carpet. Rich green mosses are carpeting the boulders along the walk, some the size of armchairs, some the size of Cadillacs.
The girls in a natural alliance decide to play hide and seek as we gain a second footbridge and cross to the Pittsburgh-Cincinnati Stagecoach Trail on the north bank of the river. We have paused long enough to feast on our provisions—the oranges and popcorn well-loved and blissfully shared among us—and they have a added rush of mischievous energy.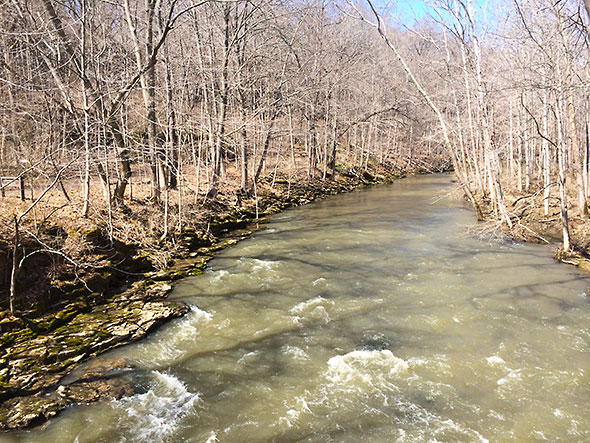 My son has eaten his fill also but positions himself at my hip and even holds my hand. His energy seems low but he walks on beside us keeping his eye on the girls as Bea and I talk. He tugs my hand and points at a strange rock. A car-sized boulder is perched on top of a taller but thinner base which as he pulls me closer I see has a small cave. I ask myself if I should let a small boy peak into the cave by himself not wanting to spook a wild animal inside. He seems determined to explore despite sensing that I'm inclined to hang back. I am about to follow when his advance rustles two shriek from the cave. Two young women—his sister and friend—emerge from the dark cave and He smiles triumphantly at my obvious surprise.
He has now set himself to be their seeker and, though they are chameleons blending in against tree and rock and bush, the young women are no match to his keen eye and he casts them free of their camouflage with a tickling spell.
Allen's eyes are also keenly on the children. He stands at the crossing to a waterfall his back to the drop off waiting for the children to challenge the crossing and preventing them from doubling back. He gives me council as I interrogate passage pointing out the wisdom of every dry rock.
We pass the time as well as any group of friends can on a beautiful spring day. We linger, we learn, we extend a hand and lend an ear.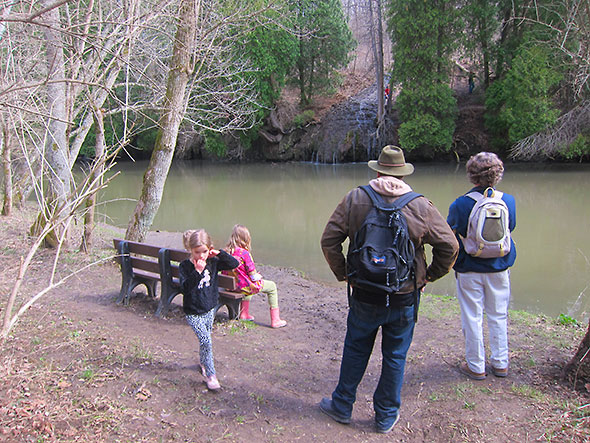 We have seen the park free of its camouflage of leaves. Through both sound and sight, we have sensed the gorge's depth and gained a better sense of place. On the final leg of our journey, we pause in the access across from that first waterfall with fanning cascades to let the children rest, yes, but also to indulge another feeling: our longing to return and to build on stories four, ten, twenty high.