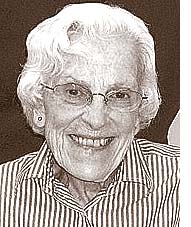 June Elaine (Hemenway) Conine passed on Sunday, March 23, at Blanchard Valley Hospital ICU in Findlay, Ohio. She was 87.
June was born in Barre, Vt. Her family moved to Findlay in 1943, where she played first chair violin in the Findlay High School orchestra. June graduated from FHS in 1944. Shortly after her graduation, she began employment with Ohio Oil Company where she met the love of her life, Dick Conine. They were married on June 20, 1948, and he preceded her in death on Sept. 1, 1983.
June's life-long love of the pipe organ provided her the opportunity to serve many years as the assistant organist at St. Andrew's United Methodist, where she was a 50-year member.
She retired as a legal secretary with Marathon Oil Company's law department (whose corporate headquarters are in Findlay) after 25 years of service. She was a member of the American Guild of Organists and a life member of the Humane Society of Hancock County.
June is survived by her two daughters, Pamela Elaine Conine of Yellow Springs and Patricia (Mark) Kelbley of Findlay; one son, William A. (Kathy) Conine of Findlay; and her two granddaughters: Jordan (Kyle) Tuttle and Meryn Conine.
In addition to the influence music played in her life, June's passions centered around her family and friends, the latter including her miniature dachshund, Molly, and her current rat terrier, Abbey. She was never happier than when she was surrounded by her family at holiday time or over a long summer weekend.
June and Dick bought a 15-foot travel trailer in the late '50s and took their young family on trips that crisscrossed the country, from her beloved home state of Vermont to the California coast, thus instilling in their children a sense of history, geographical awareness, and respect for the natural world. At least two weeks were saved every summer for camping at the Pinery Provincial Park in southern Ontario.
June loved her visits to Yellow Springs and made many special friends in the community over the years. She especially enjoyed her occasional visits to Pam's classes at McKinney Middle School, and was even known to type a student's paper or two upon request ("But you must dictate to me."). No visit was complete without at least one meal at her favorite restaurant, The Winds Cafe.
June was laid to rest next to Dick in a small Putnam County cemetery atop a pine ridge near the Blanchard River on March 27. She will be greatly missed by her family.