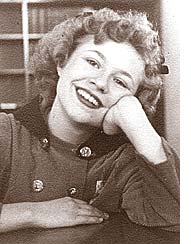 About the author: She was born in 1923 to the name Harriet May McCune, married William Robert Guthrie, and then took on Harriet M. Guthrie. She was a conversationalist and listener, storyteller, poet, writer, debater, weaver of words, social activist, and celebrator of life and books. She loved and was loved — greatly. Always intellectually curious, from the earliest and throughout, she loved adventure — in and outside of her head. She was insouciant too, and, by nature, preferred to fly by the seat-of-her-pants. She was deeply caring and happily grounded in family and friends.
She was inordinately fond and proud of her two grandchildren Andy Ely Guthrie and Caitlin Guthrie Freeman and, of course, their respective parents — Steve Guthrie/Anne Ely and Ann Guthrie/Richard Freeman — plus her two great grandchildren, Isabelle and Will, and her nephew, Hank Schraeder. She landed in Ohio for the last four years of her life to live with her daughter and son-in-law, Ann and Richard. Her poetry was published in The Lyric — to which she refers here — when she first moved to Ohio and began to submit her writing with this requested biography. She died June 12, 2014. Her favorite color is yellow:
"My earliest memory is a dream of flying: I am a moth miller with a thick, furry body and dusty, dun-colored wings. I flutter in and out of a circle of light, pulled by the warmth from a large kerosene lamp. I brush close to the twin mantles that control the flames and my wings scorch. I can feel it and smell it. I begin to fall and am suddenly awake there in my bed, but I believe that my flight was real. I struggle to my feet, the wet skirt of my nightgown wrapping my legs. I reach for my shoulders with my hands and lift my elbows to make wings. Nothing happens, but I persist for several seconds until I understand that the flying was just pictures inside my head. I begin to cry, rubbing at the tears and then holding the brass rail of my crib with my damp hands. I taste the salt of my tears and the brass of the bed and know the yearning for something lost and the savoring of something found. Without words to clothe the concept, I am suddenly aware of the power of being and thinking. This memory is sensory and nonverbal. I am unsure of my age, but am certain that I could not have been much older than two. I was dispossessed of the crib when my sister was born on the first day of February after I'd had my second birthday on the 13th of August, 1925.
"'I was born' would seem to have been the logical beginning to the story of my life. In my own mind, the beginning has always been my dream of flying. Still, there are some statistics I can present: I was born on Monday, Aug. 13, 1923, at eight o'clock in the morning. I was named Harriet May McCune. The place of residence was Austin, Delta County, Colo., and I had inherited my name from my two grandmothers: Hattie Belle Sheppard and Cora May Rucker. I have always been very grateful that I did not inherit 'Cora Belle.' I was born on the kitchen table in a one room log cabin and attended a one room school on Redlands Mesa on the western slope of the Rockies until I was nine. Then I was moved to Kansas City, Kansas and dropped into a 'big city school,' just another bit of Depression debris. I was a survivor: we were a family of survivors; and I exited the educational system many years later with a Ph.D., having acquired a teaching certificate, a husband, and three children along the way. Four important years of Bill's and my youth were consumed by WWII and Korea, and he managed to combine this intermittent military service with his climb up the corporate ladder. I was not the ideal corporate wife, but he didn't even blink when I devoted several years to field work for the Equal Rights Amendment in the hinterlands of Oklahoma. I am now a widow. Our younger son died of Hodgkin's Disease a few days after his 21st birthday. Our daughter and older son are both teachers and close to retirement age. Our two grandchildren are adults, and there are two great grandchildren. I have always "written" and had never tried to publish before this past year. I suppose you could call me a closet poet. I'm not sure why I'm mailing this manuscript. Maybe I'm just thumbing my nose at old age! At any rate, I now have entire delicious days for reading and writing … and I feel as though I have found the wings I lost when I was two: 'Look at me, Peter Pan! I'm flying!!'"
Personal Directive
by Harriet M. Guthrie
© 2000
Remember.
Life's a temporary condition
full of the unexpected.
When you meet pain
(and you will)
grasp it firmly
give it space
and let it go.
When fear finds you
(and it will)
confront it
plumb it
and search for common cause.
When you feel anger
(and you will)
acknowledge it,
flex it,
and aim it aright.
When joy surprises you
(and it will)
embrace it
cherish it
and share it in love.
Life's a consumable gift.
Use it up.