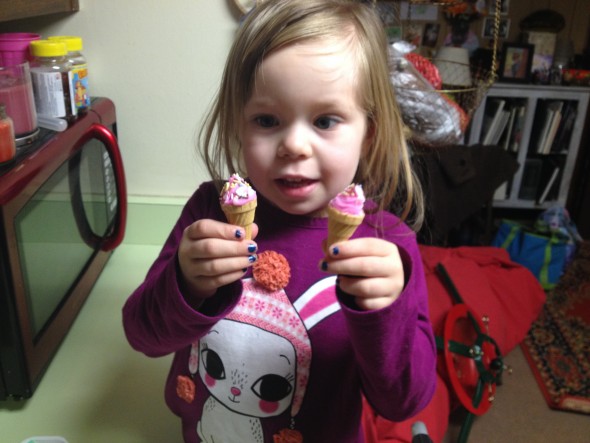 I can't say precisely what it was in my life that caused me to have a nearly insatiable love for tiny things, but I do know that it began early. When I was a kid, my mom and dad used to take my sister and I to the dollar store in the mall, give us a few bucks and just let us go nuts. In terms of entertainment, it was cheaper than, say, blowing $20 in the arcade at the mall so that I could win a few plastic trinkets. Of course, going to the dollar store still meant there would be plastic trinkets, but they were saving themselves money and saving me the embarrassment of consistently being bad at skee-ball in public, and I respected that.
In any event, one of my favorite dollar store purchases back then was this very small, plastic doll house that opened up into a little living room/kitchen scene. It was fully furnished, as I recall, with little chairs and a table, a refrigerator and a couch, all of which was attached and not removable. It also came with a little plastic bear to move around the scenery. It was basically a low-budget Polly Pocket, but with bears.
The main thing I would do with this toy was just look at it. It was just so … cute. Look at the way the little bear fits right in the chairs, I would think to myself. Look at the little refrigerator! How cute would it be if you could open it up and see the little tiny milk jug and an adorable carton of eggs? I would nearly be in tears by the time I finished imagining the cuteness of hypothetical cheese wedges or a bag of carrots. It was the way most normal people feel when they see a kitten or a baby, but worse. I thought miniatures were so cute that I felt absolutely devastated when I would look at them.
And this feeling persists into my adult life, for better or for worse. My husband and I visited an antique mall in Springfield a few months back to do some Christmas shopping, and I think I had to be physically pulled out of their very extensive miniatures section so I wouldn't start sobbing in public. I have collected a series of small things that I line up on shelves at home and at work so that I can just look at them and sigh over them from time to time.
The only person in my life that ever has or, perhaps, ever will fully understand and share this love of tiny things is my younger sister, Hayley. Or at least I hope she does, because I give her miniature tea sets or tiny erasers modeled to look like food items for pretty much every Christmas and birthday.
It was my sister who introduced me to "RRCherryPie," an anonymous YouTube user who posts silent videos of himself showing off his collection of miniature items. The vast majority of these items (not unlike my own small collection of miniatures) are food or food-related. Some of RRCherryPie's most popular videos are those featuring a line of semi-do-it-yourself confections manufactured by the Japanese company Kracie. Each Kracie kit contains a number of small plastic molds and trays, along with powders that, when mixed with water and put into their various molds or shaped by hand, become bite-sized facsimiles of pizza, cupcakes, waffles and the like. If you have four minutes and change to spare, check this one out:
And all of that was a very, very long introduction to enumerate why I was so excited when I went to Jungle Jim's in Fairfield recently, and ran across this:
The greatest thing about being an adult is when you realize that you now have the wherewithal to fulfill all your childhood dreams. Well, those dreams that cost $4.99 or less, at any rate. I snapped up two kits to take home: the ice cream kit (the "ice cream" part is actually some doughy strawberry and vanilla flavored icing that's not half bad) and the cake kit (with microwaveable cake mix).
My intention for these kits was to take them home and, in the evening, when my husband and child were sleeping or otherwise occupied, use my moments of solitude to create perfectly executed miniature ice cream cones and a tiny, painstakingly decorated two-tier cake, as I had seen done so many times before in the aforementioned YouTube videos.
These plans, however, were immediately shifted as soon as my daughter saw the Kracie boxes on the kitchen counter.
You may or may not have seen last year's animated explosion, "The Lego Movie." If you haven't and you intend to, this is your spoiler warning. In any event, in the film, the story's villain, Lord Business, is perturbed by those Lego citizens who build without heed to the "instructions," and works to keep them from doing so. We later find that Lord Business, along with the protagonist and all of his cohorts, are the imaginary Lego creations of a young boy playing amongst his dad's massive Lego model cityscapes. Lord Business himself is an analog of the dad, who has repeatedly told his son to stop taking apart Dad's Lego buildings and playing with them. The emotional climax of the film comes when Dad realizes he's stifling Son's creativity, and agrees to let him dismantle the model metropolis in the name of imagination. It's heartwarming stuff.
But I'm really with Dad/Lord Business on this one. Sometimes grown ups just want to play with their own toys. Is that such a crime, "The Lego Movie" writers?
Anyway, to get back to the point: once Lucy saw my Popin' Cookin' purchases, I had but a moment to decide what I would say. Would it be, "Do you want to make a tiny cake with me"? Or would it be, "Lucy, these are Mom's toys"?
Well, obviously, I chose the former. I'm not a MONSTER, despite what "The Lego Movie" thinks. I pulled out a step stool and helped Lucy up to the counter, and we made them together, as documented by these very short and hastily-edited Instagram videos:
So maybe it's not within my power to fulfill all my childhood dreams, I suppose. Sure, I've got the $9.98 (plus applicable tax) to bankroll the adventure, but it turns out that childhood is many years in my past. And I've got a person living under my roof whose childhood is just kicking into high gear. True, she doesn't love tiny things as much as I do; her dreams at this point mainly consist of getting candy and other candy-type things into her pint-sized gob. So in a way, we both got to live our dream: she got a face full of sweets, and I got to spend some time playing miniature kitchen with my kid, who is, by the way, my favorite tiny thing of all.