BLOG-Go With The Good We've Got
When I think back to my childhood, among my favorite memories are the cookouts that we had for neighbors and family in the backyard. Settled on two grassy acres between the tree-lined banks of an abandoned railroad line and the Susquehanna River, we had an ideal spot for cookouts and they were frequent occasions in my tween years. My parents would get out the grill and the horseshoes, and we'd spend the afternoon roasting kabobs and pitching ringers.
The marinated kabobs were particularly memorable. Folks from the Upstate New York river valley of the Susquehanna gravitate towards a particular marinade known as spiedie sauce. This oil-and-vinegar-based preserve is seasoned with lemon, garlic, and green herbs, most notably mint. The marinade has a Greek heritage and was traditionally used to prepare lamb. Embraced by the larger community, spiedies can be prepared with any meat cut for kabob, and we'd grill up pork, chicken, or beef. Sometimes we would prepare all three—pork, chicken, and beef—at the same cookout and I'd try to sneak chucks of beef off their kabob before fully cooked.
After partaking of a couple of Upstate New York cookouts with the family, my husband Jeremy started carting quart-sized tubs of spiedie sauce back to Ohio. He'd thaw out choice cuts of meat—stew, chops, or shoulder—marinate the cuts for a couple of days and either grill, broil, or braise them for dinner. This February, after running through our Thanksgiving-reinforced stock at an unprecedented rate, we began counting the weeks before our next anticipated visit north.
Then one Saturday while at the winter farmers market, I realized that a more immediate solution was right in front of me. Louise Berrier of Weezy's Garlic, Spices & More was setting up her table of resplendent dried foods, and I asked her if she could blend together the dry ingredients for my favorite sauce. I spelled out the name of the potion S-P-I-E-D-I-E and she promised to look into it. The very next week she not only brought the spice blend but a crockpot of spiedie chicken that she'd marinated since Thursday. The aroma filled the room—enough to start my mouth watering—and I took home two packages of the seasoning that day. I might have taken more but the seasoning proved a hit that day. Louise sold completely out.
I showed the packages to my husband, and—inspired—he selected a shoulder from the freezer to prepare. His choice of meat was interesting: not chicken, or pork, or beef, or even lamb but goat. We'd recently worked with Moonshadow Farm and Old Town Butcher Shop to acquire the cuts. This meal was our first from that acquisition. Upon selecting the meat, Jeremy had other choices to make: namely, which oil and the vinegar. After tearing the pantry apart, he came up short on both olive oil and white wine vinegar. My husband quickly embraced a new cooking philosophy which he summarized as "go with the good we've got." The good turned out to be almond oil and Bragg's apple cider vinegar supplemented with a small amount of white wine vinegar.
When they are in ample stock, other oils work as well, walnut and olive in particular. Instead of white wine vinegar, Jeremy could've used the homemade wine vinegars that I've been mothering in two Yellow Springs Brewery growlers, one white wine and one red, tucked under the kitchen sink. Had he known Grandma Katherine's secret, he could have replaced the vinegar with the red wine Grandma preferred in her spiedie sauce. Still, his discoveries in the pantry were excellent choices, and the almond oil and vinegars combined with Weezy's spices made a fine aromatic marinade.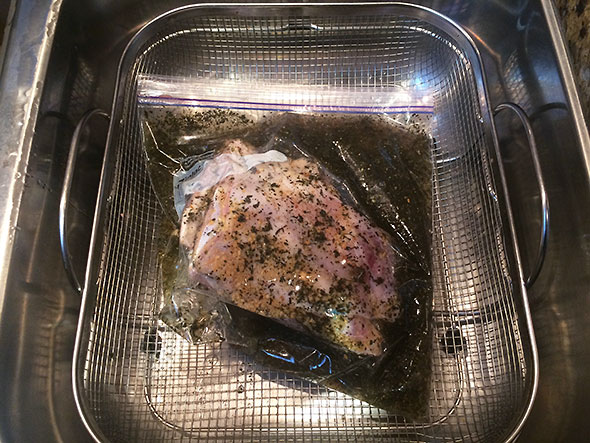 After two days in the marinade and one in the crockpot, the goat meat was falling off its bone practically melting into the sauce. We sliced baguettes of Blue Oven Bakery and ate the tender meat off of plates decorated with white bread and mixed greens. Before this meal, I had eaten goat meat prepared as lean burgers. Those burgers were good, but they did not prepare me for the excellent texture and tenderness of the goat shoulder.
As tasty as this meal was, I have to admit that I was reticent about having a goat butchered. I believe in the importance of drawing food from local sources, of knowing our farmers and seeing how the food my family eats is grown and raised. As a standard, I should feel safe having my children play about the same fields that we eat from. I might want to feel completely at ease, but I could only achieve that state now if I stop paying attention.
As a child of eight, ten, or twelve, I didn't put much thought into the origin of food. So much was produced around me but as I grew increasingly the meals on our family table were processed, packaged, and shipped from far away. At first I gave those producers the same deference that I gave the farmers of my community but I have learned that trust needs to be hard earned.
When I look into the eyes of my farmer, I sense their honor. When I walk the land at their side, I see how they respect the land and the animals that they raise on it. I learn in turn to honor the earth and its many residents. I learn that raising animals on family farms is largely beneficial and that the herd needs to be managed to keep the farm in balance. Still, I am troubled at sending a goat for slaughter, and that is a good thing. That feeling keeps me in check. I should not try to hide it or rationalize it away. There are feelings that I should never try to escape, in particular, that feeling of responsibility and going with good that we've got.