BLOG-A Great Room for the Winter Market
5:10 am – It's early morning and outside the temperature reads -3 degree Fahrenheit. I'm planning what to wear for the morning work outside. Lots of layers, I tell myself, with a warm hat and wool mittens.
I'll be up and heading downtown in two hours time to open the doors to the Great Room at the Yellow Springs Senior Center, 227 Xenia Ave. Inside, the center will be hosting the Yellow Springs Winter Farmers Market on Saturday from 8:30 am until 11:30 am for the 2015 season.
Last week, I opened the doors at 7:45 am for five vendors: Blue Oven Bakery, Flying Mouse Farms, Morning Granola, Wild Hare Natural Farm, and Weezy's Garlic, Spices, & More. Today, we will have three more vendors—Patchwork Gardens, Baker's Vegetable Market & Greenhouse, and Tower Gardens—so I'll be uptown a bit earlier to make sure everyone has ample time to set up.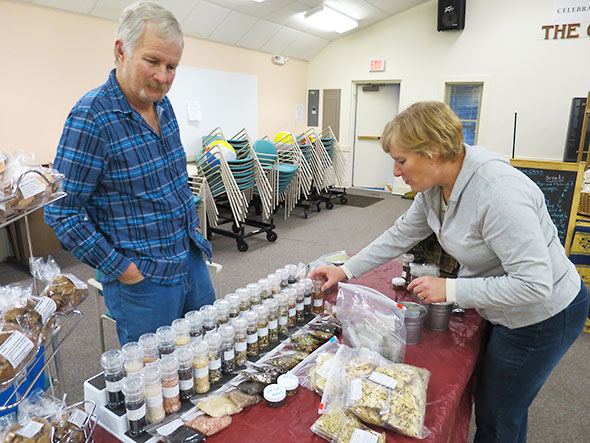 The market opened in the Great Room for the first time on Saturday 3 January. In 2010, the United Methodist Church began hosting the winter market in its fellowship hall. The hall offered vendors tables and chairs in a space that could comfortably hold twelve vendors. Close to downtown and just a block away from the site of the outdoor farmers market, the winter market took root in the fellowship hall, but parking was scarce and the hall had to be accessed by stairs or elevator. This summer we explored other possible venues; and on the good counsel of Macy Reynolds I approached Karen Wolford, the executive director of the Yellow Springs Senior Center, about the possibility of using the Great Room.
Wolford warmed to the idea immediately and discussed the idea with the center's membership. She met with enthusiasm also. Many senior center members are regulars at the Winter Farmers Market and readily listed for Wolford the vendors that they hoped would participate. Wolford was excited about the number of people who would be introduced to the senior center, and I was immensely pleased with the downtown location, the proximity to two parking lots, and the street level accessibility of the space.
Among the earliest customers lined up for market last week were Macy Reynolds and her husband Roger. They had come for a loaf of Blue Oven Bakery's flavorful bread and perhaps to check in on me. Roger handed the mantel of market manager to me this summer, and I am grateful for the boat load of work he and Macy put into the market's first years.
6:15 am – We started the market because we care about access to good quality local produce and about making an investment in sustainable food systems. In about two hours, the doors will open just up the ramp at 227 Xenia Avenue. Layer up and meet us there. Line forms at 8:25am.