When Aunt Teri and Uncle Harve started to raise goats, they converted my cousins' playhouse to a mini barn and built a fence around it to form a wide perimeter. We were sad at the sudden separation from our well-loved play area, but cousins Mike and Mark were shooting up like weeds and so were my brother, sisters, and I. We were all getting too tall for the playhouse. Once the herd moved in, we were happy to give the run of the playhouse to our new playmates. With their soft fur, floppy ears, narrow noses, and barrel tummies, baby goats are the very definition of cute. Besides enjoying the undeniable entertainment value of the herd, my aunt and uncle have milked their does. Over the years, I've been able to share in the dairy products that Aunt Teri creates from their goat milk…products such as kefir, butter, and cheese.
After years of Aunt Teri encouraging me to join a herdshare, I got my chance this Spring. It has been an exciting season. The children and I visit regularly. At first, we witnessed momma goats in labor, then the first babies. We arrived after one mother goat had her first kid and just before she delivered two more. Later we returned to watch the newborns buck and play. We helped—or rather tried—to feed a pair of tiny kids whose first-time mother had yet to get the hang of nursing.
Last Saturday, members of the herdshare gathered at Moonshadow Farm to make cheese. Now that all the pregnant does have given birth and their milk is well established, several of herdshare members have been making yogurt and crafting a variety of cheeses. Saturday's cheese making session was led by Caroline Mullin, co-owner of Moonshadow Farm, and by Keegan Smith-Nichols, an Antioch College student. Keegan works at Moonshadow Farms on co-op. Beth Bridgeman attended on Saturday also and, as she is Keegan's cooperative education instructor at Antioch, she told me about Keegan's co-op program.
In 2012, Antioch College teamed with Miami University's Institute for the Environment and Sustainability to form the Ohio Agrarian Trade Partnership. The partnership secured a $140,676 grant to develop 30 co-ops in food-related jobs through the Ohio Means Internships & Co-ops program. Keegan's position at Moonshadow Farm was among the first co-op jobs to be established through the higher education grant.
Antioch College wants its students to engage with the world so the college organizes its school year into quarters and requires its students to work one quarter each year in a full-time co-op position. During the 12-week quarter, Antioch students apply their classroom instruction in service to a hands-on trade, build relationships with industry mentors, and test their developing collaborative and interdisciplinary skills.
Of late, Keegan has been testing his cheese making skills, and, to be frank, he excels at this occupation. On Saturday, we sampled the excellent feta that he and Caroline made using goat milk, buttermilk, rennet, water, salt, and time. They had also produced a mouth-watering chèvre. We divided the soft snow-white cheese and seasoned our allotments to taste. To my lot, I added a bit of salt—not too much in deference to my daughter—then pinches of freshly chopped chives and rosemary from Caroline's herb garden. We worked in our select seasonings using a spoon and then formed them into a ball for serving. I set mine aside as we worked next on ricotta and mozzarella but returned to it several times as its flavors diffused and blended over the next hour or so.
Next, we made mozzarella. Our recipe called for a gallon of milk, 5/4 teaspoon of citric acid powder, a 1/4 teaspoon of liquid rennet, and half a cup of cold water. Straight from the goats, our milk was not homogenized. As we poured the milk into a stock pot, Keegan and I could see swirls of dense milk fat form on top. We held the bottles above the pot for a minute to let the clinging fats drip downward and out.
We brought the milk's temperature up to 88 degrees Fahrenheit and added the citric acid and the diluted rennet to the warm milk. We let the milk set at 88 degrees for 15 minutes watching as a smooth block of pale white curds formed. A bright yellow liquid—known as whey—separated from the curds. When the 15 minutes was done, we poured off most of the whey and separated the cheese curds into two bowls. Covered in a warm bath of the yellow whey, the white curds were brought up in temperature slowly again and set at 108 degrees for several minutes. The gentle warming process draws out whey slowly…just enough to preserve the silky stretch of a mozzarella. Finally we salted the mozzarella, gently folded and stretched the cheese, and formed it into smooth, palm-sized orbs using the heat of our hands.
Under Caroline's watchful eye, we all took a turn working the mozzarella into form. We followed Keegan's lead as he has a practiced hand. A good mozzarella is balanced its moisture content, Keegan told us. He warned, "Don't overwork the cheese and squeeze too hard, or you'll wind up with a hockey puck instead of cheese."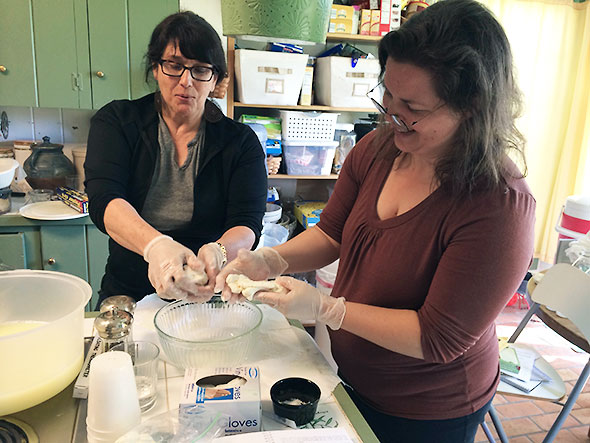 We heeded Keegan's words and modeled his movements. Once the pulling process was complete, we could eat the mozzarella immediately. As we took our first sampling bites, we listened—gratified—for the squeak of a properly made mozzarella.
After our success with the mozzarella, we started a batch of ricotta. A first attempt at making ricotta had failed before I arrived. The failure was attributed to the whey that was used in the recipe. It had aged a week, and most recipes recommend a whey that is at most three days old. Now, after making a batch of mozzarella, we had fresh whey and enough dairy to try again.
Unlike the earlier attempt, the pot of hot milk and whey responded quickly when we added citric acid. Large curds formed which we could lift out with a spoon. We strained the curds by pouring the pot's contents through a plyban cheesecloth and left it to drain for an hour. The plastic cheesecloth has the benefit of not sticking to the curds so that, when the time comes to remove the ricotta from the cloth and salt the cheese to taste, the curds separate easily from the cloth.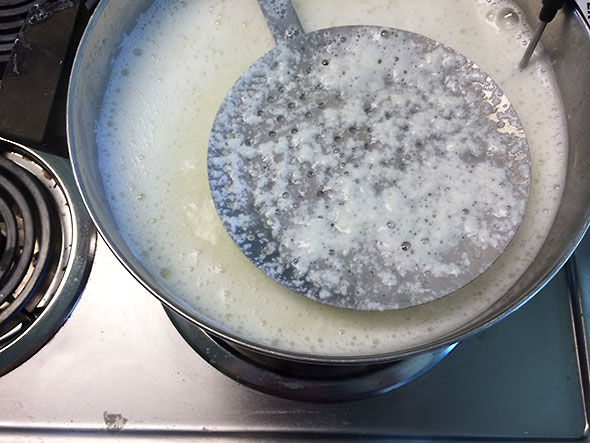 In my youth, I didn't care much for cheese. Its tang was too strong on my adolescent tongue. As a consequence, I didn't pay much attention to my Aunt Teri's artesian cheese making. However, tastebuds change, and now goat cheese is one of my favorite foods. I might regret my earlier inattention to my aunt, but I am most fortunate. I have terrific mentors in Caroline, Keegan, and Beth, and they have the enviable support of Antioch College in their farm-to-table endeavors.