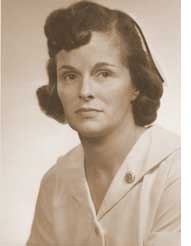 Barbara Louise (Hicks) Hardman, beloved mother and grandmother and dear friend, passed away at Friend's Care Assisted Living on Friday, July 10, 2015.
Barbara was born on Dec. 19, 1927, in Portland, Maine, the third of four children for Charles and Dorothy (Doe) Hicks. At 16, she graduated with honors from Deering High School in Portland, after which she worked her way through Westboro College by running the college switchboard. With a scholarship from New England Deaconess Hospital and Nursing School in Boston, Mass., she earned her degree as a registered nurse. In 1952 she married Harvard medical student Robert P. Hardman. This union produced five children in six years while relocating frequently for Bob's post-graduate training: David and Lynda were born in Boston, Mass.; Dan was born in Cleveland; Jim in Norfolk, Va., and finally Bill in Denver, Colo.
The young Hardman family finally settled in Yellow Springs in 1962. Barbara quickly became very involved in school and community activities. She was chairperson of the PTA Health Committee. She did eye-testing in the local schools for almost twenty years and she taught health at the YS High School and middle school. She was an avid supporter of sports, becoming a well-known fixture at local soccer, volleyball and basketball games; her unique cheerleading skills were legendary!
Barb worked at several area hospitals while raising her family. She then became the nurse ("Nurse Barb") for the Antioch College Infirmary in 1977. It was here that she truly found her niche as a care-taker, treating the students as if they were her own kids; baking chocolate chip cookies and making chicken-noodle soup for the ailing or homesick, sometimes even delivering them on roller skates! She retired in 1996, after speaking at the commencement by request of the students. She did not disappoint, her speech brought cheers, laughter and hearty applause.
The daughter of two professional musicians, music was always a big part of Barb's life. She was an accomplished pianist and had a lovely singing voice. She sang alto in the Methodist church choir for decades. She also played a mean ukulele!
Barbara was a woman of grace, love, wisdom and tolerance. She had a great sense of humor and adventure. She was a gentle activist for many social and political causes, being spotted regularly at the peace vigil on Xenia Avenue on Saturdays and posting many Letters to the Editor over the years. She will be dearly missed and forever loved.
In addition to her five children, Barb's family includes grandchildren Alexis, Maya, Nathan, Marie-Louise, Jonathan, Christian, Ben, Gregory, Zeke and Jacob; and daughters-in-law Laura, Dagmar, Lynn and Jocelyn.
Per Barb's wishes, there will be no formal funeral. In lieu of flowers, donations to The Greater Dayton Humane Society in her memory would be appreciated.
Her family is planning a memorial for a later date which will be announced in the YS News.