BLOG-Tiny Homes for Garden Folk
Early July I received a special invitation. Sarah Strong, artist and owner of Strong Heart Press, offered a week of glorious exploration. She promised art and nature, splashing in the Little Miami River, fossil hunting, sculpting, painting, and a general assembly of camp time fun. The invitation wasn't for me exactly; it was for my eight year old. When I told my daughter that Sarah was back in town, she jumped at the chance to join art camp.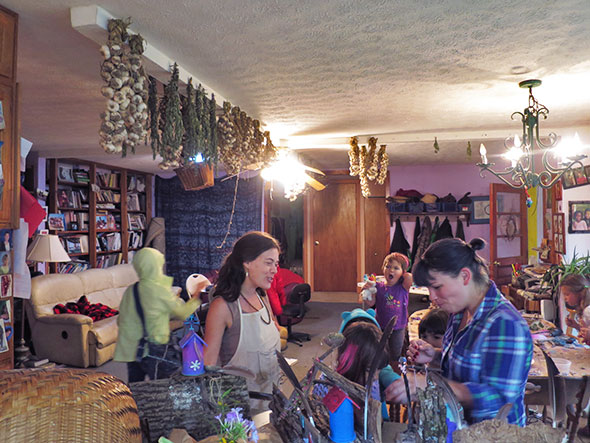 Starting on Monday, we'd gather near the Richard P. Eastman covered bridge. From there, the group of ten children would walk the gravel road beyond the bridge down to the site of their camp. With the exception of a soggy Thursday, each day the children would hike to the river bank with Strong and her daughter Sady Sparks. There they would hunt for shells, craydads, and plants along with odd bits of debris. Back at camp, the children would form individual piles of their finds so that they could sort through them over the week.
Inside, they painted rocks of various sizes. The paint was bold, shimmery, jubilant. Some stones sported stripes; a few were decked out in dots. Once decorated, the rocks were shellacked to protect their gleaming paint from weather. The children also selected wooden cutouts—birds, symbols, and badges laced with intricate patterns. Here they chose a single color, perhaps two, to coat their cutout. The large dominating piece hit one strong note—a resonating mood or focus—while their other pieces danced with energetic playfulness.
In addition to rocks and symbols, the children decorated birdhouses. The shape of a miniature lighthouse, each birdhouse was a cylinder, two stories tall on hummingbird scale, and capped with a gable roof. Once embellished to their child's content, these too were weatherized with a coat of glaze. All painted items seemed destined for a common port, a future that required a certain level of resiliency.
Other larger houses took shape. Wilder than the refined, paint-embellished birdhouses, these homes were sculpted from natural materials. Wood boards—their outer bark still attached—formed floors and walls. The children fashioned sticks and stems into fences and makeshift ladders. They dangled bits of bark from yarn and balanced overhangs to make whimsical swings. They created platforms on stilts and high flying nests that nestled treasures aloft such as crawdad claws and clamshell eggs.
Rooms took shape, bed chambers with soft foamy beds, bathrooms and small kitchens with mother of pearl tubs and sinks. Armed with rapid-fire glue guns, the children fused colored glass and ceramics to rustic walls.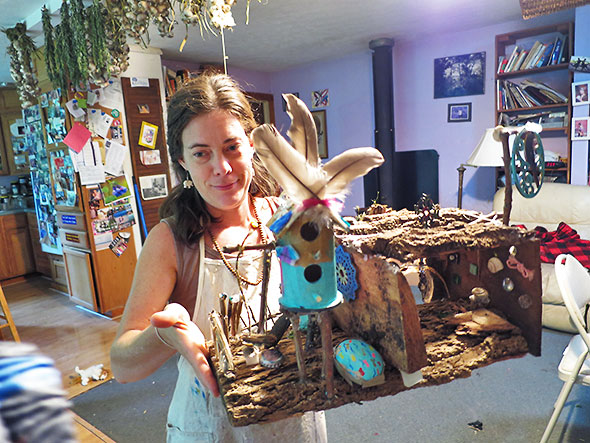 By the end of the week, each child had united their creations—painted stones and badges, the decorated birdhouse, and the ingenious lean-to—together as a tiny but well-appointed fairy house.
My daughter was keenly engaged through out the week as her projects and treasures began to mount. She kept us abreast of the overall endeavor and her particular ambition to make a home so glorious as to suit the luminous Tinkerbell. When her family arrived Friday afternoon for the final day of camp, she carried her grand construction out with attention and care, handing it over to her father only long enough to give Sarah a big hug and cross-your-heart assurances that she would place it in the garden for the fairies that very night.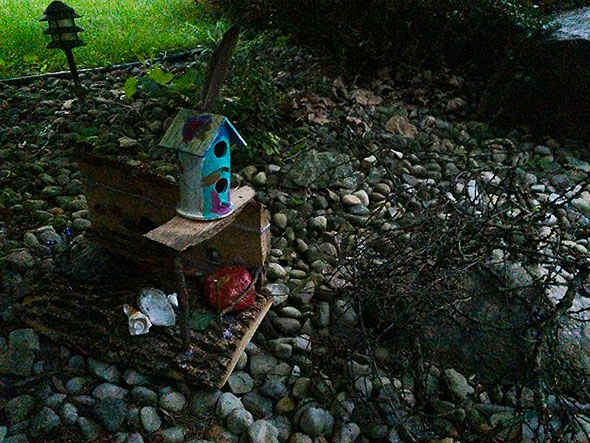 My daughter felt that her tiny house was best suited for a water fairy so, when we arrived home in the evening, we placed the house underneath the lilac tree and next to our cascading garden tower. Sarah said that we must watch and see if the home became occupied. We would know, Sarah imparted, if we found personal items showing up in the house.
The next morning my daughter woke up and peeked out the front door. She wasn't expecting someone to move in right away but felt there was no harm in checking. Indeed something had changed. More shells had been placed about the room particularly near the bed, and the cork of a champagne bottle had been placed for a pillow. New shells looked like lamp shades and one could only conclude that, during the night, a water fairy had staked a claim to the residence and found it quite satisfactory, homey and snug. My daughter was gratified…first by the unmistakable confirmation that fairies do exist and second by our garden friend's evident good taste.
Sarah Strong's gifts to this community keep mounting. She led our child through many adventures, pointing out landmarks and the more subtle guides that make art a powerful, multi-tiered discipline. Strong works in composite layers: the gossamer, the substantive, but never the opaque. An invitation from her is a call to glory. She understands the harmonies in the mix of her media and knows how to cajole from her charges the sweetest rounds of rousing chords.