When my husband made this week's purchase, he took as given that he'd never see all 756 pieces in one place again. The fire station lego set—two trucks, a helicopter, and a three story fire house—was an ambitious leap even after the 208-piece fire truck that he successfully assembled last week with our son. Grandpa Tom and Grandma Sue were coming for a 3-day visit however, and the time was ripe for a large scale project. With six of us keen to contribute, we could handle the pace of 252-pieces-per-day in stride.
Our four year old provided the momentum required. He woke up early, ate two bites of breakfast, and called in his construction crew like an eager shift captain. Once we took our place, he set us up with the instruction manual and a fresh bag of supplies and then worked ahead himself.
Already recognizing patterns, he'd sort through the pieces and prebuild parts of the assembly. Working within his limits, he'd focus on the builds best suited for his four years old fingers. Like a master builder, he'd fashion logical structures of a dozen or more pieces from a blueprint in his head that seemed based on real life objects rather than the fantasy figure we strove toward. His designs weren't always correct but often uncanny interpretations. Meanwhile, we—hamstrung to the manual—had to scavenge his creations to order to proceed in our own efforts. We marveled at his young mind's ability to worked several steps ahead…making sense of the complexity before him and artfully playing within its constraints.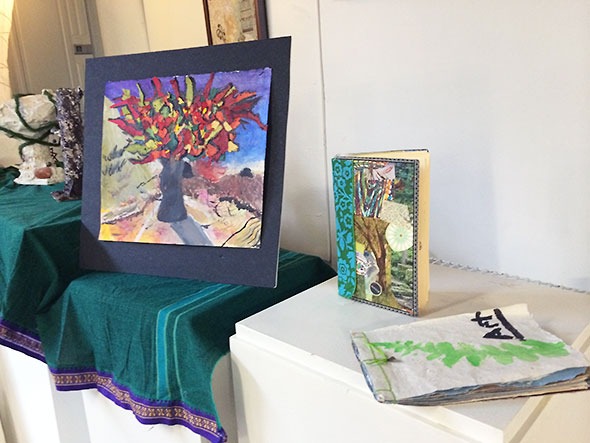 Mastering a construction set is one small step in creative play. While our son developed dexterity and spacial relations, our daughter developed her skills in multimedia art with Sarah Strong of Strong Heart Press & Studio. We've enjoyed the projects that our daughter brought home from the studio, but just last weekend we got the opportunity to deepen our appreciation. The Yellow Springs Art Council, 111 Corry Street, is hosting Explorations in Creation!—a show of the studio's after school and art camp projects—until 10 August. Our family attended the opening Sunday afternoon and witnessed the great scale of accomplishment within the class. The range of expression and texture present in the displayed works is enchanting enough but the degrees of mastery among the students—all very young—is striking. An interesting vocabulary is developed in each piece layered like a well-prepared dish with both crunch and creaminess. The studio's students accomplish so much because they search along multiple paths in a single piece. Sarah Strong doesn't teach her students how to do something; she teaches them how to mine their own natural intricacies and gain passage. The assembly of pieces sing in harmony and though their resonances I see that a student's compelling work is no happy accident but the attainment of a master builder.
We've known many frustrations before the accomplishment. When we picked out the 208-piece lego puzzle at Blokhedz last fall, I didn't realize that our son's three year old hands were far too weak for the project. The lego set is intended for 6 to 10 year olds, and our young man's dexterity was lagging his peers in development. His hands needed to get stronger according to a Greene County occupational therapist and so we worked with him—kneading dough, climbing walls, cutting shapes, sorting marbles with pinchers—to get him into condition. We saw positive progress in July. He brought home two worksheets where he had traced the letters of his name in blue crayon.
At the Strong Heart art show, I can catch views into a multi-hour lesson as distilled in two or more interpretations. Every point is a sign of progression but one that intersects more than a single narrow skill. Like reunited friends, once-abstract paintings speak clearly…perhaps of the precocious relations formed between dots and lines…and carry on conversations with regard to organic subjects matter and evocative memories. I can trace the measure between ambition and ability in the layered ink and yarn pictures. The intricacies of the ink patterns approximated in the coarser yarn provides an extra tension to each picture.
Noting both where pieces connect and diverge, I mapped ambitions among the artists and the apparent richness of their journey. A thought occurred to me, and I suspect Sarah Strong knows well what I only have just learned about teaching. I recall putting away my son's Legos in a blue and yellow bag for safe keeping in the fall thinking, since he wasn't ready, adventure would have to wait. Nevertheless, my son was eager to begin despite his frustrations. He convinced his father to liberate the Legos from their high perch. Again and again, I'd come home to find 200+ Legos spread like a fire pit of white hot coals between the front door and the living room couch. Sometimes I'd let it go but mostly my husband got an earful over the unattended scatter-shot mess. Pieces were getting lost and vacuumed up, I warned hands planted on hips, but to no avail. The determined boy would unearth his treasure bag from every new hiding place and spread its wealth over—and under—the entry rug. Then, something changed.
Our little man discovered the instruction booklet, a bright blue guide of simple clarity and enormous intrigue. I would find him balanced like a cat on the back of a chair studying his book like a treasure map. The bright blue guide was in pieces at this point. He had torn it free of the storage bag on several occasions and tossed it aside. I'd rescue the manual's increasingly battered form and return to the Lego bag. Now he was treating the map with care and attention. Then, another change materialized. Mid July, we started finding lego pieces fit together. We checked the assembled forms against the instructions and were struck at how well he was imitating the patterns. Lego pieces were indeed missing, but he was improvising with what remained. Four years old and he was ready. He was figuring it out. We threw him our support.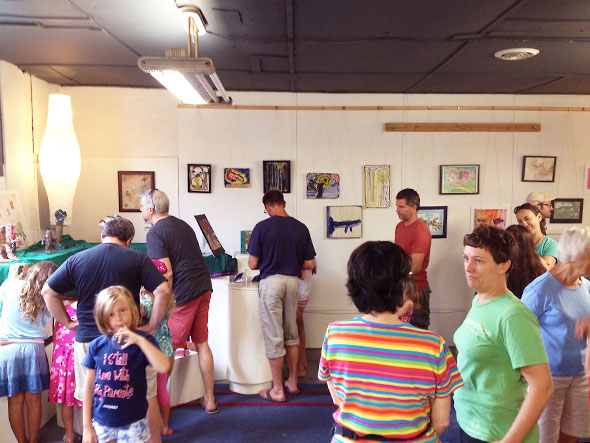 Many of us come to the realization too late that the best way for our children to learn is for them to struggle with the object. Sarah Strong did not come late to this realization but has dedicated her life to being that source of clarity and intrigue for our children. She endeavors in fact to extract us from the clutches of a culture that constrains play with conformity. Our lego project with our son was a happy accident. We might do well to let go of the bright blue instruction manual and instead let ourselves walk across the fire pit of uncertainty to someplace compelling, fantastic and new.