It's a quiet Saturday afternoon, and I'm enjoying the cool stillness of an empty house. The kids are off for an afternoon climbing over exhibits at the Boonshoft Museum and a birthday party where they will learn tae kwon do. I don't mean to give the impression that there isn't a lot of excitement going on here. Outside, road crews are resurfacing our street with hot smoldering asphalt at a measured and steady pace. Jeremy and I have known for a week that the crews were coming. Signs appeared last Sunday telling us to not park on the street. Most of the family escaped early today as we weren't sure if anyone wanted to be here when crews came. It's not so bad though. The noise is a low rumble of rushing air—not unpleasant—and the smell of asphalt is not nearly the oily pungent intrusion that I imagined.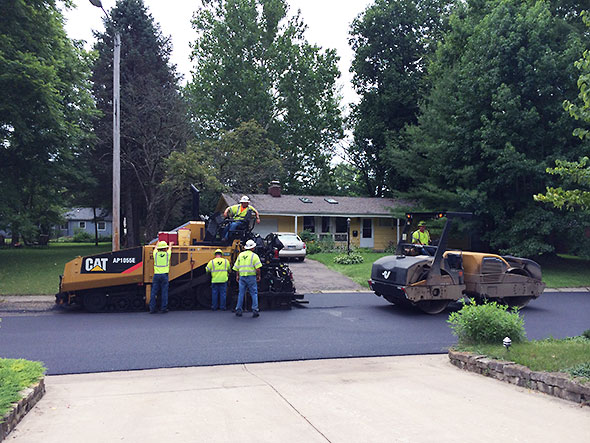 I'm pleased in fact to find myself in the company of these enormous toys. A huge dump truck, a track asphalt paver, and a couple of rollers trade action as they work down the street laying down pitch and gravel like it's fondant on a cake. I am a little disappointed that my young man is not here to witness their feats. My four year old son and I have been assembling his first lego set—a city firetruck—and he loves all things construction. Oh, how he would crow over Big Bertha as she pours flat sheets of steaming pavement. He'd lose himself in excitement as the super sized dump truck lifts its open bed three stories high to release the last of its great load.
I assembled my own modest construction project this week in preplanning Friday night's dinner. I had the main dish in mind—trout ordered through Current Cuisine—and a vision of pecan-based crust to coat meat. After ordering the trout at the deli on Monday, I fished for a set of spices to add. I posted my ambitions to Facebook and in particular to the local group YS Real Food. A lovely recommendation from Mary Braden—"Cumin!"—posted first, followed by a teaser from Chris Wyatt "salt". I had just resolved on both cumin and salt when Chris came back with a more imaginative answer, "chile and lime". I was just peeling an orange on a bench outside of Tom's Market when his comment posted. I smiled down at the fragrant orange peel and knew I had just been given a winner. I saved two wedges of my twilight snack and, when I returned home, plucked a pepper from the garden. I nested the green pepper in a tight lidded bowl to mingle with the reserved peel and orange wedges until their appointed time of reckoning on Friday evening.
Now, Chris Wyatt has a well-earned reputation for his excellent brews and keen sense of taste. He—like other masters—-understands balance and structure in food preparation in a way that I am only beginning to appreciate. The first lesson to sink in is that a little work performed days early can have a huge impact later. It's like our road crew outside. The process of repaving our one-block street has been a two step process. The crew started on Monday. They prepped the road by milling down its surface a few inches to provide a good foundation. Second, the crews returned on Saturday to repave. Likewise, on Monday I prepped my flavoring ingredients; on Friday I used my mingled comrades as foundation to the family meal.
Pecan Crusted Trout

1 pound trout
salt and pepper
2 orange wedges and 1 tsp orange zest
1 small pepper (mild or heat to taste)
2 garlic cloves
1 small green onion
1 small handful of potato chips
1 handful of pecans
olive oil

In a small bowl, set the trout to rest with a light dusting of salt and pepper. [We'll be adding more salt later in a crust of potato chips but add a light layering of salt here.] After zesting and pealing an orange, squeeze two wedges of juice into the bowl over the trout. Mince the pepper, cloves, and onion together. Sprinkle the minced vegetables over the fish evenly. Set aside.

Using a mortar and pestle, crush together the pecans and potato chips. Keep the balance of pecans to potato chips in favor of the pecans. Set the fish on a broiling pan skin side down. Add the crushed nuts and chips on top and dust with the orange zest. Drizzle the olive oil on top and any reserved orange juice from the marinade. Broil in the oven for 7 minutes. Let rest and serve.

Serves 2-4 people.
When I removed the pepper from the refrigerator, it had obviously gone through a bit of a change. Darker in color but also more aromatic with a distinct essence of citrus. While I prepared the fish, my husband joined the fun of the evening meal prep and set a pan of foot long beans from Smaller Footprint Farm to steam. Once the fish went under the broiler, we set the table for four and added dollops of coleslaw—gathered from Current Cuisine's weekend specials of "Carolina Low Country" favorites—to our plates.
The fish came out of the oven quickly and slid onto our plates with ease. My first taste was a bit of a revelation, the experience of starting small but early immediate realized by that exquisite flavorful bite.
My young son's eyes popped at the offering before him and, with great authority, took command of the largest fish filet resisting our first bribes for sharing. We finally resorted to bringing his lego firetruck to the table. He loosen his protective hold over his plate and embraced his own complex construction. Oh, there's the other thing that I have learned from Chris Wyatt: the importance of legos in a young man's life along with the tailorings of an artful, patience awareness.