Normally, I don't mind the rain. This weekend, in the name of all happiness, we've been praying for good weather in the evenings. For the rest of the day, the sky can do as it pleases.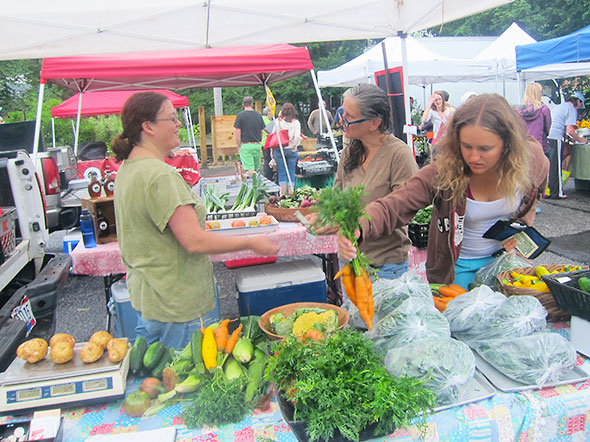 This morning at 7am, as I searched and searched for my keys, I was grateful for the rain. I was bound and determined to get to the Farmers Market before my competition but not so determined that I would risk biking. Coming up empty handed in my hunt, I borrowed a key from my husband and set off downtown.
The immediate objects of my desire were kale and sweet corn. I moved directly from the parking lot—umbrella in one hand, checkbook in the other—to Flying Mouse Farm's vending table. The morning rain had tapered off and with it my reasonable hope of success. Michelle Burns of Flying Mouse had announced Thursday that they would have sweet corn but how much they would only find out when they got to the field in the morning. I found Michelle at the King's Yard market surrounded with fresh pickings of corn, beets potato, onion, carrots, and kale. I only had eyes for the sweet corn. In line before the bin, I stood a pace back and waited with some anxiety behind a woman who was gingerly sifting through her collections of market bags looking for—could I wish?—a small sack and not a large one. I was trying hard to keep myself from counting the remaining ears when, to my near fainting relief, Michelle restocked the bin with a few dozen ears.
I looked up—startled, relieved, even a little sheepish—and saw two more heaping bag of corn perched on her truck. The sheer bounty vacated the courtesy in yielding so I broke queue and joined my fellow corn lover at the well. She had just produced the perfect bag to take a full dozen of husked corn ears home. As I counted out six ears for my family, I could not help but notice that, like mine, her spirits were much lifted. I set my claim on Michelle's table with a bunch of carrots, six fist-shaped potatoes, two blood-red tomatoes, and a bag of ripply dark-green dinosaur kale and cashed out.
Besides the items from Flying Mouse, I took home three more bags of market goodies: one from Blue Oven Bakery, one from Peach Mountain Organics, and one split between Smaller Footprint Farm and the Homesick Chef Chrissy Cruz. I unloaded the first bags from the car and handed them to my husband Jeremy. I also offered to make him breakfast. At his enthusiastic "Yes!", I set a pot of water to heat on the stove and returned outside to retrieve our remaining market items. After again handing items to Jeremy at the door, I did a turn about the rain-soaked garden…curious about what might yield to enliven a gray day's first meal. I gathered our last raspberries—two black, one pale red—then, a sprig of dill and our first zucchini blossoms of the year. [Here is where I found my keys. They looked as though they spent the night outside on the ground, but some kind person secured them on our porch. Thank you, neighbor!]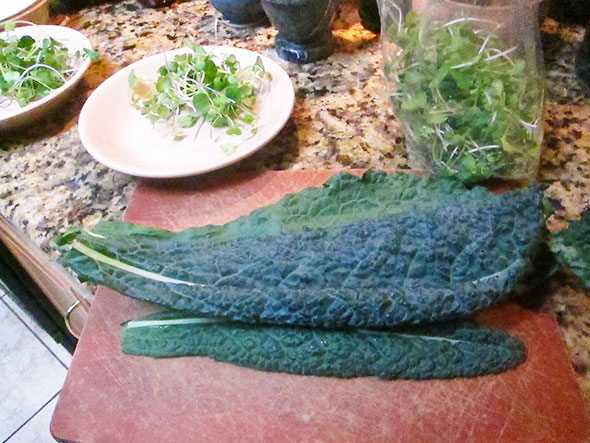 The morning's bounty made me uncommonly ambitious. I started to prepare three items at once: poached eggs, stir fried kale, and fried zucchini blossoms. I cracked three duck eggs and siphoned off a portion of egg white to coat the zucchini blossoms. After slipping in the egg yokes into the heated water, I spun the pot to keep the eggs from attaching to the enamel bottom. Then, I heated a second pan—a large iron skillet—and began stir fry of onion. As the onion cooked down in olive oil, I prepared two bowls: one with a tablespoon of yogurt and a second with crushed potato chips and pecans. I spun the pot of the eggs once more—testing their doneness—then added kale to the onions. Satisfied with the eggs, I spooned them out of the hot water to cool on a plate of raw pea greens.
One dish down, I added a tablespoon of white grape juice to the kale and onion stir fry and, quickly now, coated the zucchini blossoms with egg white, salt and pepper, then with yogurt, finally with the crushed chips and nuts. I swept aside the kale and onions on their skillet and dropped the crumb-coated blossoms into the pool of released juices at the center of the hot metal.
Still dividing my attention, I shifted from the stove to plates. Eggs were dusted with salt, dressed in dill, and topped with a single button of wildberry. The white and gold eggs were joined by wilted kale, soften onions, and browned blossoms. I added a dusting of crushed nuts and chips and, pausing, took one final item from the pantry.
During the winter, I purchased a bottle of agrumato from the Winds Wine Cellar. The bottle sat many months before I braved opening its seal. It has an exotic profile: tall, balanced, but almost impossibly slender. The heavy dark glass conceals a bright oil pressed from whole oranges and late harvest olives.
I opened the agrumato last month—a well timed event—as the fragrant oil loves nothing better than to cling to fresh summer berries. I've prepared plates heaped with blueberries and drizzled with agrumato and fed them to my children when they would refuse all other food.
Swirling a whisp of oil on our breakfast with a flourish, I called the family to the table. Outside, the weather began to clear and warm the earth. Inside, I only had eyes for the drizzled landscape on my plate. For now, the sweet corn can wait.