BLOG-A Great Day for Greens
The days are getting noticeably longer. Tomorrow we spring forward an hour. Though we may lose an hour's sleep, the blessing of the extended daylight hours is pleasantly evident in the diversity of greens coming to the local farmers market.
At 9 am sharp, earlybird customers stream into the winter market on South Winter Street. These early customers are generally looking for salad and winter greens and were pleasantly surprised to find two new produce vendors. The Yellow Springs Winter Farmers Market, 202 S. Winter Street, is actively recruiting anyone with a greenhouse and extra greens to bring to market. Moonshadow Farm—a new recruit—came back for their second week. They did a fast business offering swiss chard and microgreens. Swiss chard has long been popular and disappeared quickly. The microgreens are new to the winter market and proved a hot item also.
Microgreens are younger versions of common vegetables somewhere between sprouts and baby greens. Recently researchers with the U.S. Department of Agriculture found that microgreens tend to have 4 to 6 times more nutrients than mature versions of the very same plant. They also make a great mid winter product. Many people start planting seeds in February to plant in May. Like farmers and other gardeners, I sow more seeds than I actually plan to plant. The tiny plants like company when they start out. When the plants start competing more than cooperating, it's time to thin the seedlings. The tender green edibles are harvested as microgreens. This same process started in December can yield a flat of microgreens to eat now.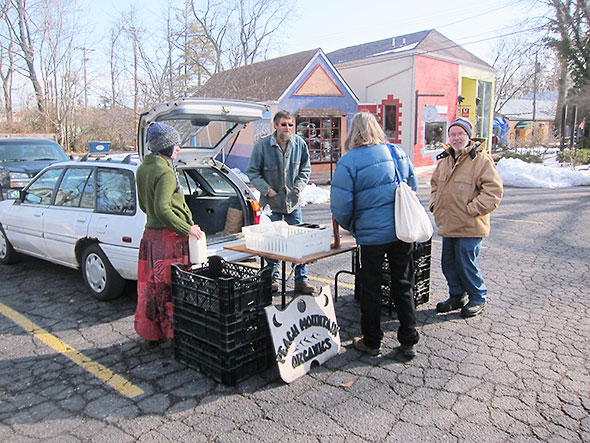 The second vendor Orion Organics was enlisted by market volunteer Wally Rehm. Wally had met one of Orion's growers clearing honeysuckle last year; and, when she mentioned they had spare produce from their greenhouse, Wally told them to bring them to market. Their table looked splendid loaded with radish, basil, and beautiful rosemary in addition to two different salad greens. The market experience for Orion Organics was great; their greens flew off their table in the first hour of the market. Given the demand, they promised to load up their greenhouse in the future.
In Kings Yard, Peach Mountain Organics returned for a second week offering bags of mixed greens and pea shoots. As long as the sun continues to shine, the markets in Kings Yard and the fellowship hall of the United Methodist Church will run in parallel until the end of March. Then the winter market will complete its annual run and hand off to the spring market. I find it an exciting time experiencing the land's reawakening through the transition from the winter greens to spring's munchy crunchy fare.