Bobbi Barth joins community Physicians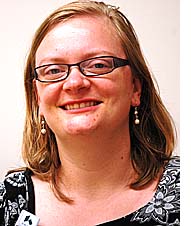 Bobbi Barth, doctor of osteopathy, is the newest practitioner to join Community Physicians of Yellow Springs. Barth practices both allopathic as well as naturopathic medicine, meaning she treats patients based on both pathology as well as the body's ability to heal itself. She can and does prescribe medication based on lab results, for instance, but she also diagnoses through palpation and offers treatment through physical manipulation, especially for symptoms such as chronic musculo-skeletal issues, headaches, abdominal pain and upper respiratory illnesses.
"Each patient needs to have their own personalized way to be treated — a person is not a statistic," she said in an interview last week. "Each person has their own values and lifestyles, and that should come into their care."
Barthe graduated from the Ohio University Heritage College of Osteopathic Medicine in 2009 and worked at a family practice in Pomeroy, Ohio, for two and a half years before moving to Beavercreek with her family.