I was no more than three and somehow I knew my passion. Growing up in a time when the creative arts featured frequently on network television, I learned early what to search for in the weekly TV Guide. I'd comb the airways for glimpses of satin and tulle. For fairy tales…Cinderella and Swan Lake…told by symphony and sweeping, spinning mimes. On screen, I met the likes of George Balanchine, Bob Fosse, Twyla Tharp, and Mikhail Baryshnikov. They became my childhood heroes; they formed my idea of ideals.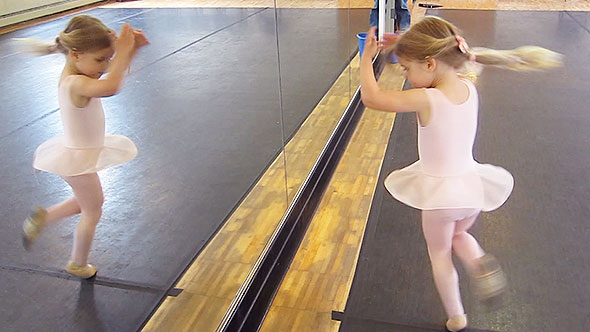 Dance became my own special joy. No one else in the family was quite so taken. I remember being very young waking up to catch an early morning encore performance of Prokofiev's Cinderella on the public television station. I remember asserting my wish to take ballet lessons so fervently that I performed on stage by age four. It was a memorable moment. I stood on a great stage with my classmates decked in pink satin and tulle tutus, cap sleeves and canvas slippers behind a dark velvet curtain. The curtain suddenly flew up and so did my heart as I faced the lights and the churning sea of faces beyond. I fell in love with the stage right there in that moment and that intense indelible sensation of being.
My family could only indulged my love of dance so much and certainly not in proportion to its full intensity. Time, travel, and expense interfered. Still, I followed my heart as much as opportunity presented itself. When it was all that I could do, I'd clear the living room floor at night, put on a record, and open up the curtains on the front bay window so that I could dance in front of the window's dimly mirrored surface.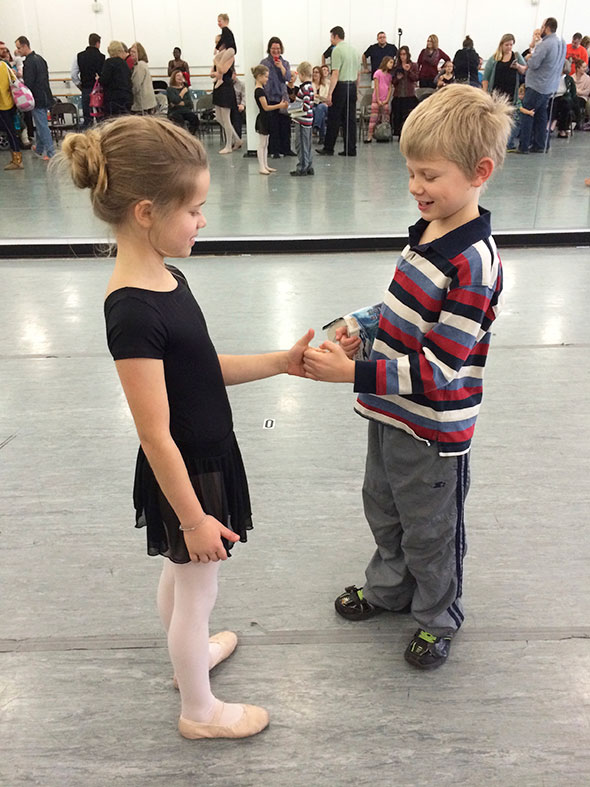 When I left home for college, I set my schedule to fit in dance classes. Rochester Institute of Technology is a technical school with limited programs in the liberal arts, but one college—The National Technical Institute for The Deaf—offered theatre and dance.
Any RIT student can sign up for NTID dance classes. I started taking modern three times a week. Over time, I added ballet, jazz, then improv until I was dancing three hours a day. I'll admit that my engineering classes took a hit at that level of practice. I lightened my load accordingly moving a few of my engineering classes to the quarters I worked on campus in the cooperative education program. Pretty much, I maxed out dance…not because I was especially good but because dancing was especially good for me.
I was in the best shape of my life and not merely in terms of dress size. With dance, I matured out of an awkwardness that I didn't fully appreciate until I slipped out of it like a lizard sloughing off so many layers of skin. As a child, I had an underdeveloped sense of proprioception, the sense of space that my body occupies. Practicing and practicing before a panoramic mirror in the structured discipline of alignment and dynamic movement, I found center. I lost that feeling of being a floating head. Importantly, I also learned how to navigate around other people. Dance taught me that I had a fundamental problem judging the space I covered as I moved. I had trouble keeping in tight formation with others. Every class challenged me to negotiate a space for myself. I noted that while most people shied away from the mirror, I was drawn to it…not out of vanity but for its much needed feedback. The mirror taught me things about myself that I had no clue about. With regular feedback and persistent, structured practice, I became a less anxious person…much more ready to present myself to other people and to place myself in a crowd.
My new ideals became my dance teachers Stefa Zawerucha and Christine Fendley and my peers active in the vibrant art scene of Rochester NY. These people introduced me to a great lexicon formed by the modern masters Lester Horton, Merce Cunningham, Martha Graham and Rochester's own Garth Fagan. If ever I struggled with something at school, I'd focus my mind on the motivation of making my way back to the company of my fellow dancers. I kept up my courage at field training with the Air Force reminding myself how much I wanted to keep dancing with Zul and Paula and David. I can imagine no better motivation.
When I entered the Air Force as a commissioned officer and moved about the country, I kept dancing. I found an amazing studio near my apartment in Los Angeles, joined in the classes of the outstanding Dayton Contemporary Dance Company when I transferred to Wright Patterson Air Force Base, and continued at ballet studios in Utica NY and Arlington VA as I transferred again and again.
I took only one major break from dance as an adult. That break came at age forty when my husband Jeremy and I had our first child. Our daughter discovered dance for herself at age three years old in a program offered at her preschool. Jeremy and I were tickled pink at her impromptu performances and, when a friend spoke highly of a ballet school in Springfield OH, we went to check it out. I was impressed by the school's attention to technique and choreography. The rest of the family was drawn in by the care and attention of the school's teachers. The whole family now attends the Gary Geis School of Dance including my five year old son who performed in his first recital last June and my forty eight year old husband who is preparing for his first tap dance performance later this spring.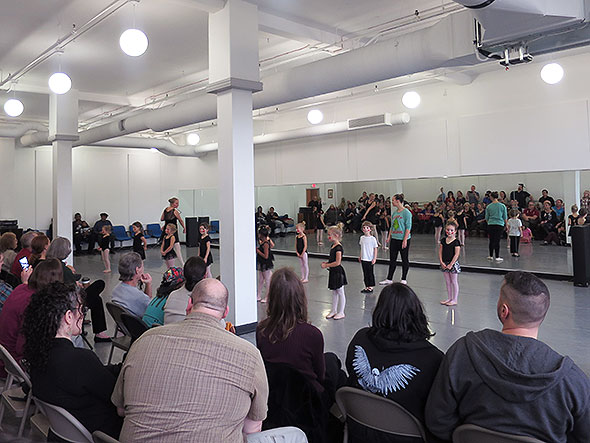 It's been a joy watching my entire family enter the dance world one by one, to see each one embrace the art form with their own marked intensity. The men of the family were met with open-arm encouragement; they found exceptional role models in dance teachers Gary Geis and Mark Cummings. My son's love of dance has been as intense as my own. As a baby, he'd watch his sister's recitals and the Gary Geis Dance Company perform with interest and regard. When company members practiced, he'd plie at the studio door using the wastebasket as an improvised warmup bar. "Dance helps you feel your body," I told him once, and he now repeats this truth to others like a sacred mantra. I remember so well the day he chirped "Boys do ballet too!" That day he overcame his own anxiety and joined the creative movement class without restraint. He may have been too shy on previous visits, but he quickly demonstrated the careful attention he paid to the accumulating movement and choreography.
My husband Jeremy has been taking tap from Gary Geis himself for over three years. To better empathize with his young students learning physics for the first time, Jeremy began a wholly new adventure in tap dancing. He's been a disciplined student bringing his metal shod shoes regularly to the school. While the kids are in class, you can find him nearby in a corner of the studio practicing tap combinations.
It is no small thing to discover one's passion. I have always felt extremely fortunate in that I discovered mine early. I've also been fortunate in the company that I have fallen in with. If asked to pick a single spot to stay, I would pick the Gary Geis School of Dance. It's home. I adore dance that much and so greatly admire Geis's talented staff.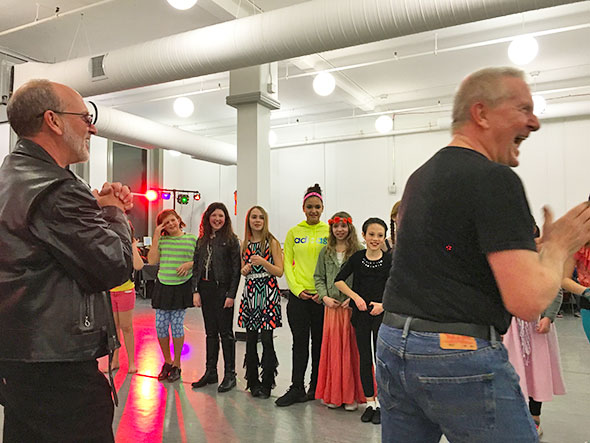 Sadly, Gary passed away Friday. His husband Mark lost a dear soul mate and partner. My husband lost a mentor and friend. Our community lost a storied ambassador of a very special art form. For decades, we've gained tremendously from the man. The best tribute our family can make to Gary Geis' life and accomplishments is to keep dancing, to find the light and our indelible center.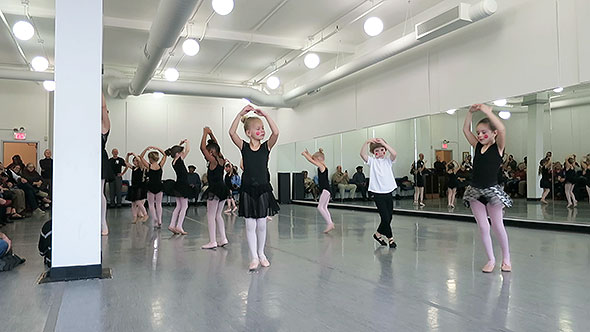 Turn, young ones, and turn on.