BLOG-The Science of Dramatics
This week, my head is deeply into a book…a play rather. I am studying a part for the upcoming production of FeFu and Her Friends by the Yellow Springs Theater Company. Set in the year 1935, the play occupies a time between the wars and in the midst of the Great Depression. In space, we find ourselves in the home of an affluent woman who is organizing a fundraising for the benefit of children.
I'm among the oldest in a group of eight women…perhaps a university instructor who mentored several of the women when they were all a decade or so younger. Those earlier days must have seemed such promising times; life-affirming change, for America, for women, ripe on the bough. The play makes references to figures from the 1910s pointing to the iconic influences of the women's youth. We meet this later generation of women—mature, experienced, learned—in the day of their influence. They all brim with self awareness and yet they differ from their predecessors. Their purchase on the levers of control is noticeably less steady.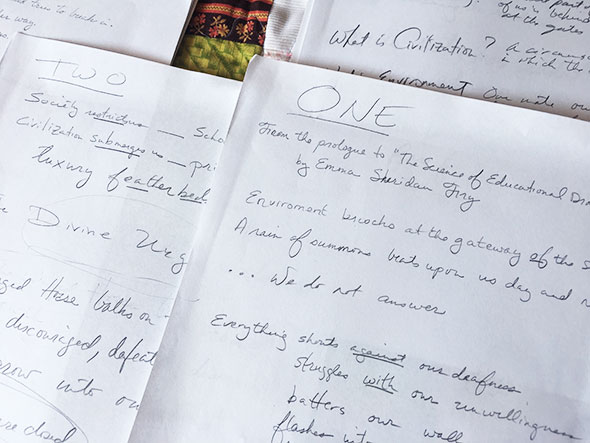 Every character in FeFu and Her Friends has a long monologue which serves to deepen our understanding of the character and the play's sense of place. In an interesting contrast from the other seven, my character's monologues are not her own musings but passages quoted from other authors. The first, William Shakespeare's fourteenth sonnet. The second, a prologue written in 1917 by Ohioan actress and scholar Emma Sheridan Fry.
Plays are about revealing secrets. Actors can get away with such reveals on stage because, to paraphrase Tennessee Williams, truth is disguised as illusion. I consider—as I test the narrative of each monologues—just what to reveal to the audience.
One thing I take from the two passages is that my character lives vicariously through others. She forges intimacy by model and tested design. I feel a kinship with my character in this respect. Acting in a play is after all having the perfect thing to say. So many truths get spoken on stage that otherwise would never be said aloud. Or, if they were, we say them in voice incomprehensible.