Sunday, a young man age seven was baptized at church. Actually it's a mistake to say "was baptized". The passive voice implies he played a passive role, and that was far from the case. The young man and his older brother obviously had several conversations with Pastor Rick about the occasion. They had put together a beautiful plan. They dressed the communion table with a baptismal font filled with blue pebbles and surrounded by winter greens. Then the young men invited the congregation forward to both rejoice in the moment and memories of their own ceremony however distant.
It made me happy to see children given so much responsibility. The young man's excitement was palpable and contagious.
Today, as we prepared for guests at the house, my son took up a seat next to me as I sat down to work dough for a crostata. I made enough for two so my son mirrored my method as we added moisture to the beaded mixture of flour, butter, salt, and sugar. At first we spooned in ice water to the dry ingredients.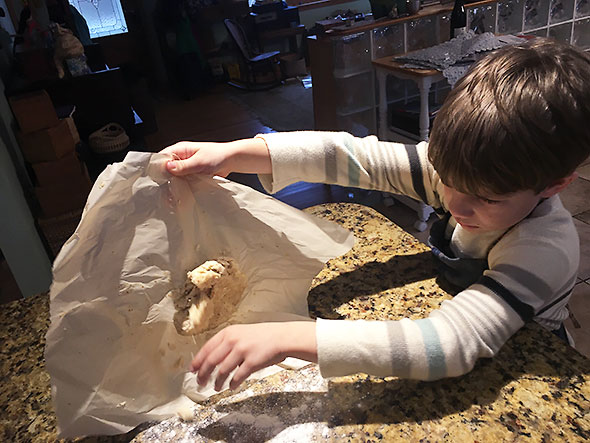 Just the dough reached the stage where it stuck together, I suddenly improvised and added small beads of white wine to our hands as we fashioned two balls of pie dough each weighing in at 310 grams. He popped a peanut size ball of dough into his mouth and pronounced that it tasted like salty sweet bacon.
We flatted down the dough balls and placed them in the refrigerator to chill. My son announced with some authority that we should set a timer for 20 minutes then move to the next stage. I didn't fuss or overrule him. Rather, following his instincts, we set the timer on the microwave above the oven. Then our son stood there in the kitchen as Jeremy and I worked around him. He called out a time hack every five minutes and waited for the loud beeping alarm with anticipation.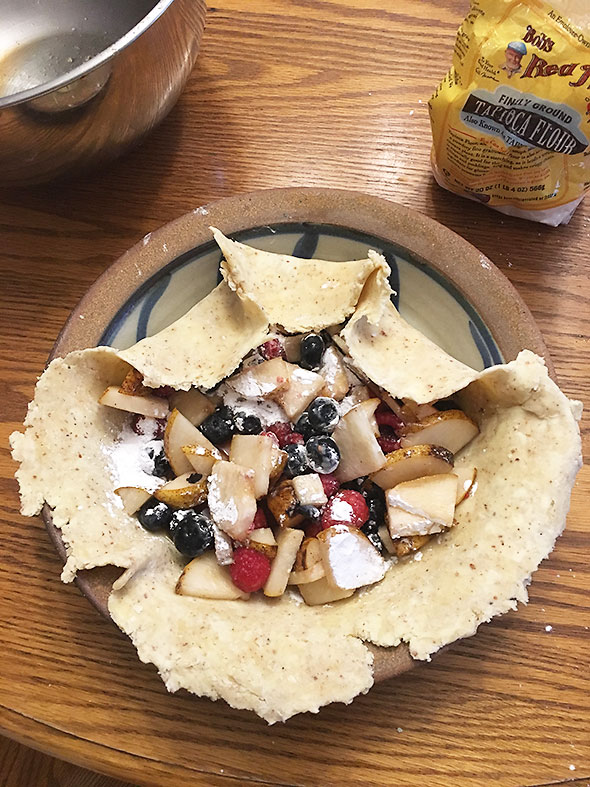 Five minutes to go, I cleared the counter off to make room for rolling pins. When the alarm chimed, I set my son to the fridge to pick out one pad of dough and then to the pantry to select a rolling pin. He came back with the largest one he could find.
We formed the base of a crostata. He rolled the dough. I rotated it. When we formed a flat disc of pie dough big enough to fill the base of our pie pan, my son asked for one more sliver of the delicate dough. Then he flitted off to find his sister and puppy to play.
As I filled the pie with berry and pear, I smiled for our good company. For now, I would finish the pie and place it into a hot oven. Soon though I will be handing off the pie making altogether.
It makes me happy to see children take on so much responsibility. And wear that responsibility as naturally as a smile.