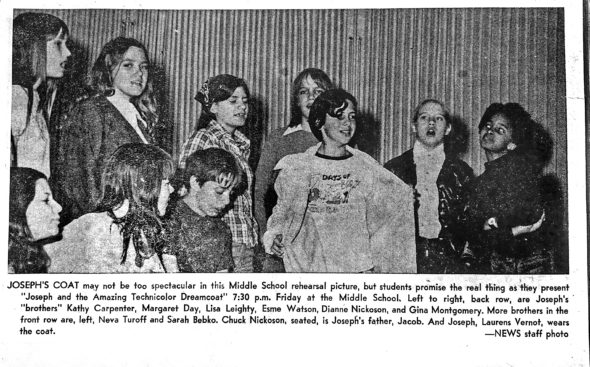 Way Back Wednesday — Spring musicals, 1974 to 1999
With the McKinney and YSHS spring musical, "Disney's High School Musical, On Stage!" running for its second and final weekend beginning this Friday, Way Back Wednesday takes a brief sojourn to the final quarter of the last century to remember spring musicals past.
Judging from what appeared in the YS News, at least, YSHS began staging spring musicals with earnest regularity in the late 1970s — though if a reader with better information can correct this conclusion, please let us know! There were also several years in the 1980s and 1990s in which no reference was made to a spring musical — whether this was because a musical was not staged or the News simply didn't cover the musical is unknown, but again, if you know anything about these mystery years, we'd love to know about it.
This researcher found only one instance of a show staged solely by McKinney Middle School in 1974, though McKinney and YSHS students would work together in the years that followed. The shows that were staged tended to be well-loved classics, though student thespians took chances on newer material a few times: in 1990, YSHS staged "Starmites," which took to Broadway only the year before, and McKinney's 1974 show was "Joseph and the Amazing Technicolor Dreamcoat," which came to the stage in its full version three years prior.
Shows were staged at the high school and at Center Stage, the village's long-running theater company and space on Dayton Street, which closed in 2003; for more on Center Stage, visit the YS Historical Society's website.
Take a look through the gallery below for pictures of past productions taken from the YS News bound archives.
"Disney's High School Musical, On Stage!" continues Friday and Saturday, March 16 and 17, at 8 p.m., and Sunday, March 18, at 2 p.m. Tickets are $12 for adults and $7 for students and seniors. Tickets may be reserved in advance online by visiting http://www.showtix4u.com and searching "Yellow Springs." A small fee applies to online purchases. Tickets will also be sold at the door.