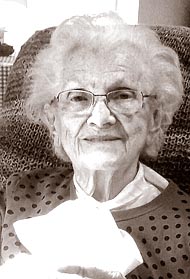 Lenore Luise Riess left this world surrounded by her two daughters and son-in-law on March 29. She was 91 years of age.
Born in East Prussia, Germany, in 1926, she emigrated to the United States with her husband and young family at age 30. She lived in New Jersey and worked at the National Biscuit Company, or NABISCO, in FairLawn, before retiring, and then joining her family to live in Yellow Springs.
Her family fondly remembers her amazing, creative cooking and fantastic knitting and her love of gardening and flowers. There was always something blooming on her windowsill. Her cookbooks were found to be full of pressed flowers and pretty autumn leaves. Lenore's children recall awakening to the buttery aroma of freshly baked streusel coffee cake, special Sunday, holiday and birthday dinners like beef Wellington with chanterelle gravy and fabulous desserts. Her family and friends treasure all the beautiful, hand-knitted sweaters and colorful socks she produced and gifted them over the decades. She will be dearly missed.
Lenore is survived by her children Uta, Wolf and Marina. She had six grandchildren, Paul Erik, Sean, Kate, Tina, Todd and Max; as well as six great-grandchildren, another Max, Grace, Erin, another Grace, AJ and Addison. "We love you, Oma."
Online condolences may be made to the family at http://www.mccolaughfuneralhome.com. Services were handled by McColaugh Funeral Home in Xenia.