Signing day for YSHS athletes
Come this fall, Fisher Lewis will boot the ball on Ohio Northern University's soccer pitch, Donnie Isenbarger will field grounders on Clark College's baseball diamond and Payden Kegley will dig the ball on Clark State Community College's volleyball court.
The three Yellow Springs High School athletes, headed to college next year in their respective sports, were celebrated at a signing ceremony at YSHS on Monday.
YSHS Athletic Director Nate Baker wrote in a statement that the district was proud of the three athletes for making the transition from high school to collegiate athletics and for their efforts on their local teams.
"All three of them made major contributions to their teams and to our athletic department as a whole," Baker wrote. "Along with being elite athletes, they have given a great example of what it means to be a great teammate and competitor. We wish them the best of luck in their college careers."
Kegley chose Clark State in Springfield because of its successful volleyball program. A highlight from her high school volleyball career came during last fall's Senior Night, when she accomplished a milestone not many volleyball players reach.
"On Senior Night I got my 1,000th dig," Kegley said. "It's hard to achieve."
Lewis was recruited by Ohio Northern in Ada, Ohio, a Division III School, chose it despite competing offers from other schools.
"I like their campus, they have a well-known soccer program, a nice stadium, nice fields and a nice facility," Lewis said.
The 6'4'' defensive midfield and right defender led the conference last year in both goals and assists. The team's win his junior year against perennial rival Dayton Christian in the district finals was the highlight of his high school soccer career, he said.
Isenbarger was initially attracted to Clark College, a two-year college in Vancouver, Wash. outside of Portland, Ore., because he would be closer to family members who have recently moved out there.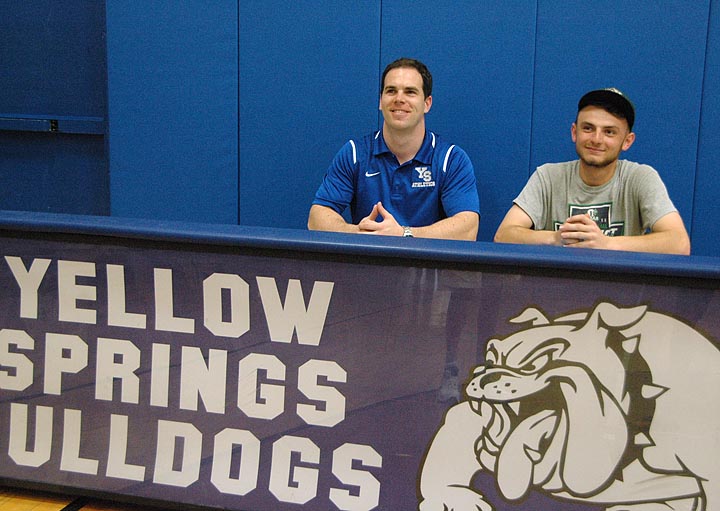 While preferring shortstop and second base, Isenbarger has spent most of his senior year season behind home plate as catcher. He is a "utility player," and it's one reason he was an attractive college recruit.
Playing college ball is the culmination of a childhood spent dreaming of playing for the Cincinnati Reds, according to Isenbarger, adding that his first word was, in fact, "ball."
Read the May 17 issue of the News for the full story.