Manager finalists offer different approaches
The four finalists for Yellow Springs Village manager are visiting town this week for a three-day whirlwind of interviews, meetings, tours and presentations.
On the afternoon of Wednesday, April 10, the News participated in roundtable discussions with candidates and select community leaders at Antioch College, and, later that evening, attended a public forum for candidates.
Because Council members are expected to decide on the next manager in an executive session on Monday, April 15, they ask villagers to send their comments and preferences on the candidates to clerk@vil.yellowsprings.oh.us by Friday, April 12, at 5 p.m.
The candidate's forum can be viewed at the Channel 5 YouTube channel here.
Roundtable discussions
Since graduating from Antioch College in 2006, community development has been the focus of Josue Salmeron's professional career, he told a group of community members during an informal discussion over lunch on Wednesday.
Salmeron said his first project out of college was to advocate that the Mayor of Washington, D.C., keep healthcare for undocumented people and those low-income earners who didn't qualify for Medicaid, a significant gap in coverage that existed before Obamacare. He not only won the campaign, but a new opportunity.
"After fighting the administration, they offered me a job," Salmeron said.
The experience gave him insight into the struggles of marginalized communities, Salmeron said, so he went to work in the nonprofit sector. But seeing the challenges nonprofits face, he decided to go to business school for an MBA.
"I wanted to work with the economic forces that keep people marginalized," he said.
Salmeron said he sees the Yellow Springs Village manager position as a perfect blend of all of his professional experience thus far, and that he is a good fit with his concern for making a "social impact."
Fielding a question on what he would do to create affordable housing, Salmeron said that the supply issue needs to be addressed but also that the tax base needs to be generally be expanded.
"You need to bring in more residential mixed-income housing to support other goals," Salmeron said.
Asked to elaborate on the importance of mixed-income neighborhoods, Salmeron added, "We've moved away from concentrating poverty." The demand for services can be high in such neighborhoods, he said, which can be difficult to fulfill.
"Together the community helps each other out," he said of mixed-income housing. "That reduces the reliance on service providers."
Salmeron went on to focus on opportunities that he said have "multiplier effects," such as labor force housing, which can benefit local employers, and housing for seniors, who contribute property tax that can offset other housing needs.
"We need those folks because they create a vibrant community," Salmeron said of seniors.
Asked how Salmeron balances his own activism and values with what he might hear from the village, Salmeron said he starts by "checking his biases."
"We all have these biases that we may be aware of or not but they drive a lot of our decision-making," Salmeron said. He added that, "we hold onto biases that are just B.S."
When it comes to his this issue in relation to his professional experience, Salmeron said, "I'm willing to admit I'm wrong and I always seek the knowledge and seek the truth."
In response to a question about how to deal with criticism in the workplace, Salmeron relayed experience at a "solution-focused organization," which used an intensive dialogue process to look at "why you thought this was the right decision."
"We were getting at the root cause at their neural patterns as to why they got to the decision," Salmeron explained. He added that he still a novice at drawing out "what drove people to do something."
Asked how he would respond to different opinions from villagers as to what should be local priorities, Salmeron said it could be a "tough balance to find."
"You have the universal benefit — what gives the most benefit and value to everyone — but also considering the few that really need a service and it has to be provided at the expense of others and that could be an equity issue," Salmeron said.
"But I think that if we had a shared value system then I think we can get there and address issues on the sight of the long-term success."
After a day-and-a-half of local tours and discussions, Pete Bales said he was impressed with how many nonprofit organizations exist in Yellow Springs, and with the good shape of local water and wastewater treatment plants.
Asked how the Fairborn city employee might adapt to working in a small town, Bales said he was an "outdoors guy," and would appreciate the recreational opportunities here.
Bales went on to discuss his background in parks and recreation, what he called the fun part of government. He majored in the field at Ohio State University, "where they have a million different majors," and after becoming a parks and recreation director, his career advanced from there, he said.
"I enjoy being active in a community," he said. After noting Yellow Springs' downtown, he said Fairborn also still has a "vibrant downtown" as well.
In response to a question about the biggest challenges that Yellow Springs faces right now, Bales said he sees two: physical challenges and bringing the community together.
Speaking of the latter, he said, "We need to make sure we're all marching down the same road — consolidating into a unified mission."
On the issue of physical infrastructure, Bales noted that there are a lot of utilities "aging in place," with the same problems for street infrastructure.
Bales was then asked how he would approach the challenge of prioritizing upgrades when "people are feeling stretched thin."
"At first blush, you are taxed adequately," Bales responded. "But increasing taxes today would be an extremely hard sell. Water and sewer rates are as high as they should be for now."
Bales went on to tout his success using the Complete Streets program, a state funding opportunity that may be applicable in Yellow Springs.
Asked about how he would address affordable housing, Bales explained how he worked with Fairborn to complete a housing study, which emphasized the importance of mixed-housing neighborhoods.
"We didn't want to keep these places so segmented," he said of various housing types, from Section 8 to market rate. "We want to create a unified housing strategy with all of these in one neighborhood."
"It will take some incentives, which are not free," Bales added.
Specifically looking at the village, Bales noted that Yellow Springs owns some land which it could use as an incentive for affordable housing.
Bales, who lives in Beavercreek, was asked if he would move to the village if he got the job. He said that he would not, but that he only lives 10 minutes away and thus would be very accessible.
"Every job I've had I've immersed myself in the community," Bales said.
Bales added that as a credentialed city manager he lives by a code of ethics, which would guide his decision-making.
On the issue of diversity and whether Bales has experience working with and recruiting a "broad range of people," he said he runs the Human Resources department at the City of Fairborn, where there are 250 employees and representation is valued.
"We work diligently to represent fairly our community makeup," Bales said. "I appreciate the diversity of the village's makeup — all the different racial and gender diversity," he added.
In response to a question about whether a business incubator similar to the one Bales worked on in Fairborn would be applicable here, he said it might be. Bales said he spent the last year working on the cooperative incubator for small kitchen-based entrepreneurs.
"I think it's an opportunity, but it's an expensive endeavor up front that someone will need to afford," Bales said. He went on to praise the model.
"But you're growing local businesses that, as they grow, invest in your community. It's an opportunity."
For Elke Doom, Yellow Springs would be the next site in a 26-year career in municipal government that started in the clerk's office and grew to managing departments and cities, she said. Doom also has experience on the other side of governance, she said.
"I was a manager who was a former elected official, so I understand what the needs are of the elected officials — and the communities — are," Doom said.
Doom went on to discuss her decision to take a two-year contract to work as the city manager of Valdez, Alaska. She said she was "intrigued by the opportunity to build a new harbor and a new arena."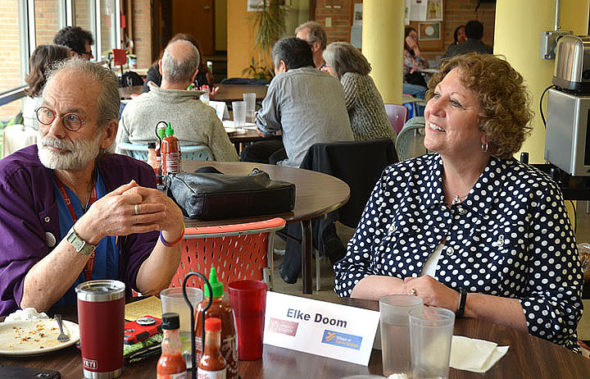 But Doom said she is also looking forward to moving back to the lower 48.
"As beautiful as it is, it is difficult to live in such a harsh environment."
Doom said she is proud of the harbor/arena project, which she kept under budget despite projections that she said rose from an initial $40 million to $83 million and completed on time.
"Mostly I would not let these contracts to keep putting in change orders, and that was a game they had been playing for a number of years," Doom said.
"That's not how I do business," she added.
Doom also addressed issues of employee turnover and dissatisfaction a prior municipal position.
"I walked into an environment that wasn't a very positive one, and began the process of a culture change, which is very difficult," she said.
Doom said she broke down the silos that existed, brought in new employees, emphasized teamwork and prioritized succession planning and training.
"It's been a real win-win for all of us," she said of the staff transformation.
When it comes to staffing, Doom said she always looks for the "right fit" and the ability to communicate, which is not always the most qualified candidate.
Doom was then asked how she perceives her "fit" in Yellow Springs. She said she believes that not only does she have the right skillset to manage the village well, she is comfortable working with "all ages, all situations," and that the values of the village align well with hers.
"Ive never had the opportunity to work in a community that aligns that closely with what's important to me as a human being," Doom said.
Asked what she perceives those values to be, Doom responded, "that all are welcome, there's unity, people are treated equally." Doom shared her own background as a first-generation American who came over on a boat with her parents and didn't learn English until she was nine years old. From that experience she learned "the sense of inclusion for all of us together."
Doom segued to her decision to leave a job where she perceived discrimination.
"I was so shocked at the segregation that still exists there," Doom said of the community in which she worked.
"I said I cannot live like this," Doom said. "I realized very quickly I could not live in that social environment."
In response to a question about how she would handle a contentious local issue in which many citizens are expressing outrage, Doom said she appreciates hearing their voices.
"I'd like to hear what's on their mind and why they are angry because it gives me an insight into how the community feels," Doom said. "I'd much rather have a vocal and engaged community than a silent one that is angry and I don't know why."
Doom said she likes to meet with people to understand their perspective and, if she can't meet their goals, to try to explain why.
"I don't take offense at vocal community members. I'm actually intrigued that they care enough to come forward," she said.
In response to a question about the "silent majority," Doom said that it can be difficult when Council only listens to the loudest voices, and that she tries to hear from the silent majority.
On affordable housing, Doom said that the issue also has plagued Valdez because of a housing shortage. She said she is working with the town's economic development director to provide land for developers in exchange for a cap on the final sale price.
"We're looking at what the average person can afford and what do we make that happen," Doom said.
Doom said she has so far found the village, a "charming, eclectic, unique little community."
"With that uniqueness comes a lot of strong feelings too — a lot of passion and emotion, and that's not all bad. That can be a very positive thing."
Launching into the challenges faced by Yellow Springs in response to a question, Allyson Murray said she sees a two. First is unaddressed infrastructure issues, which she said is "no different than other small towns in Ohio." The second she noted is the communication between the police department and citizens.
Murray went on to say the Village has "wonderful people in place in Village positions," but she would like to see more community engagement in the police department to build trust. She suggested roundtable discussions with officers similar to the process being employed with manager candidates.
The police should "engage with the community and find out the concerns of the community and what they expect from their police officers and what they're looking for," Murray suggested.
In response to a question about how to keep the community affordable, including through growth and development, Murray said that she understands local concerns over utility rates. Murray went on to relay an experience about having to increase rates in her town after 15 years with no rate hikes.
"When we did increase rates, it was much too big of a one," Murray said.
As a result, Murray said she devised a strategy to build in a smaller annual increase, which was reviewed each year and only implemented if needed.
Murray added that Yellow Springs has "beautiful facilities" in its local water and wastewater plants, and, because they have excess capacity, the Village might consider selling water or sewage treatment services to a nearby community or business that might ibe encouraged to come here.
"All of those things are opportunities to subsidize the rates of the residents by using businesses or outside sources," Murray said. "That would make it more stable and affordable for residents."
Asked about strategies to spur economic development in the village, Murray said that while she was the village manager of North Baltimore, she worked with the county to develop a job creation grant that led to one business doubling its facility and growing its employment from 200 to 450. A similar tax abatement program might be useful in Yellow Springs for companies to site or expand in the village, Murray said.
North Baltimore also formed a community reinvestment area, Murray added, to create more interest in home building.
"We had not had any houses built for a long time in North Baltimore," Murray said. In the area, taxes on new residences were abated for five to seven years, while the village accrued other benefits.
"Their kids are going to go to our schools, they're going use our water and sewer, they're going to shop at our stores," Murray said. "And then that house is going to be there for the next 100 years and it will have taxes on it once the abatement ends."
The project was also successful downtown in a commercial area to spur reinvestment, Murray added.
A question was asked about how the village maintain its "small, quaint" character while also growing. Murray said that was "definitely a challenge to find that balance."
"You want controlled growth," she said. "But there has to be some growth."
Asked about her move to the Westerville utility department from North Baltimore, Murray relayed that she had lived her whole life in Northwest Ohio and when her son graduated, she wanted to try life in the big city of Columbus. Now, she is ready again for small town life.
"I miss the small town," Murray said. "I miss being able to walk down the street and know the people I'm passing. I miss the good relationships of a small town."
Murray said she also misses, from her previous work roles, solving critical emergencies in the community, or "putting out fires."
"I miss that little bit of adrenaline," Murray said.
While being responsive is great, a community member responded, the "longer-term focus" is also important. Asked how she would keep that focus, Murray said she avoids engaging in negativity on social media, which "takes everything down a level" when it comes to dealing with emergent situations.
Murray added that she does a lot of research on issues, and confers with her supervisors and Council members and, if need be, with the citizens.
"I try not to react too much. But there are crises you have to address right away and I think I would do the research needed to make the right decision."