First COVID-19 death in Greene County reported
On Monday, March 30, Greene County Public Health announced the first confirmed fatality in the county from COVID-19.
An 87-year-old Cedarville woman died from the novel coronavirus on March 26, according to a press release from the county health department. The woman fell ill at her home around March 21, was hospitalized on March 24 when her symptoms worsened and was tested for the disease the day before she died. Greene County Public Health received the positive test result today, March 30.
The woman was not a resident of a long-term care facility and had no recent travel history, according to the release. Her death is not part of the current tally of 39 deaths in the state.
"Public Health stresses that it is everyone's responsibility to protect the health of our seniors, those with underlying health conditions, healthcare workers and first responders," the release states. "It is to be assumed that COVID-19 is in every community and we are reminding everyone to have a healthy respect for this virus by abiding by the state's orders for social distancing and the Stay at Home order. Residents should only travel for essential purposes."
Read the full release here.
There are now four confirmed cases in Greene County, and 1,933 across the state, according to figures released by the Ohio Department of Health on Monday, March 30. The other three Greene County cases are all connected to Wright-Patterson Air Force Base, according to the county health department and area news media. None of the three have been hospitalized.
However, according to both state and local officials, he actual number of people infected with the coronavirus is assumed to be much higher, and spread across a larger number of communities, due to the limited availability of testing in the state. So far 27,000 people have been tested here. Cases in Ohio are estimated to peak at between 8,000 and 10,000 new cases per day around April 25, according to the state health department.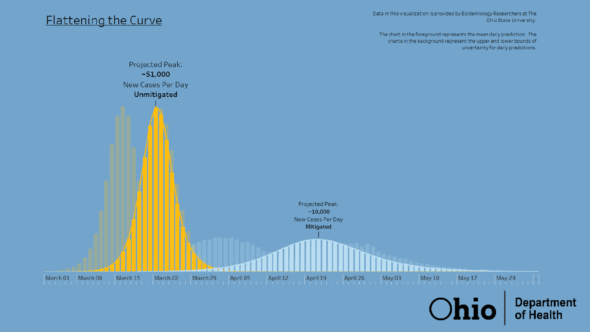 Other recent data from the Ohio Department of Health shows that 18% of known cases are among healthcare
workers. There are also currently 475 hospitalizations and 163 ICU admissions for COVID-19 in Ohio.
Also on March 30, Ohio Gov. Mike DeWine extended the closure of Ohio schools through at least May 1.
Read more in the April 3 issue of the News.