Salons, BMVs to close; testing remains limited: Highlights from the governor's March 18 briefing
"The virus is here, it lives among us and we must be at war with it." — Gov. Mike DeWine, March 18
At the March 18 daily briefing, Ohio Gov. Mike DeWine announced the latest state measures to help stop the spread of COVID-19 — the closing of barbershops, hair salons, nail salons, tattoo parlors, body piercing locations, massage therapy locations and tanning facilities.
DeWine will also shut down the state's 181 bureau of motor vehicles registration offices and 52 state driving test centers, with no tickets for those who are driving with a recently-expired license.
Looking ahead, DeWine signaled that coming soon may be the closing of daycare centers and the establishment of daycare near hospitals. He also addressed the timing, and implications, of K-12 schools remaining closed.
"It's obvious that the three weeks will have to be extended," DeWine said. Meanwhile, standardized tests for students are "the least of our problem at this point," he added.
"I don't think anyone's going to say we're going to have to do testing in the midst of this national emergency," he said.
In an update of how many Ohioans have now been confirmed to have the disease, Ohio Department of Health Director Amy Acton said that figure is now 88 across 19 counties, ranging in age from 2 to 91 years of age. Of those cases, 26 are hospitalizations, Acton added, including the two year old (later, the governor's office clarified that the two year old is not hospitalized). The median age is 48.5 years old.
In response to a question from a reporter, Acton said a positive test reported at the Dayton VA of a Miami County resident is still under investigation and not yet on the official tally.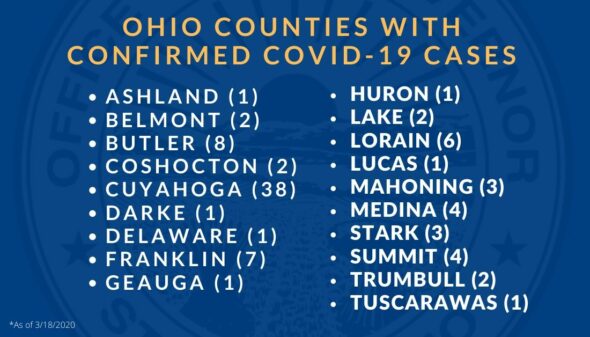 Much of the briefing focused on the limited number of tests available in Ohio. Acton said that the problem is a national one. As a result, the state is recommending that tests be reserved for those who are hospitalized or who are healthcare workers, in order to prioritize the use of personal protective gear, which is also in short supply.
"We have to reserve the limited testes that we do have for those fellow Ohioans who are the sickest and the most at risk," DeWine said.
DeWine suggested that people should not "fixate on testing" and everyone who has flu symptoms should assume they have the coronavirus.
"If you're feeling symptoms or what you think might be this virus, you should act like you have it," DeWine said. "Which simply means you should stay home, that any member of your family, anyone that lives with you, should also stay home."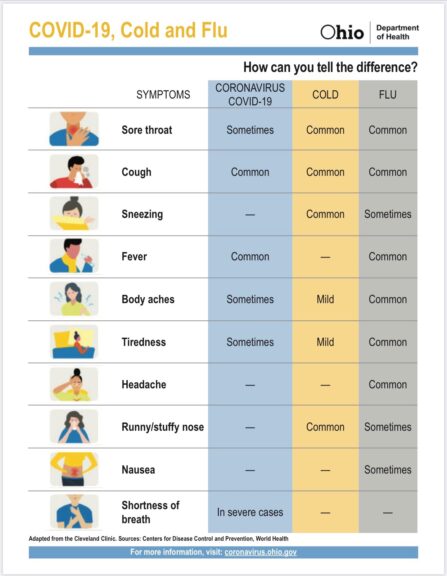 DeWine went on to describe COVID-19 as an "enemy" the state is at war with.
"Here is the truth. With or without a test, the virus is here, it lives among us and we must be at war with it," he said. "And we are at war with a very very dangerous, lethal enemy."
Addressing some Ohioans who DeWine said "don't understand" the state's drastic measures to contain the outbreak, the governor described COVID-19 as twice as contagious as the flu and 20 times as deadly.
"This is a crisis you have never seen in your life and I hope you never have to see it again in your life," he said.
In another recommendation, all businesses in the state with employees should test their workers temperature when they arrive in the morning, DeWine said. While the move is not compulsory, it can be an effective way to help slow the spread of the virus.
Updating the situation with workers, Lt. Gov. Jon Hustead said that in the prior three days, his office fielded 78,000 requests for unemployment, compared with 6,500 two weeks ago. Hustead said that recent figures suggest that national unemployment could reach 20% during the crisis. Regarding eligibility, Hustead said that to receive unemployment, employees must have worked at the establishment for the prior 20 weeks and earned at least $269 per week.
First Lady Fran DeWine also spoke, sharing resources for families with children, such as the Dolly Parton Imagination Library, which is now available in 77 of Ohio's 88 counties, and Scholastic's free materials for school closures. DeWine gave an update on efforts to continue providing food to students who qualify for free or reduced lunches. Programs to feed such children are now in place in 350 schools across the state, she said.