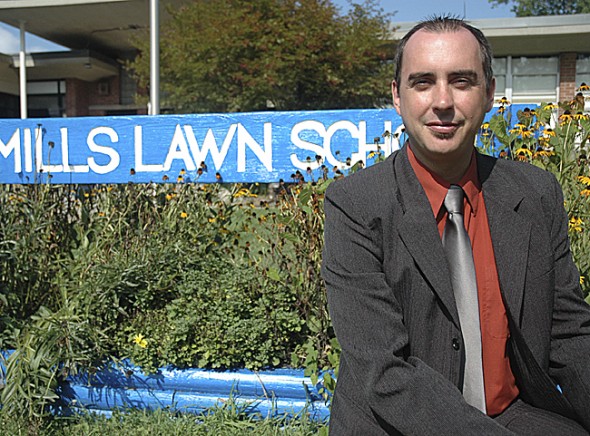 Mills Lawn elementary school principal to leave district
Matt Housh, principal of Mills Lawn elementary school for the past decade, announced in a letter to school families Tuesday, April 7, that he has accepted a position with Huber Heights City Schools and will be leaving the Yellow Springs district at the end of the academic year.
Housh said he will become the director of curriculum and instruction for Huber Heights Schools, where he was principal at Valley Forge Elementary before coming to Yellow Springs in the 2009–10 school year. He also was director of special education services for Huber Heights prior to becoming a building principal there. Housh will work in the district office with former local superintendent Mario Basora, who left his post in the village for Huber Heights last year.
"These past ten years have been the best of my career, which is due to the amazing students, staff, families and community that I was able to serve in Yellow Springs," Housh wrote in his letter. "I am a much better person due to my experience working with this community, and I will always value my time here."
Nevertheless, "I am at a place in my life and career where I am ready for a change," he continued. "I have an opportunity to do something I am passionate about in a position which will serve many families and students who are in need," he wrote.
While Housh said he has accepted the job offer, it will not be official until the Huber Heights school board approves the hire. Huber Heights is on spring break this week, and the board is scheduled to meet next on Tuesday, April 14.
A call to Superintendent Basora to confirm the offer, and asking whether the matter was on the April 14 agenda, was not returned by press time. Basora was superintendent of Yellow Springs Schools for nine years, and Housh's boss, before taking the top school job in Huber at the beginning of this school year.
Once his Huber Heights contract is approved, Housh plans to write an official letter of resignation to the Yellow Springs school board, as well as a public letter to the editor, he wrote Tuesday in an email response to followup questions from the News. He said he notified YS Superintendent Terri Holden and Mills Lawn staff of his intentions before sending Tuesday's letter to school families.
He said he contacted families beforehand because he wanted them to hear about the move from him first.
"I felt that it was important for families to hear this news from me since I value their support and they can now have the option of sharing with their child prior to it getting out through the rumor mill," he told the News. He said he also plans to create a video message for students that he hoped he could get posted online before the News' publication.
Yellow Springs Superintendent Terri Holden said she had seen Housh's letter to families and a similar one to staff, but declined to comment on his announcement until he submits an official letter of resignation to the school board.
"I cannot comment until it is official," she wrote in an email Tuesday afternoon.
Housh wrote that he will continue to support students through the end of the school year "and beyond if I can."
District schools, along with all of Ohio's kindergarten through 12th-grade schools, have been closed by governor's order since mid-March, and are anticipated to remain shuttered for the remainder of the academic year in response to the COVID-19 pandemic. Local students have been home since March 16. After an initial three weeks of supplemental work that included time off for the originally scheduled spring break time period, the district initiated a distance-learning plan at the start of this week. Housh, who has for the past couple of weeks been working from home, was at Mills Lawn last Friday to distribute Chromebooks to all building students in need of a laptop.
He wrote in his letter to families Tuesday that leaving the school will be hard.
"My main goal has always been to help our students feel safe, happy, and proud of themselves no matter what," he wrote. I have committed myself fully to the success of Mills Lawn and fused my personal and professional life in support of the district. I watched many children (including my own) flourish at Mills Lawn and it has been wonderful inspiration for my life. I am eternally grateful for this experience and feel proud of our work in this district and especially within the walls of Mills Lawn."
Housh and his family moved to Oakwood about two years ago.
"When opportunity knocks and you feel compelled to answer the call, you have to take a leap of faith and hope for the best. I feel that I am ready for this new challenge, but I am sad to leave the greatest school in the universe," he wrote.