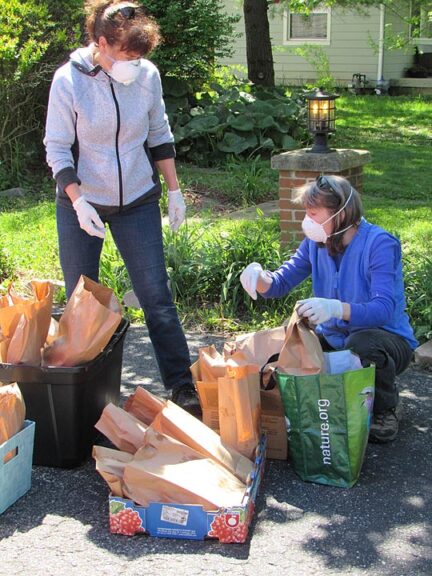 OPERATION Bread Runner — feeding community through baking
By Aurelia Blake
If you could slow her down long enough, you might have been able to ask Norah Byrnes how she came to bake and deliver 30 loaves of bread one particular afternoon to individuals and families in need in Yellow Springs.
The question was simply too long to hold her in place. With eyes crinkling above the mask concealing the apparent smile, she hefted a large cardboard box overflowing with bagged loaves of very fresh bread and set it on a Suncrest Drive porch. Shortly after, Byrnes' sister, Janet Murie, another baker, pulled into the driveway and began to unload boxes of bagged bread.
Byrnes stopped to explain.
"In the beginning of the lockdown I struggled to figure out how I could help, while remaining at home," she said. "My mask-making was not going well. Lots of cursing, lots of funny-looking masks that belonged to Halloween, not a pandemic."
A friend from Wisconsin sent Byrnes $500 cash in an envelope, at the start of the pandemic, with a note saying it was for toilet paper — "If you can find any."
"I had inherited a commercial convection oven from my sister, Raven. I have it in my garage, so maybe that's how the idea came to me," she explained. "Bread!"
By Byrne's description, her sister Janet, friend Becky Rubin and daughter Olivia are all capable bakers.
"And as long as I shouldered the bulk of the production, I didn't feel too guilty asking them," she said.
Byrnes didn't want bread going to people who could afford it and who just wanted homemade bread — she needed to find a way to distribute it fairly.
The distribution system started with contacting Aurelia Blake, who contacted Maria Booth, and then Marianne "Lacey" Moseman. The three Yellow Springs women mask and glove up on Wednesdays to deliver bread to names suggested by retired teachers, community church members, Senior Center staff members, Community Foundation's neighborhood block contacts. The group is hoping the network reaches out to village unemployed, shut-ins and families in need.
"With the distribution system working, all we had to do was bake. Most of the baking is done on Wednesday, delivery day, and some of it is still warm, so we decided to pack the loaves in paper bags," Byrnes said.
Mark Delozier delivers plastic produce bags from Dave, of Tom's Market. The bakers include plastic bags for people to transfer the loaves. Maria Booth sticks a 3"x 5" card in each bag, providing directions for storing fresh bread.
"Every Wednesday morning, I text everyone: 'Who's in? How many?' and everyone gives me the number they are baking that day," Byrnes said.
Wednesday afternoon, Murie packs up her bread, drives by way of Xenia and picks up Rubin's. Byrnes and her daughter live in Dayton, so she packs hers, then swings by to get Olivia's. She and Murie meet at Blake's on Suncrest Drive, where they drop off the containers at 3:30 p.m., ring the bell, and leave.
"We are a motley crew, driven by differing motives, with varying skills," Byrnes said. "Olivia is a professional baker, so her bread is truly artisan, she developed her own sourdough starter, she shapes her bread rather than using pans. She's had so much experience you could ask her to make Cuban medianoche or New York bagels or French Genoise, and she'd say, 'Sure, how many?'"
Byrnes and her sister Janet were taught to make "ordinary" bread at home from the age of 8. Their mother posted directions with pictures written on big pieces of paper taped above the counter.
"And you just did it — it wasn't optional, and it wasn't a game," she said. "When we lived for a winter in Quebec, the instruction sheets taped to the wall were in French. You'd have to know our mother to appreciate that!"
Byrnes also talked about baker Becky Rubin, who she describes as "so at home in the kitchen, there's nothing she hasn't done."
"Her daughter's family is vegan, so she's an expert at vegan meals, but she does soups and stews and holiday treats and her baked goods are out of this world," she added.
The bakers and distributors, texting back and forth, came up with an idea for a T-shirt that reads "OPERATION Bread Runner," designed by Booth's daughter, Malaya, a YSHS sophomore.
Mark Heise, owner of Yellow Springer Tees and Promotions, offered to print up the shirts and upload the shirt design for the public to purchase. Heise plans to list the "OPERATION Bread Runner" shirt on the "Here for Good" page of his website, h4g.yellowspringer.com, where as a fund-raising effort, half the cost of purchased shirts would go to resupplying the bread-baking effort.
"We are all changing due to the pandemic, even those who say it hasn't changed them. We all have a chance to step up, while we rethink our world, and wonder what the new normal will be, and what we will be doing differently," Byrnes mused.
She squinted over her mask at the bags of bread.
"Is bread the most valuable food item to hand out when people are hungry?" she wondered. "No, but there is something about a homemade loaf of bread that is so universal. It seems right."
Donations may be sent to the YS Food Insecurity Field of Interest Fund at http://www.yscf.org.
*The author is a longtime villager and retired educator in the Yellow Springs Schools.