COVID–19 update— After Ohio restart, virus is spreading again
UPDATE: Since this article was published, on Thursday, July 9, the Ohio Department of Health downgraded Greene County from an alert level 2, orange, to an alert level 1, yellow.
On Independence Day, local first responders were notified that a village resident had fallen ill with COVID-19.
It had been four weeks without an active case in the village, and the new case brings the tally of cases in Yellow Springs to six since the start of the pandemic.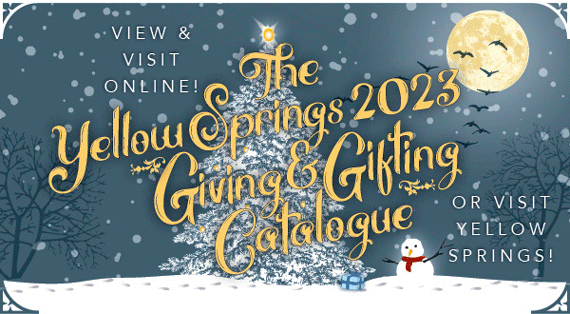 Although relatively few people in the village seem to be getting sick from COVID-19, public officials are making it clear that the novel coronavirus is not going away. And in certain areas of the state, including southwest Ohio, cases are surging.
"The virus once again is spreading with a vengeance across many parts of the country and across parts of Ohio," Ohio Gov. Mike DeWine said in a press briefing last week.
DeWine singled out seven Ohio counties seeing "very high exposure and spread," including adjacent Montgomery County. In the eight-county west central Ohio region of which Greene is a part, the number of COVID-19 positive patients in hospitals or on ventilators has doubled in recent weeks, DeWine noted.
Ohio began reopening parts of its economy in early May after a nearly two-month shutdown that flattened the curve of infection. But by mid-June the two-month decline in indicators such as cases, hospitalizations and ICU admission began to reverse.
The trend holds true for Greene County, which saw its per capita case rate more than double over the last month, even as the county remains relatively better off than the rest of the state and country. As of July 6, there were 99 active COVID-19 cases in Greene County, up from 58 on June 18.
And nationally, the coronavirus spread quickly over the last month as new daily confirmed cases grew from around 20,000 per day to 50,000 per day by early July. Not all of the case rise is a result of increased testing, according to experts. In fact, the percentage of positive tests is growing, both in Ohio and the U.S., an indicator that the incidence of the disease is on the rise.
DeWine said that Ohio's current challenge is to "stay on the offensive" with the virus in order to avoid the need for "going back" to more stringent shutdowns.
"This next phase is not about hunkering down, but about how we live with this virus," he said.
This week, the News looks at the latest county and statewide data on the virus' spread.
Virus spreading in state
In presenting the latest statewide figures, DeWine sounded an alarm at his July 2 briefing.
That day, new daily cases hit 1,251, their highest level since April 20, when blanket testing in Ohio prisons revealed scores of new cases. DeWine called the new number "worrisome and concerning" and shared where, and how, the coronavirus was spreading.
"It's spreading at large family gatherings such as birthday parties, graduation celebrations, funerals and other large gatherings such as protests," DeWine said. Workplaces, bars and restaurants and tourist destinations are on the list as well.
"It's spreading because people who are showing symptoms are not staying home when they should," he added. "It's spreading because people aren't social distancing and they're not wearing masks."
New daily cases of COVID-19 in Ohio have more than doubled from the seven-day average low of 381 cases on June 12, to 1,016 on July 7, their highest figure since the start of the pandemic.
The surge in cases is not just a result of increased testing, as the rate of positive tests is also increasing in Ohio. The positivity percent for COVID-19 tests was 6% on July 6, up from 4–5% for the prior six weeks. The World Health Organization recommends a positive incidence rate of 5% or lower for testing levels to be sufficient.
Last week, the state hit 20,000 daily tests, up from 8,000 to 9,000 in mid-June and significantly higher than 2,000 to 4,000 per day at the end of April. But, DeWine said, it is still not enough.
"We need to frankly double that again and we're going to do everything we can to do that," DeWine said of testing figures. Last month, DeWine announced that anyone in the state can now get a test, including those without symptoms of COVID-19.
Other measures that had been declining are once again on the rise. For instance, the seven-day average for new daily hospital admissions in the state had fallen from a peak of 123 on April 10 to just 50 per day by June 20, but have since spiked back up to 78 on July 7. In fact, on July 7, 134 people were newly hospitalized for COVID-19, the highest figure since May 29. ICU admissions are following a similar trajectory.
New daily deaths, however, have remained flat, hovering at a seven-day average of 16 for the last week and well below the peak of 49 on May 23. That figure could be, in part, due to the time lag between the onset of symptoms and death, which averages 18 days. Experts also say that treatments for those who are seriously ill are improving, while nationally, more younger people, who are less at risk of developing life-threatening complications, are coming down with the disease.
DeWine said that the latter trend was also evident in Ohio. The median age for confirmed cases of COVID-19 here is now 45 years old, down from 50 in late May. According to new figures shared at DeWine's briefing on July 7, in March and April the age group with most confirmed COVID-19 cases were those in their 50s, while in June and July the most impacted age group are those in their 20s.
DeWine added that state health officials are "seeing young people get very sick" and also worry that they may pass the virus on to those who are at higher risk. He also stressed that it wasn't just younger people but all Ohioans who were "letting their guard down" as the pandemic continues into its fifth month.
Ohio responded to the pandemic earlier than other states, while it also opened up more slowly than some. The state is currently 16th in total coronavirus cases despite being the 11th most populous state.
But the progress Ohioans have made, DeWine said last week, is "in danger, frankly, of being reversed."
New warning system
Also at the briefing, DeWine unveiled the COVID-19 Ohio Public Health Advisory System, which he called a new tool to "address flare-ups [of the virus] in different parts of the state."
"We should start looking at the state, different counties, differently," DeWine said.
The color-coded system categorizes counties by how well they are containing the virus' spread using seven different indicators, and recommends residents respond to higher risk levels by limiting their activities.
The indicators, which are assessed over a three-week period, are new cases per capita, sustained increase in new cases, proportion of cases not congregate cases, sustained increase in emergency room visits, sustained increase in outpatient visits, sustained increase in new COVID-19 hospital admissions and intensive care unit bed occupancy above 80%.
Currently, the majority of Ohio's counties, 53 out of 88, are at the lowest level, alert level 1, which corresponds to the color yellow. Although the state believes community spread is occurring in every county, these counties have triggered just one of the seven indicators.
DeWine said those living in yellow counties "should not have a false sense of security" and must still abide by statewide orders, including those that govern businesses and limit mass gatherings to 10 or fewer people. Three counties adjacent to Greene County — Clinton, Fayette and Madison — are all yellow.
Meanwhile, the 28 counties that are now in level 2, the orange level, have triggered two to three of the state's indicators. Greene County is one of them, along with the adjacent counties of Clark to the north and Warren to the south. DeWine said counties under that alert level have seen cases growing over two weeks and more people visiting the doctor with COVID-19 symptoms. (UPDATE: On Thursday, July 9, the Ohio Department of Health downgraded Greene County to alert level 1, yellow).
"Ohioans in level two counties should exercise a great deal of caution," he said. "Avoid contact with anyone considered high risk. Decrease your in-person interactions."
Seven counties were identified as being in alert level 3, the red level, including Montgomery, Butler, Hamilton, Franklin, Cuyahoga, Huron and Trumbull. Those counties have triggered four to five of the indicators.
"In these counties, risks are very high," DeWine said. "Ohioans should limit activities as much as possible. … Consider necessary travel only out of your house and limit attending gatherings of any kind."
"If you're in one of only a handful of counties in the state in the red, that tells you there is a problem," DeWine added. "It tells you this monster is running loose in your county and it's looking for victims. You just need to be very careful."
On July 7, the Ohio Department of Health additionally ordered that face masks are required in public in counties at alert level 3.
Homing in on Montgomery County, DeWine said it triggered the first five indicators. He shared that county health officials believe that more than 80% of all cases are linked to community spread and not a single identifiable source, "signaling significant transmission in the broader community."
"Community outbreaks have been tied to settings such as workplaces, a childcare center and a faith-based community organization," DeWine added of contact tracing results.
In Montgomery County, average daily visits to the ER have more than doubled and outpatient visits have more than quadrupled in recent weeks, DeWine added.
No county has yet entered alert level 4, purple, with six to seven indicators triggered. At that level, there is "severe exposure and spread" and the recommendation is for residents to stay home except for essential trips for supplies and services. Franklin County, home to Columbus, is "on the watch list" for level 4, DeWine said.
Beyond paying attention to their county alert level, DeWine also advised all Ohioans to assume they have the illness if a member of their household is sick and to self-quarantine for 14 days. And he said that since 60% of Ohioans fall in the high-risk category for dangerous complications from the disease, everyone "should take every precaution to avoid contracting COVID-19."
A closer look at Greene County
Asked which of the seven indicators Greene County had triggered to be categorized at an alert level 2, Greene County Public Health spokesperson Laurie Fox said this week the health department was not exactly sure, as they had yet to be informed by state officials.
However, she said the county has met the indicator involving sustained increases in new cases over the previous five days. In fact, the seven-day average for new daily cases in Greene County is now close to 10, more than double its average from just a week ago. Earlier this week, on July 7, the county added 18 cases in a single day.
"We are really encouraging continued mask use, social distancing and hand washing because our cases are increasing," Fox said.
The county could also have triggered the new cases per capita indicator, which is flagged if it rises above 50 cases per 100,000 residents over the previous two weeks. The county had 163 confirmed cases per 100,000 residents on July 7, up from 103 per 100,000 two weeks prior.
From the start of the pandemic to July 7, a total of 276 county residents have so far contracted the virus (including both probable and confirmed cases), 33 were hospitalized for it and nine have died, including one Yellow Springs resident. Officially, 0.16% of county residents have gotten sick.
County figures are relatively low, adjusted for population. By comparison, nearby Montgomery County has 401 cases per 100,000 people, higher than Greene County's 163 cases. Still, Greene County's figures are rising quickly. There were just 67 cases per 100,000 here on June 16.
In response to a question from the News, Greene County epidemiologist Don Brannen confirmed that the recent increase in cases in the county is not connected to the free pop-up testing performed at Five Rivers Community Health Center in Xenia two weeks ago.
At that event, 975 people were tested, but the county health department has so far only received five positive tests, Brannen said, since labs prioritize those in hospitals and long term care facilities over a "mass general screening." It expects more results soon. (The results were released on July 10 and are available here)
Brannen additionally shared county figures showing that the rise in cases in Greene County was not as recent as its daily new cases suggest. Although the county adds new cases to its tally when it receives a positive test result, it also tracks cases by when symptoms began, if that data is available.
When the figures are graphed by symptom onset, rather than the date the test was completed, it shows a spike in cases in the county from June 7 to June 22. In fact, the week ending June 20 may have been the worst for the county since the pandemic started, with 44 new illnesses beginning that week. By comparison, 18 people with COVID-19 in the county traced their symptoms to the week ending March 28.
"We've had an increase since the beginning of June and that has dwarfed our early increase in March," Brannen said.
Last week, 19 county residents confirmed to have COVID-19 began to develop symptoms. Those figures could rise when county residents later test positive and back date their symptoms, but most people being added to the county's tally are reporting symptoms starting in mid-June.
"Right now we're looking pretty good with cases from last week," Brannen said. "It's just that those cases that are coming in, their onset of illness was earlier."
Brannen added via email that "preliminary numbers indicate that numbers are going down," which he attributed, in part, to the increase in mask usage in the county.
"You may have noticed people have started wearing masks even more frequently with the rise in cases," he noted.
The virus is not spreading evenly across the county. By looking at the R-0, or R-naught, public health officials can measure how quickly a disease spreads. At a rate above R-1, one person is transmitting the disease to more than one person, leading to exponential growth.
At present, two of the 12 townships in Greene County have R-0 values above 1. (Greene County Public Health is using townships because U.S. Census population figures are more accurate). Those townships are Bath Township (Fairborn), and Sugarcreek Township (Bellbrook), while Xenia Township (Xenia), is hovering around R-1. Miami Township (Yellow Springs) is second only to Caesarscreek Township in how slowly the virus is spreading, with an R-0 likely less than 0.5.
Of the 99 active COVID-19 cases in the county as of July 6, the most were in Fairborn (35), Xenia (31) and Beavercreek (22), with 9 cases in Bellbrook, and one each in Jamestown and Yellow Springs, according to data shared by Yellow Springs Police Chief Brian Carlson, who has access to a countywide spreadsheet for first responders.
The Yellow Springs resident who was confirmed to have COVID-19 on July 4 is currently self-isolating at their local residence, Carlson added. (Patient privacy laws protect the identities of those with the illness.) That person is the third to have been confirmed to have COVID-19 here, after one person contracted it and died in March, and another recovered from it in May. Three additional local people in April and May were identified as probable cases after they both had contact with someone known to be positive and developed symptoms.