Planning Commission— New 'do not plant' list being considered
Proposed changes to the Village's weeds ordinance are taking aim at dozens of "noxious weeds" and invasive plant species currently wreaking havoc in Ohio.
Villagers may be required to remove as many as 36 noxious plants from their yards, as well as refrain from planting an overlapping list of even more species banned in a new draft ordinance currently under consideration by the Yellow Springs Planning Commission. Both lists derive from plants banned for sale in Ohio or otherwise identified as harmful by the Ohio Invasive Plants Council.
The proposed new lists of plants banned or discouraged in the Village significantly expand previous lists included in the Village weeds ordinance, which was last revised a year ago.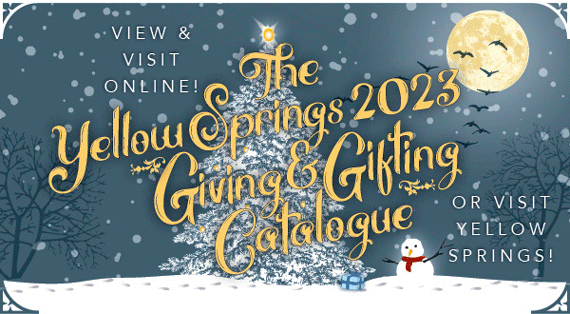 Members of the Village's Environmental Commission, a citizens group, crafted the changes, with villagers Catherine Zimmerman and Nadia Malarkey leading the effort.
"The language came through a lot of hard work," Malarkey told Planning Commission members.
The proposed revisions reflect a larger effort underway to "bring natural landscapes throughout the village" and support local wildlife, according to Zimmerman. Specifically, the Environmental Commission and partner organizations led a project this year to certify Yellow Springs as a wildlife habitat through the National Wildlife Federation. The Village recently achieved certification, with a review of the local weeds ordinance as part of that process.
Other changes to the ordinance include an expanded section encouraging villagers to transition to managed natural landscapes, with benefits and guidelines for doing so, and the use of "owner and/or occupant" in place of "owner" throughout the ordinance text. Owners of rental units would still be responsible for their properties, Zoning Administrator Denise Swinger clarified.
Planning Commission members discussed the proposed revisions during their November regular meeting, held via Zoom on Nov. 10. Chair Frank Doden, Dino Pallotta, Stephen Green, Council liaison Laura Curliss and alternate member Sarah Amend were present, as well as members of Village staff.
Commission members expressed support for the overall effort, but voiced reservations about requiring local residents to eliminate a large number of plant species from their yards.
"It's got to be on a 'going forward' basis," Pallotta said. "If it's already there, we can't enforce that."
The existing Village weeds ordinance specifies that violators are guilty of a minor misdemeanor. Village employee Raven Behrens clarified that enforcement is "entirely complaint-driven," with just two citations in the past year, one of which ended up in Mayor's Court.
"We don't have the staff to nitpick people's yards," she said.
According to Zimmerman and Malarkey, the intent of the revised ordinance is to educate, not punish.
"I don't think it has to be draconian," Zimmerman said.
If villagers are aware of the threats posed by invasive plants, they will not want to have these species in their yards, she added.
Invasive plants outcompete native plants and generally support fewer insect and animal species, disrupting and weakening an area's ecology, according to past News reporting on the topic. Casual observation reveals that honeysuckle, euonymus, barberry, privet, Dame's rocket, multiflora rose, lesser celandine, Tree-of-Heaven, Russian olive, Asian bittersweet and other invasive species are widespread across public and private lands in the village.
Speculating that most plants on the new lists would be unfamiliar to many villagers, Amend said she favored keeping the ordinance "loose" until more education and outreach could be undertaken.
"I don't think it's workable or fair at this point," she said.
Doden and Curliss agreed to work with the Environmental Commission to refine the ordinance and bring a revised draft back to the next Planning Commission meeting in January. Any ordinance changes recommended by Planning Commission would have to be voted into law by Village Council.

In other Planning Commission business—
• The commission unanimously approved amendments to the Village zoning code that eliminate minimum parking requirements in the downtown Central Business District. Such minimums are unrealistic given the configuration of downtown shops, and have routinely been waived by Planning Commission in approving new businesses in the downtown area, Swinger noted.
• The commission unanimously approved a home occupation permit for Bootleg Bagels, owned by Benjamin and Elyssa Bullock at 1310 Shawnee Drive. While operational for several months, the home-based business was required under Village code to apply for a conditional use hearing for a home occupation permit. The bagel-baking business serves about 40 clients per week, according to information provided by the Bullocks. No neighbors objected to the business' presence, and the public hearing drew a whopping 29 written statements of support.
• And finally, the commission unanimously approved a Transient Guest Lodging, or TGL, application from Gavin Leonard at 143 East Limestone St. According to Village records, Yellow Springs now has 44 such lodgings that are subject to the Village's 3% lodging excise tax. (TGLs include Mills Park Hotel and the Arthur Morgan House Bed and Breakfast.) In the first six months of 2020, the Village collected $9,275.80 in TGL tax revenue. That amount was down about $15,000 from the same period in 2019.
Planning Commission will not hold a regular meeting in December. The commission's next meeting is scheduled for Tuesday, Jan. 12.