Virus impact grows in Yellow Springs
Three local businesses are closing for the winter during what their owners expect to be a grim few months of the pandemic. Whether other seasonal closures will follow in Yellow Springs remains to be seen.
Peach's Grill closed in mid-November after a kitchen worker tested positive for the virus, while Ye Olde Trail Tavern followed suit this Monday, though no positive cases have been reported there. And Import House on Dayton Street closed last Friday, following a confirmed case that morning. All three businesses are owned by villagers Don Beard and Christine Monroe-Beard.
"Things are going to go south real quick," Beard said in a recent phone call, reflecting on the rapid spread of COVID-19 in Greene County and Ohio.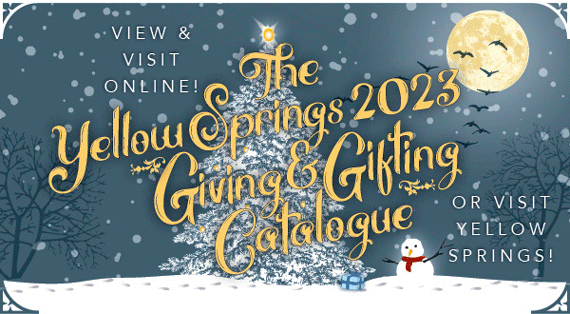 The couple announced the positive case at Peach's in a Facebook post on Nov. 15. The case effectively forced a two-week closure, the owners said, because three-quarters of the kitchen staff had potentially been exposed to the virus.
"It was our first COVID exposure, and everyone was feeling a little nervous," Beard said.
The couple had been planning to shut down their two restaurants and one retail shop at the end of December until early spring, but the positive case at Peach's prompted them to rethink, and accelerate, that timeline. Meanwhile, the approximately 100 workers employed across the three establishments — many of them local residents — will be able to access unemployment benefits during months that the couple expect to be lean for business.
"Everyone had weigh-in," Monroe-Beard said. "We tried to make decisions that were the best for the whole."
It was a short season for all three businesses, which were among the last local establishments to reopen in July, following statewide shutdowns last spring. Still, business during the truncated season was strong enough to support a temporary closure over the winter, the couple said.
"We had a great season. The tents worked out fabulous," Beard said, referring to the tents erected in the parking lot of Peach's. The outdoor seating significantly expanded capacity at the restaurant, boosting business overall. While no such expansion was possible at the Trail Tavern, business was also brisk there.
For the past several weeks, the Peach's tents have gone unoccupied. The owners expect to reopen the restaurant on March 1.
Other visible impacts
Those seasonal closures are one visible sign of the pandemic's growing impact on Yellow Springs. While the 45387 zip code has roughly half the case rate of the zip codes covering Xenia and Fairborn, cases here grew exponentially last month, with nearly half of all cases added during November.
That rate appears to have slowed in recent days, however. As of Monday, Dec. 8, the 45387 zip code had 112 total cases, 41 of which — or 36% — were reported in the prior 30 days. In addition, new cases over the past two weeks have been moderating from a high of 23 on Nov. 30 to 17 on Dec. 8.
Yet case numbers continue to rise rapidly in Greene County as a whole. And, as emphasized by Greene County health officials, the impact of the Thanksgiving holiday has yet to be felt in county and state case numbers. (See "A closer look at area surge" in this issue.)
The virus raised its profile in the village through the late fall. As reported by the News in recent weeks, Yellow Springs institutions ranging from the police department and fire station to Antioch College, local schools and the public library have seen one or more cases and, in some instances, multiple quarantines.
Among local restaurants, Sunrise Cafe has yet to see an employee case, according to owner Brian Rainey this week.
"We've had a couple scares and pre-emptive quarantining but no one ever tested positive," he wrote in an email in response to a News question. The restaurant is rolling out a new menu, online ordering and expanded delivery to tide it through the winter months, he said.
The Winds Cafe previously reported one staff case of the virus. That case led to a five-day closure of the restaurant in early November.
Another local business closed, under different circumstances, last Thursday. The Spirited Goat shut its doors to the public following a written "notice to abate" served by Police Chief Brian Carlson as part of the village's stepped-up enforcement of the state's reissued mask order. The notice was in response to a lack of masking at the establishment. While the abatement notice was a warning only and did not require a business closure, the Spirited Goat's owner, Michael Herington, opted to shut his doors, according to Carlson. As of early this week, the coffeeshop remains closed.
Under Ohio's reissued mask order that requires all customers and employees to wear masks in retail establishments, a first violation triggers a written warning, while a second violation leads to a temporary 24-hour enforced closure. There have been no violation-related closures to date in Yellow Springs.
Carlson served another "notice to abate" last week to a different Dayton Street business, Starflower Natural Foods, that has defied state and local mask orders. In that instance, the business complied, according to Carlson.
Related to mask compliance, Carlson said the department has increased enforcement in recent days. According to a police tracking document, local officers during the first six days of December logged 45 verbal warnings, 34 foot patrol interactions and four written warnings, in addition to the two abatement notices. No citations were issued.
By contrast, in the last two weeks of November, the document shows that nearly all mask-related service calls, or 162, were initiated by officers on foot patrol, with just two written warnings and no verbal warnings. And in the months of the pandemic prior to that, a total of 98 foot patrol interactions were logged.
"The village is so compliant," Carlson said of most residents' embrace of masking and other protective measures. But he added that local police officers have encountered numerous instances of verbal resistance while enforcing village and state mask orders.
School update
Cases at local public and private schools have remained low.
Antioch School saw its first positive case last week, a teacher who is currently self-isolating. According to an email from that teacher to parents, no students or other staff were exposed. The teacher had not been in school for 11 days prior to the positive test, due to the Thanksgiving holiday.
In response to that case and other factors including high case numbers in Montgomery and Greene counties, the school on Dec. 5 announced to parents that it was closing for the two weeks prior to its scheduled winter break, with an earliest reopening date of Jan. 11.
Unlike local public schools, Antioch School opted for in-person instruction this fall, which largely takes place outdoors. Both the school's pedagogy and parent preference drove the decision, the News has previously reported.
In his Dec. 5 email to parents, school manager Nathan Summers wrote, "I respectfully ask for your continued trust and patience as we all weigh the risks and benefits of our options going forward. I believe that we will find a solution that maximizes safety while still meeting as many of our community's needs as possible."
The Yellow Springs school district is still reporting just one staff case of the virus related to a school exposure. That case dates back to mid-October, with no further school-related cases identified among staff or students, according to district data. In addition, a total of two students and one staff have quarantined due to a school-related exposure. The district has reported numerous quarantines and one student case and one staff case related to exposures outside of school.
Yellow Springs is one of the few area districts that opted for remote learning to start the academic year. Other Greene County school districts have since pivoted to remote or hybrid options as cases have surged in the county. Whether Yellow Springs will remain remote has yet to be determined, as the district continues to discuss its plans for third quarter, which begins Jan. 19.
And in higher education, Antioch College saw just one case of the virus during the fall term, with one student testing positive in late October. Per state guidelines, the college continues its random sample testing of students and staff, now using a new rapid testing system that is far more accurate than rapid antigen testing, according to college spokesperson Christine Reedy this week.
Vaccines on their way
Meanwhile, a local institution serving some of the area's most vulnerable residents, Friends Care Community, remains without any new cases of the virus, according to Executive Director Mike Montgomery on Monday. Friends Care last month reported two infections among dietary staff at the facility. No residents have tested positive to date.
Residents are holding up "as well as can be expected" during a holiday season that intensifies isolation, as families remain unable to visit the facility due to COVID restrictions, Montgomery wrote in an email. He praised Friends Care staff for working to make it "the best Christmas possible" for residents.
One bright spot is the new vaccine, distribution of which is scheduled to begin on Dec. 15 in Ohio, pending approval from the FDA just prior to then.
As a long-term care facility, Friends Care is at the front of the line to receive vaccinations. Frontline health care workers, emergency medical personnel and residents and staff at nursing homes, assisted living facilities and other congregate living settings are the "first priority" recipients of the vaccine, Gov. Mike DeWine announced at a press briefing last Friday.
Those in nursing homes and assisted living facilities are especially vulnerable to the virus. In Ohio, 10% of all cases and over 50% of all deaths have occurred among individuals in these settings, state figures show.
Montgomery said Friends Care has no word yet on how soon after Dec. 15 the local facility is likely to start receiving vaccinations. By federal arrangement, CVS and Walgreens will be providing nursing home vaccinations in Ohio.
There's also no word yet from the state regarding which groups are next in line to receive the vaccine. Essential workers and older adults are among the groups under consideration.