'small ohio town'— See filmmaker work-in-progress
In the spring of 2008, filmmaker Steve Bognar got a new high-definition camera and began testing it out around Yellow Springs; he filmed cornfields at dusk, children waving at passing parades, snow-covered trees in early morning, musicians playing in the streets. He wasn't initially intending to document the life of a small town when he set out — but for over 12 years, that's just what he's done as he's continued to film the cycles of Yellow Springs life.
Now, as a gift to the community, Bognar is presenting an initial cut of all those years of village ins and outs. The 37-minute film, which is still a work in progress with the working title "small ohio town," is hosted online and can be viewed on the video-hosting site and app Vimeo for the next month.
Reached via phone this week, Bognar said the project developed slowly over the years.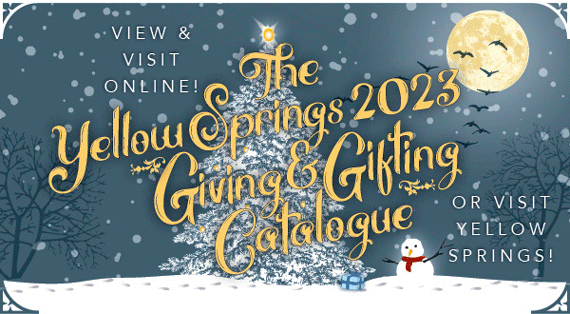 "At first it was just about capturing the light at sunrise or sunset or filming some of the natural elements around town — it wasn't about telling a story yet," Bognar said. "But gradually, it came into my head that this could be some kind of piece about the town."
Filming took place between other projects, Bognar said, with some years represented in his archive of footage more than others, depending on how busy he and his longtime partner, Julia Reichert, were. Though this film is a solo project for Bognar, he said that he welcomed Reichert's input on the film — just as he always does.
"Julia is involved in everything I do — I would not make a film without sharing it with her repeatedly," he said. "She shot some of it — and she helped me make it better."
In 2014, after six years of filming, the YS Community Foundation awarded Bognar with a grant to continue production on the film project. In turn, Bognar hired on filmmaker Eric Risher as editor; Risher has worked with Bognar and Reichert in the past on the short film "Making Morning Star," WYSO's web series "ReInvention Stories" and, most recently, the Academy Award-winning feature documentary "American Factory."
Thus "small ohio town" began to take shape. The film both embraces and eschews a traditional linear format — it cycles through the seasons, moving from summer to summer, but the events captured in each season could be from any of the 12-plus years Bognar captured. The resulting piece is lyrical rather than narrative — it features no narration, in fact — and its context rests on the rhythms of nature and a small community well-versed in connecting over shared experiences.
"In a small town it can be a comfort to know that you're always going to go up the hill at Gaunt Park on Fourth of July or meet downtown at midnight on Dec. 31 — those rituals are anchors in a life that I think builds communities," Bognar said.
Though documentary filmmakers often attempt as much objectivity as they can when filming their subjects, Bognar said his feelings about his adopted hometown, where he's lived since 1991, are fairly transparent in the short film.
"It's a very personal film to me because I love this town," he said. "It's a highly subjective attempt to evoke what I feel is the spirit, the texture of the town."
The film features pieces of village life that virtually any villager would recognize: Street Fair, youth theater productions, the annual MLK Day parade. Although the through-line of the film can most likely be followed and enjoyed by anyone, regardless of their familiarity with the village, Bognar said he shot the film with a particular audience in mind.
"I really wanted to make the film for folks who care about this town — whether they live in Yellow Springs at the moment or not," he said. "Beyond that, it doesn't matter if it's not embraced by people who don't know the town."
Also featured in the short film are things that used to be part of the cycles of the village year — like Blues Fest and Women's Voices Out Loud — that are no longer part of the community's collective rituals. Likewise, viewers of the film may recognize the faces of those who have moved away or died in the years since Bognar began filming. In this way, "small ohio town" is also something of a historical record — and a bittersweet treatise on the inevitability of change.
"The spirit of any town is always evolving and everything falls prey to time, and that can be very painful sometimes, but it's not to say that new buds of life can't keep growing — if you record in 20 years, maybe there will be new landmarks, rituals, pillars of town," Bognar said. "I think that's what I'm trying to capture — the feeling of living in a community where you have both loss and the gifts of the new."
Bognar reiterated that the film is still a work in progress, and said there are several things he wants to do — tighten up the editing, color correct the picture and work on sound design. Most of the film's music is diegetic, coming from scenes captured on-screen, like the Community Band playing at the Fourth of July parade or a choir concert; the rest of the music featured, Bognar said, is temporary. Ultimately, he said he'd like to replace those tracks with music from local musicians when he can, but he has no set deadline in mind for when the film will be totally finished.
"I mean, I do want to get it out sometime, but I didn't think it would take 12 years," he said, laughing. "It is what it is."
Bognar said that part of his reasoning for releasing the film now is to take feedback from those who watch it — something both he and Reichert have always believed is crucial to their craft.
"Normally we do a lot of test screenings, which we can't do during this pandemic," he said. "So making [the film] available now for a month or so, I hope I'll get some input from the community."
The main impetus for sharing the work, however, was — like so many things for so many of us this year — the pandemic.
"It's been so painful to not be able to be together," he said. "I didn't want to just sit on it until I have time to finish it — I want to get it out now for a time, in case people want to see these moments of our community life together."
In the future — toward which the whole village is straining as the pandemic continues — Bognar hopes that, when the film is finished, it can premiere to an audience of neighbors, friends and family on the big screen.
"It would be a dream to show this to a packed audience at the Little Art," he said.
Until then, all are invited to see "small ohio town" from the confines of their own homes. Bognar has only one request:
"People should not watch it on their phones," he said. "Watch it on a big computer screen or, if you can, your TV, with good speakers or headphones — the bigger and louder, the better."
To watch "small ohio town" for the next month, visit vimeo.com/494851201.