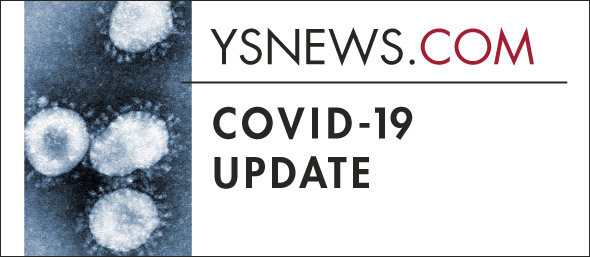 • The Centers for Disease Control reversed course on masking on Tuesday, July 27. Since May, they have only recommended those who are unvaccinated to continue to mask in public. Now, even those who are vaccinated should wear masks indoors in public if in an area of "substantial" or "high" transmission, defined by 50 cases or more per 100,000 residents over two weeks. The change came about after new data showed that vaccinated people may be spreading the Delta variant more than previously thought.
Greene County currently has "substantial" spread according to a county-by-county map released by the CDC. The Ohio Department of Health, or ODH, no longer releases per capita case rates by county, discontinuing the tracking system in May.
• At a press briefing on Monday, July 26, ODH officials commented on the recent rise in COVID-19 cases in the state.
Ohio's per capita COVID-19 case rate increased from a low of 17.6 per 100,000 residents on July 7 to 27 cases on July 15 and most recently to 45.8 on July 22. Officials are attributing the rise to the more contagious Delta variant.
"All signs point to this increase of cases to the Delta variant," said ODH Medical Director Dr. Bruce Vanderhoff this week. "It simply takes less of this virus to spread from the nose of an infected person to that of a non-infected person."
Vanderhoff added that the vaccines provide "strong protection" against the variant and that the risk is primarily to those who have not been vaccinated. In response to a question, Vanderhoff said a "fraction of a fraction of a percent" of those who have been recently hospitalized or died from COVID-19 in Ohio have been vaccinated.
• The ODH also released guidance for schools this week. None of the suggestions are mandatory and the decision on final health measures will be up to individual school districts. Yellow Springs Schools has yet to announce any COVID-19 safety protocols for the upcoming school year.
Vanderhoff said the recommendations are based upon "three layers of protections." First, all students and staff over 12 should receive a vaccine. Second, those who are unvaccinated should "consistently wear masks." And finally, schools should work to improve ventilation, maximize distance between people and promote good sanitation practices such as handwashing.
Vanderhoff added that mask use isn't necessary outdoors during recess.
Advice related to masking among the vaccinated may change following the CDC's recent announcement
• Cases in the state and county are trending up, but growing somewhat more slowly than the prior week. The seven-day moving case figure for the state was 697 on Tuesday, July 27, up from 550 the week prior. As of July 27, the county was adding 13 new cases per day, up from nine the week before.
• Over the week, one new case was added in the 45387 ZIP code, an indicator that COVID-19 may be spreading more slowly here compared to other areas. As of the end of June, the ZIP code had the highest vaccination rate in the county, at 65%.