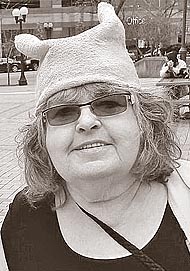 Pam Davis, of Yellow Springs, died Jan. 1, 2023, as a consequence of a stroke suffered in December 2022 and complications of COVID. She was 70 years old.
Pam was born Feb. 11, 1952, in Dayton, Ohio, to Juanita Brandt Pettit and Richard Pettit. She was raised in working-class East Dayton by her mother and grandparents. Pam graduated from Wilber Wright High School, attended Sinclair Community College and eventually earned a B.A. from Antioch McGregor University in 1989 and a master's in social work from The Ohio State University in 1995. She served for 25 years as a social worker at the Dayton Veterans Administration, where she specialized in the mental health needs of returning veterans. She retired from the VA in 2018.
Pam was a rebellious, outrageous, warrior woman who, on more days than not, took some action to make change. Social work was not her profession, it was her calling. Pam was a loving wife, mother and grandmother; a kind and generous friend; and a dedicated animal rescuer. She was unwavering in her efforts to right wrongs, help people in need and promote a more just, sane, anti-racist world. A partial list of organizations that benefited from her involvement includes: Dayton Welfare Rights, the Miami Valley Power Project, Artemis Domestic Violence Center, H.U.M.A.N, later H.U.M.A.N. Organizing Committee, House of the People Homeless Shelter, Greene Environmental Coalition and Afro-American Cultural Week, or A.A.C.W. She served on the boards of the Yellow Springs Human Relations Council and the Yellow Springs Friends Care Center.
Pam is survived by her husband of 30 years, Neal Crandall; her sons, Michael Davis (Vicky), from her marriage to Charles Davis, and Giovanni Ramos (Sabrina), from her marriage to Riccardo Ramos; stepson Benjamin Crandall; her grandchildren, Joshua Davis, Lily, Alex, Felix and Kaia Ramos; and her brother Richard. Her family and her many, many friends and fellow activists loved her and will miss her.
A memorial service will be held Feb. 11, 2023, at 2 p.m., in the South Gym of the Wellness Center. All are welcome. Contributions to refreshments are being coordinated by Susan Hyde, susanhyde@aol.com.