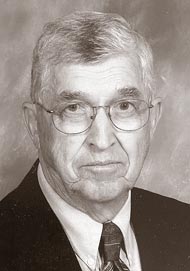 Donald H. Fulton, age 93, of Yellow Springs, passed away peacefully on Wednesday, Jan. 25, 2023, at Soin Medical Center. He was born on Dec 30, 1929, in Yellow Springs, Ohio, to the late George and Retta (Hamilton) Fulton.
In addition to his parents, Donald was preceded in death by his wife, Marilyn Fulton, and brothers, Richard Fulton, William Fulton and James Fulton. He leaves behind to cherish his memory children Kathleen (David) Boggs, Don (Paula) Fulton and Virginia Teyber; grandchildren David P. Teyber and Daniel E. Teyber; and two great-grandchildren. Donald is also survived by two step-daughters, Jana (Scott) Meisinger and Deana (Kevin) Knotts and family; and his companion of 20 years, Jackie Hammond, along with her family. The family would like to express their appreciation to special family friends Cecilia "Cha Cha" Kimble and Randy Wyatt.
Donald spent his life farming, but also enjoyed flower gardening and reading, and he was a very talented artist. A gathering of friends and family was held on Wednesday, Feb. 1, 2023, at Jackson Lytle & Lewis Funeral Home, Yellow Springs, from noon–2 p.m., with memories of his life shared at 2 p.m.
Donald will be laid to rest at Glen Forest Cemetery. In lieu of flowers, the family encourages donations be made to the American Heart Association or to any Hospice in Greene County. Condolences will be forwarded to the family by visiting http://www.jacksonlytle.com.