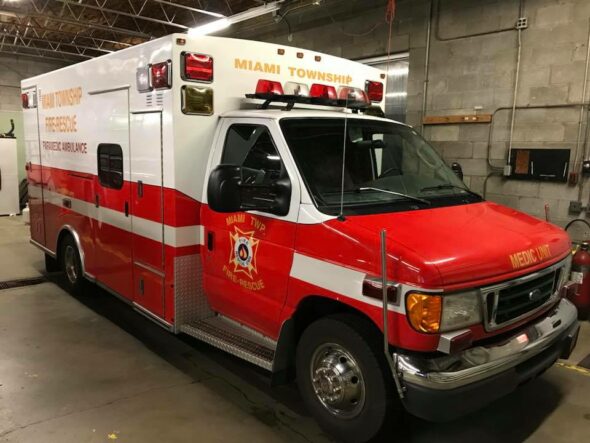 Miami Township Board of Trustees | Monday, Feb. 6 Meeting
From the Monday, Feb. 6 meeting of the Miami Township Board of Trustees:
Fire/EMS report
• Chief Colin Altman reported that Miami Township Fire-Rescue has responded to 35 EMS calls and eight fire calls since the last regular meeting of the trustees.

• According to Altman, thanks to Mindy Lane of Greene Central Communications Center, federal funding from Homeland Security has been secured to replace a Township tornado siren in Clifton. The siren, which Altman said dates from at least the mid-1950s, will be upgraded to a modern siren similar to the Federal Signal STH-10 model currently used in Yellow Springs, at a cost of around $30,000.
• MTFR staff will undergo confined space rescue training through Cleveland State University over the next several weeks. The 16-hour course, offered to MTFR staff for free via funding from the Public Utilities Commission of Ohio, will take place in a confined space simulator built into a maintenance room at MTFR, and will include training on emergency breathing systems and rescue techniques for storm sewers, silos and other tight spaces.
Cemetery report
• Cemetery Sexton Dan Gochenour reported that there have been four burials at Glen Forest Cemetery since the last regular meeting of the trustees. He also reported that the Township has sold two plots at the newly opened Oak Grove Cemetery.
• Trustee Chris Mucher inquired about clarification regarding the Township's policy concerning pets being buried in Miami Township cemeteries. Gochenour responded that, though he has received semi-frequent questions from community members about the possibility of burying pets, the policy thus far has been not to do so.
Mucher said he has also been approached by community members about the possibility of burying pets at Glen Forest Cemetery and believes it may be within the Township's authority to grant pet burials "under certain guidelines."
"If you're providing the cremation of the pet, you then have to have a separate place to bury the pet," Mucher said. "I'm not positive about the rest of the guidelines, but I think they're pretty flexible, if we have any desire to offer that to the public."
Trustee Don Hollister said he wanted to ensure that there are no restrictions against pet burial in a cemetery outlined in the Ohio Revised Code, and said he would look into the issue and present his findings at the next meeting of the trustees.
Due to the Presidents Day holiday on Monday, Feb. 20, the Miami Township Board of Trustees will hold its next meeting on Wednesday, Feb. 22, beginning at 5 p.m. in the MTFR community meeting room.