Lewis 'Lew' Michael Bonadies Sr.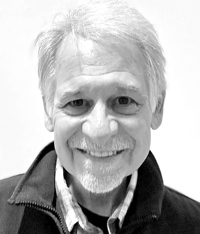 Lew Bonadies, age 74, passed away on May 10, 2023, at home in Yellow Springs, Ohio, with his wife, Sharon, and daughter Emily at his side.
Lew was born Sept. 7, 1948, in Alexandria Virginia, and spent his first years at Mount Vernon, George Washington's estate, where his parents lived and worked. Lew learned to walk on George's beautiful veranda overlooking the Potomac. He attended elementary and high school in South Bend, Indiana. He earned a BA from the University of Notre Dame and an MBA from Wright State University. As a young man he moved to Yellow Springs, Ohio. He opened Bonadies Glasstudio with a partner to build beautiful works of stained glass. Lew created the Yellow Springs Tree Committee with partner Lloyd Kennedy to plant the first trees in downtown Yellow Springs. He handed over the reins to Lloyd as he began his career in marketing and advertising. Later, Lew developed a passion for the environment, and topped off his career with his own sustainability consulting company, BtoB Projects. He became a LEED AP (advanced professional) and was dedicated to assisting businesses in reducing their carbon footprint.
Lew loved music, particularly live music. He was instrumental in bringing the first National Folk Festival to Dayton, Ohio. He spent his last few years working with Yellow Springs Porchfest to bring an annual day of live music to the porches of Yellow Springs. Although he didn't play an instrument himself, wherever Lew traveled, he sought out live performances. At age 72, Lew began guitar lessons with Scott Lindberg, never missing a day of lessons or practice until shortly before he passed.
He loved life, and he was determined to maximize his own by living life to its fullest over the three years of his illness. He surprised everyone by actively living and working up to the week before he left this world.
Lew is survived by his wife and partner of 42 years, Sharon Cornett Bonadies; his children, Lewis Michael Bonadies Jr. (Jackie), of Florida, Michael James Bonadies, of Texas, Emily Hollister Secen (Onder), of Indiana, Rebecca Hollister Collins, of Texas; eight grandchildren and four great-grandchildren; mom, Rosemary Bonadies, of North Carolina; brothers, Tim (Mary), of Indiana, Joe (Sherry), of Michigan, John (Sue), of Ohio; Phil (Karen), of California; sisters, Angela Bonadies Hambling (Bill), of North Carolina; Margaret Bonadies Blonigan (Gregg), of Switzerland; sisters-in-law Despina Fausch Bonadies, of California, and Dotty Van Hulle Bonadies (Mike Downey), of Indiana; plus many nieces and nephews. Lew was preceded in death by his dad, Joe Bonadies; brothers, Tom Bonadies and Chris Bonadies; and granddaughter, Rana Secen.
A memorial service for Lew will be held at 3 p.m. Saturday, June 3, 2023, at The Unitarian Universalist Fellowship of Yellow Springs, 2884 U.S. 68, just south of the village. Interment will be at Glen Forest Cemetery, Yellow Springs, Ohio.