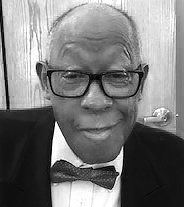 David B. Hill Jr., faithful servant of God, transitioned on Sunday, June 18, 2023, after a lengthy illness. He was 87.
David was born June 21, 1935, in Springfield, Ohio, to David B. Hill Sr. and Mary Mae Goree Hill. He professed his faith in Christ at a young age, joining St. John Missionary Baptist Church in Springfield. Later in life, he joined First Baptist Church in Yellow Springs. He enjoyed and was active in several ministries at First Baptist Church until his illness precluded his involvement.
David was ordained as a deacon by the Rev. B.L. Austin, and held positions as a trustee, the superintendent of the Sunday school, a Sunday school teacher and an AWANA leader. He enjoyed fellowship with his First Baptist Church family.
He graduated from Springfield South High School in 1955, and attended Sinclair Community College and the Dayton Art Institute. David retired from Wright-Patterson Air Force Base in 1992 after 30 years of employment.
David was preceded in death by his loving wife of 54 years, Evelyn Adams Hill; his parents, David and Mary Hill; and siblings Laura Hinton and William Hill.
He is survived by daughters Catherine L. Hill and Tracy E. Phillips; sons David Madison Hill and Todd J. Hill; and siblings Robert "Bob" Hill, Louis Hill and Loretta Thompson; as well as many nieces, nephews and cousins, whom he adored.
A service for David Hill Jr. will be held Saturday, July 1, 2023, at First Baptist Church, 600 Dayton St., Yellow Springs, Ohio. Visitation will be from 10 a.m. until the time of the service, which will be at 11 a.m., with the Rev. Dr. William E. Randolph officiating. Interment will follow at Glen Forest Cemetery. Arrangements entrusted to Porter-Qualls-Freeman Funeral Home.