MJ Werthman White debuts bittersweet novel
In 1962, local resident MJ Werthman White was a junior in college in upstate New York. That year her teacher, novelist Charles Mills, told her she was a writer.
After a long career teaching, including 20 years in Yellow Springs, White made good on her own teacher's prediction — though, as she writes in the dedication of her debut novel, "An Invitation to the Party," it took her "a while to prove him right."
"An Invitation to the Party" is due to be released by Regal House Publishing on July 18 — a book launch event is set for Epic Books, Friday, July 28, 6–8 p.m.

As White told the News this week, she came to Yellow Springs in 1980 when her husband, Jim, was transferred to Wright-Patterson Air Force Base as a civilian with the Department of Defense. That year, she started as a substitute teacher at Mills Lawn, becoming a full-time teacher in 1981. White taught mostly first and second grade students — there was a short stint teaching at Morgan Middle School, but she said kindergarten through third grades were her "favorite."
In the early 1990s, White found her way back to writing via summer courses funded by the Ohio Arts Council. The courses were aimed at enabling teachers to do their own writing — or, as she said, "practice what they preached." When White retired from teaching in 2001, the decades-old pronouncement from her former teacher was still ringing in her ears.
"[Mills] really liked my writing, which nobody else had said anything about," she said. "I always remembered that — even though it took me until I retired to really start doing something serious about it."
For White, doing something serious meant going back to school at Wright State University, where she earned a master's degree in English literature with a minor in creative writing. White began her new vocation as a poet, finding publication in literary journals (and the pages of the YS News). In 2006, she was awarded the Paul Laurence Dunbar Poetry Prize, and in 2017, her first collection of poems, "How the Universe Says Yes to Me," was published by Main Street Rag Press.
All the while, White was also writing dozens of short stories. One of them was about a woman named Garnet approaching her 70th birthday who, for various reasons, did not want a birthday party. The story, White said, kept growing and growing.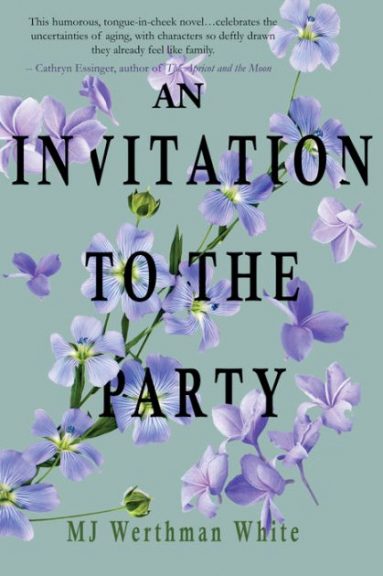 "Finally, at 40 pages, I threw up my hands and stuck it in a drawer because I had no idea what it wanted to be — but it seemed like it wanted to be bigger, maybe a novel," White said. "I had no idea how to write a novel, so it stayed there."
Though Garnet was tucked into a drawer, she continued to poke her head into White's thoughts for the next few years — so much so that White took a year-long class from Dayton-area novelist Katrina Kittle to help bring Garnet fully to life.
"And at the end of the class, ['An Invitation to the Party'] is what I wound up with," White said. "I don't think this book would have happened without [Kittle]."
Garnet, as readers will come to know her in the pages of "An Invitation to the Party," is fiercely independent at 69-almost-70, not shy of speaking her mind. She's not afraid of aging, necessarily, but she's deeply aware of it, and determined to enjoy her remaining years.
"I have known elderly women like [Garnet] and I admire them, so she is all the best of all of them," White said.
Garnet is also aware that she has something of a harsh streak — something the other characters in the book comment on more than once — and regrets her estrangement from her adult daughter, Tommie. She maintains a strained relationship with her aging ex-husband Bowie, who is in the initial stages of dementia. Garnet has sole custody of her beloved Great Pyrenees dog Vera, who was Bowie's dog initially, but whom Garnet wooed away from him when she discovered her husband's infidelity prior to their divorce. (White, a steward of many "street dogs" over the years, said she is a confirmed dog-lover — and it shows throughout her novel.)
White said the imperfections of the characters in her novel — particularly Garnet's — are part of the reason she followed the character from short story all the way to published novel.
"She's not a perfect person — she has some pretty big flaws — but who wants to read about somebody who's perfect?" she said.
At 81, White said she was eager to create a work that centered an older woman in ways that felt true to life — something she said is often lacking in the literary world.
"For a while I've been looking for a story to read that I could identify with, about an elderly woman as a main character who wasn't a joke, or a harridan or saint, but a complicated human being," White said. "And then I thought, 'Well, if you want this, why don't you do something about it?'"
The anxieties that often plague Garnet's thoughts tend to center on the never-ending drum that is time — a drum she knows beats for her, too. That anxiety forms a throughline in "An Invitation to the Party" that touches each of its characters, surprising them with both blessings and tragedy, all the way up to the novel's beautiful, but gut-punching ending.
All of that sounds heavy — and it is — but White writes Garnet, and all of the characters who surround her, with a wry self-awareness that leaves a comedic aftertaste. "An Invitation to the Party" is bittersweet, in the sense that the bittnerness often resolves into the sweetness — and sometimes vice versa — within the same thought.
"If we're going to talk about death, we may as well be able to laugh," White said, laughing herself. "That doesn't work for me personally, by the way. I mean, I try."
Garnet and the majority of her friends and family live in the western New York village of Haven, a fictional setting that blends some elements of a real New York village called Victor, where White taught before coming to Yellow Springs, with some sprinklings of Yellow Springs itself. Creating a fictional setting, White said, allowed her to move her characters through a world that is grounded in reality, but ultimately open to the story that emerged.
"You have to open the door and see what comes in," she said. "I have friends who get stuck writing because they're trying to keep it to their own experience. And it's hard, but if you say, 'What the heck, who knows what's gonna happen?' then you really free yourself."
White said that freeing herself as a writer also meant freeing her characters to be who they are, even if their choices are not the kinds of choices the author might make if she were in their place. She cited Garnet's daughter, Tommie, who makes a difficult decision late in the novel — which this reporter will not spoil for future readers.
"I didn't want Tommie [to make that choice], I didn't want her talking about that — and then she stopped talking to me," White said. "If you try to manage [your characters], they go away and you can't do anything with them. It's like my dog — when I make her do something, she turns her nose to the wall and won't look at me. But once you take that off, they talk to you again."
A poet even when embarking on fiction, White's poetry is scattered throughout the novel as the work of Garnet, who is also a poet — one of a few similarities White said the author shares with her creation.
"Those poems are all unpublished works of mine, so that they could belong to Garnet," White said.
Those familiar with White's previously published poetry, however, may recognize two works that bookend the novel — particularly the first, which serves as an epigraph for "An Invitation to the Party." It reads:
The universe's favorite word is yes.
The word she uses most often is no.
It's a mystery. She doesn't understand it herself.
"If you read that epigraph, you don't have to read the book," White said. "That's the whole book."
"An Invitation to the Party" was released July 18, and will be available at Epic Books, where a book launch will be held Friday, July 28, 6–8 p.m.