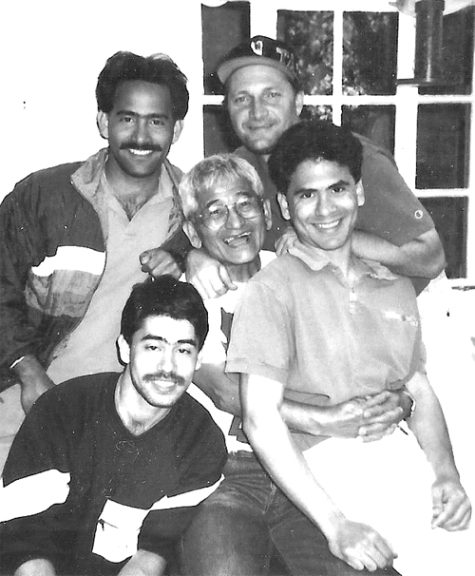 Shoji "Sho" Maruyama, beloved father of Jeff, Benji, Drew and Mike Maruyama, passed away peacefully on Aug. 12, 2023. He was 96.
Born in Los Angeles, California, Sho was the youngest child of Otogoro Maruyama and Shu (Oyagi) Maruyama, alongside his brother, Takuya "Tak" and sister, Emiko "Emi." Otogoro and Shu immigrated to the United States from Japan at the turn of the last century in search of opportunity. In the U.S., Otogoro became a prominent figure in the Japanese immigrant community in Los Angeles. Sho's reminiscences from that era included savoring delicious Japanese meals, enduring Japanese school and anecdotes of heroic adventures with friends on the neighborhood streets. Fond memories also included clandestinely sampling peanut clusters — a treat that remained a perennial favorite — pilfered from his father's bingo hall.
In the fall of 1941, Sho began high school at Santa Monica High, and his sister, Emiko, traveled to Japan to visit family and learn Japanese traditions. At the beginning of the second world war, in February 1942, President Roosevelt issued Executive Order 9066, resulting in the internment of more than 120,000 Japanese Americans. At age 15, Sho, along with his mother, and older brother, Tak, were removed from their family home and interned in the Manzanar War Relocation Camp. Sho's father, Otogoro, was separated from the family and sent to another camp, Tulelake. Sho's sister Emiko, still in Japan, was forced into hiding for the duration of the war.
Sho spent the remainder of his high school years at Manzanar. According to Sho, he and his brother were mostly left to fend for themselves in the camp. Despite the bleak conditions, separation from his father and sister, crowded, resource-poor classrooms and constant guard, Sho also recalled small moments of fun, including stickball games and running from mess hall to mess hall with his gang of friends to secure extra meals to sate large teen appetites. Paradoxically, Sho secured his release from the camp at age 18 by joining the U.S. Army, where he served until the end of the war.
After the war and discharge from the Army, Sho went on to college on the GI Bill. Sho says he selected Antioch College because it was listed toward the front of the alphabetized book of colleges he was perusing, and because it was an institution devoted to the pursuit of peace — an ideal that deeply resonated with him. Sho graduated from Antioch in 1951, having been classmates with several famous Antiochians, including Rod Serling and Coretta Scott King. He remained steadfastly dedicated to peace and justice throughout his life, marching on Washington in '68, helping with the aftermath of the Watts riots, and organizing for the Philadelphia, Pennsylvania, community he eventually called home.
During his Antioch College co-op experiences, Sho found that, while he loved learning engineering, he wasn't terribly fond of working with engineers. While discussing this with mentor and Antioch College Professor Irwin Abrams, Abrams suggested Sho consider the new field of city planning. Sho went on to earn his master's in city planning at the University of North Carolina.
After graduation, Sho moved to the unique community of Powelton Village in West Philadelphia, where he met, and fell in love with Joan and her 4-year-old son Jeffery. Sho and Joan married and had Benji, Andrew and Michael.
Sho and Joan raised their four children in a tall Victorian home in Powelton that became a gathering place, a refuge and a touchstone for a generation of neighborhood kids. Neighborhood kids frequented the above-ground swimming pool, and none have forgotten the pool's monumental end when an errant kick collapsed a fragile sidewall, flooding the neighborhood with a tsunami of water and kids. Family time, sports and family meals were sacred for the Maruyamas. One family tradition that began in 1960 and continues annually to this day, is summer trips to "The Top of The Dunes," a community-owned beach house in Long Beach Island, New Jersey. There, Sho taught his kids, grandkids, nieces, nephews and a slew of friends the art and science of body surfing, and coached them in friendly competitions in tennis, Wiffle ball and ping pong.
Always a tinkerer, Sho spent much of his free time building machines, rehabbing items and hacking furniture and tools to improve or augment their function. Some famous examples included an old hearse-style ambulance converted into a family car, a walker with angled grips to enable climbing stairs. Sho patented and began production on one of his inventions, "Hone It," a knife sharpener designed to hold the knife at the ideal angle for precision sharpening.
After retirement, Sho dedicated himself to his hobbies. He was an avid tennis player, a New York Times crossword puzzle enthusiast, a piano player and a member of the Arlington, Virginia, Barbershop Chorus. Always active, he enjoyed spending time with his children and grandchildren, and — it must be said — eating his very favorite foods, primarily desserts. Sho returned to live in Yellow Springs, Ohio, for the last 13 years. In Yellow Springs, he enjoyed tennis, the YS Senior Center's Writers' Group and community at the Unitarian Universalist Church.
Sho is deeply missed by his sons Jeffery Maruyama, Benji Maruyama (Aimee), and Andrew Maruyama (Ellen); his grandchildren, Justin Oshana, Matthew Maruyama, Isaac Maruyama, Kai Maruyama, Amélie Maruyama, David Maruyama and Luisa Maruyama; and a host of nieces and nephews.
The family would like to thank the wonderful people who helped care for Sho, especially Jody, Jaya, Jeni and the amazing nurses at Miami Valley Hospital who provided attentive care during the last few days of his life.
A celebration of Sho's life is being planned for this fall in Philadelphia. In lieu of flowers, the family recommends contributions be made to The Nature Conservancy and the ACLU. Online condolences may be expressed to the family at Jacksonlytle.com.