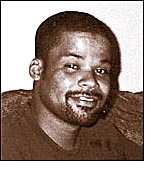 Charles D. Dorsey died suddenly on Saturday, Aug. 2, during a visit with his grandmother, Mae Brown, at her residence in Yellow Springs. He was 43.
Charles was born in Dayton, Ohio, on July 29, 1965.
He is survived by his grandmothers Mae Brown and Irene Smith; his mother and father, Sandra and Charles Dorsey; six siblings; a person of special interest, Eileen Turner and their daughter India Dorsey, cousins and friends.
Funeral arrangements were provided by Thomas Funeral Home, Inc., Trotwood, Ohio.