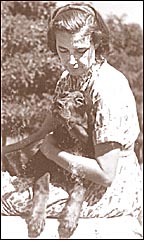 Elizabeth Devin Parker (Betsy) Huber died Nov. 9, at the Friends Care Center in Yellow Springs, Ohio. She was 87.
Born on July 7, 1921, in Boston, Mass., she was the daughter of Willard S. Parker, M.D. and Ellen D. Pratt, both from Ohio, and the older sister of Mary Dorsey Parker Krulee.
Betsy graduated from Brookline High School in 1939 and attended Radcliffe College on a full scholarship. She was active in the orchestra and served a short while as class president. Her college career was interrupted from 1942–1947 by a bout of tuberculosis. In 1949, shortly after her recuperation, her mother died. She then kept house and helped care for her partially invalid father. Returning to Radcliffe, she graduated cum laude with a bachelors in government on June 21, 1950.
After graduation and until her father's death in 1952, she worked as a secretary and research assistant at Harvard University. She then closed the family home in Cambridge and followed friends to Ohio to start life anew in late summer of 1952.
In 1953, while working as a secretary at Antioch College, Betsy met David Huber, then an Antioch student. David Adolf Huber and Elizabeth Devin Parker were married the next year in the backyard of Doug McGregor's home at Limestone and President Streets in Yellow Springs.
With Betsy's support David graduated from Antioch College. They lived in Grinnell Mill until 1961. While living at the mill, Betsy and David joined a friend in the purchase of a large farm on Stevenson Road in Xenia Township. In 1958 the house on the property burned to the ground, and soon after their partner and friend was killed in a plane crash. The Hubers assumed their partner's share in the property, and moved to the farm. They lived in a trailer while building a new home.
In the 50s and 60s Betsy held clerical, secretarial, and editing positions for the American Humanist Association and Community Services Inc., where she was secretary for Arthur Morgan. Later she worked at Webb Associates in Yellow Springs and did freelance editing at home. In 1968 and 1969 Betsy studied library science at Wright State and Central State Universities. Subsequently, she was the librarian for the Kettering Research Laboratory in Yellow Springs, from 1969 to 1971.
She gave her time to many organizations, including several canine-oriented associations. She served for several years as the membership chairman and newsletter editor for the Gordon Setter Club of America.
Betsy's hobbies included gardening and photography. For several years she displayed photos for the Historical Society at the Greene County Fair. She had a passion for dogs and raised several litters of Gordon Setter puppies. She loved her dogs dearly and kept them close, until she could no longer care for them.
Betsy is survived by her husband of 54 years, David.
Betsy requested no final services. Contributions in her memory can be made to: Friends Care Community of Yellow Springs, 150 East Herman Street, Yellow Springs, OH 45387 and/or Hospice of Dayton, Wilmington Avenue, Dayton, OH 45420.