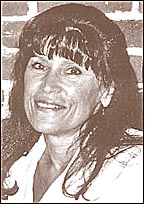 Joyce Agnew died on Monday, Nov. 10, at home in Vandalia, following a long battle with cancer.
Joy was born to the late Robert and Betty Bayless on Aug. 25, 1948, in Bradford, OH.
Joy was a vibrant, witty and adventurous woman who loved reading, music, art and nature. She lived in Yellow Springs from 1989 through 2000. During part of her time here, she lived with her former husband, Robert Agnew and stepson, Matthew Agnew. She enjoyed walks around the village and in Glen Helen and regularly went to the movie at the Little Art Theatre. In recent years she lived in Idyllwild, Calif., where she worked at Idyllwild School for the Arts, hiked the mountains and deserts, and volunteered as a fire lookout.
She was preceded in death by her brothers, Bill, Chris and Robert Bayless Jr.; and by her son, Patrick Perkins.
She is survived by her devoted daughters and a son-in-law, Penny Latimer of Vandalia, and Pam and Jim Hart of Bradford; grandchildren Brittany Durand, John and Megan Latimer, and Bree and Riley Hart; great granddaughter, Isabella Hutchinson; brothers and sisters-in-law, Steve and Claudette Bayless, and Jon and Patty Bayless; her sister and brother-in-law, Peg and Jerry Saunders; and her special friends Janice Yohey, Sue and Dave Pfeiffer and Sue and Ted Rytel.
Joy donated her body to the Wright State University Anatomical Gift Program. Family and friends celebrated her life at a private gathering on Sunday, Nov. 16, in Bradford. Donations may be made to Northwest Earth Institute or the Pacific Crest Trail Association in Joy's memory.