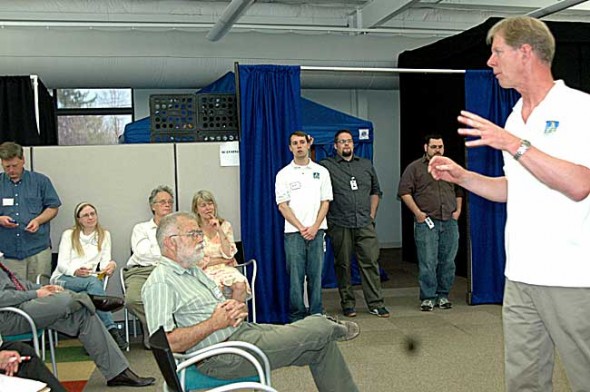 Anthrotech President Bruce Bradtmiller spoke to visitors about the business's largest project ever at its temporary training site at Creative Memories on Thursday evening. (photo by Diane Chiddister)
About 40 people attended the Yellow Springs Chamber of Commerce After Hours open house held Thursday, April 15, at the Anthrotech's temporary training quarters at the Creative Memories location on Dayton Street.
The company is using the Creative Memories facilities for the month of April to train the 21 employees it recently hired for its biggest project in the company's 60-year history, according to Anthrotech President Bruce Bradtmiller. The Anthrotech offices on Xenia Avenue were too small for the training, and the Creative Memories space also helps the trainees practice their skills in an appropriate setting, according to Anthrotech Director of Operations Belva Hodge.
"We wanted to replicate the conditions that we would have in the field," Hodge said.
Anthrotech announced in September that it had won a $6.1 million contract to measure more than 16,000 soldiers in order to provide data that will help the armed services design uniforms, equipment and work spaces that will best fit the men and women who will use them. Anthrotech, which was founded 60 years ago at Antioch College, is one of the leading companies in the country that specializes in anthropometry, which is the gathering of data related to human size.
The new employees, who will begin their work May 1, will travel to three Marine Corps camps and 12 Army camps during the 21-month period when they're collecting the data, according to Bradtmiller in a presentation he made at the event. Three current and one former village residents are among those hired for the project.
Asked how the human body is changing, Bradtmiller said that in this country there had for decades been steady vertical growth that has now leveled off. However, horizontal growth continues, he said.